This post may contain affiliate links which may give us a commission at no additional cost to you. As an Amazon Associate we earn from qualifying purchases.
Summer is here! This year is flying by, and I'm not sure how I feel about time moving so fast. They say that time moves so fast as we get older because we don't get to experience new things daily. As a kid, you are either learning something or busy with after-school activities. As adults, we have to look forward to working and planning dinner every day.
TRAGIC! I say we flip the script and start experiencing new things every day! Call up friends or family and invite them over for a backyard BBQ. There is nothing better than surrounding yourself with the ones you love with delicious foods and tunes. And the best part is we've already provided you with the tunes; now, all you have to do is grab some BBQ essentials!
This grillin' and chillin' summer playlist is an eclectic mix of music that will fancy everyone's taste! 
Don't forget to pin this graphic, so you can save this great list of summer songs!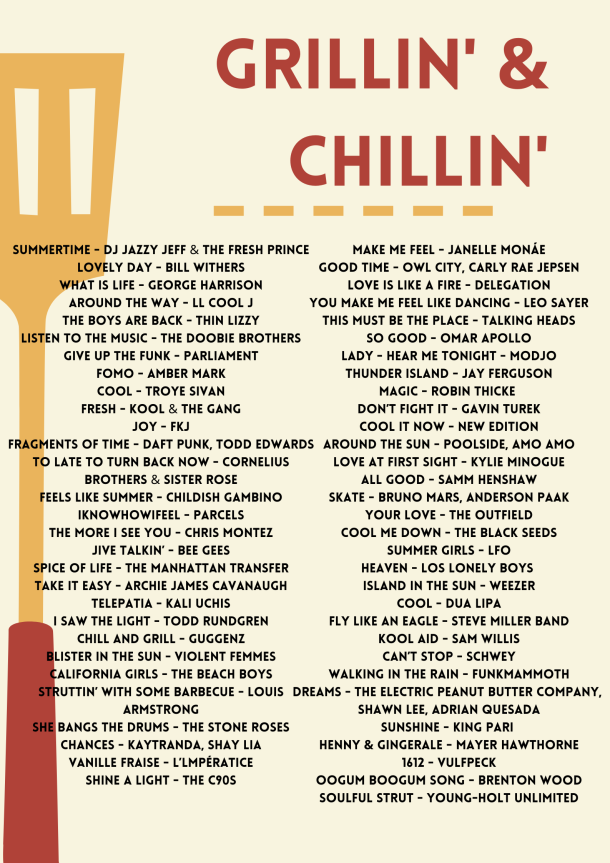 Grillin' & Chillin' Summer Playlist
Summertime – DJ Jazzy Jeff & The Fresh Prince
Lovely Day – Bill Withers
What Is Life – George Harrison
Around The Way – LL Cool J
The Boys Are Back – Thin Lizzy
Listen to the Music – The Doobie Brothers
Give Up The Funk – Parliament
FOMO – Amber Mark
COOL – Troye Sivan
Fresh – Kool & The Gang
Joy – FKJ
Fragments of Time – Daft Punk, Todd Edwards
To Late To Turn Back Now – Cornelius Brothers & Sister Rose
Feels Like Summer – Childish Gambino
Iknowhowifeel – Parcels
The More I See You – Chris Montez
Jive Talkin' – Bee Gees
Spice of Life – The Manhattan Transfer
Take It Easy – Archie James Cavanaugh
Telepatia – Kali Uchis
I Saw the Light – Todd Rundgren
Chill and Grill – Guggenz
Blister In The Sun – Violent Femmes
California Girls – The Beach Boys
Struttin' With Some Barbecue – Louis Armstrong
She Bangs the Drums – The Stone Roses
Chances – KAYTRANDA, Shay Lia
Vanille fraise – L'lmpératice
Shine A Light – The C90s
Make Me Feel – Janelle Monáe
Good Time – Owl City, Carly Rae Jepsen
Love Is Like a Fire – Delegation
You Make Me Feel Like Dancing – Leo Sayer
This Must Be The Place – Talking Heads
So Good – Omar Apollo
Lady – Hear Me Tonight – Modjo
Thunder Island – Jay Ferguson
Magic – Robin Thicke 
Don't Fight It – Gavin Turek
Cool It Now – New Edition
Around The Sun – Poolside, Amo Amo
Love at First Sight – Kylie Minogue
All Good – Samm Henshaw
Skate – Bruno Mars, Anderson Paak
Your Love – The Outfield
Cool Me Down – The Black Seeds
Summer Girls – LFO
Heaven – Los Lonely Boys 
Island In The Sun – Weezer
Cool – Dua Lipa
Fly Like An Eagle – Steve Miller Band
Kool Aid – Sam Willis
Can't Stop – Schwey
Walking in the Rain – Funkmammoth
Dreams – The Electric Peanut Butter Company, Shawn Lee, Adrian Quesada
Sunshine – King Pari 
Henny & Gingerale – Mayer Hawthorne
1612 – Vulfpeck
Oogum Boogum Song – Brenton Wood
The Heat Is On – Glenn Frey
It Was A Good Day – Ice Cube
A-Punk – Vampire Weekend
Coolie High – Camp Lo
1979 – The Smashing Pumpkins
Spiderwebs – No Doubt
Got to Be Real – Cheryl Lynn
Party (Feat. Andre 3000) – Beyoncé 
Shakedown Street – Grateful Dead
Playground – Steve Lacy
Oh, Loretta! – Sex On Toast
It's My House – Diana Ross
875 Dollar – De Lux
People Everywhere (Still Alive) – Khruangbin
Pop Therapy – Video Age
Too Hot in L.A. – Woody and Jeremy 
I Like It – DeBarge
Soulful Strut – Young-Holt Unlimited
We hope you have a wonderful summer and don't forget to check out all the playlists that we have on our Spotify profile!