This post may contain affiliate links which may give us a commission at no additional cost to you. As an Amazon Associate we earn from qualifying purchases.
Summer is here, and as the days seem longer and hotter, your energy seems to escape your body by mid-afternoon. The signs of exhaustion can be caused by many symptoms including: dehydration, nutrient-lacking diet, stress and depression.
Don't fall into the habit of napping or using the summer heat as an excuse to be lazy. This is the time to enjoy the beautiful outdoors and spend time doing the things you awaited all winter long.
Let's take back your summer and re-energize you so you don't have to slow down one minute.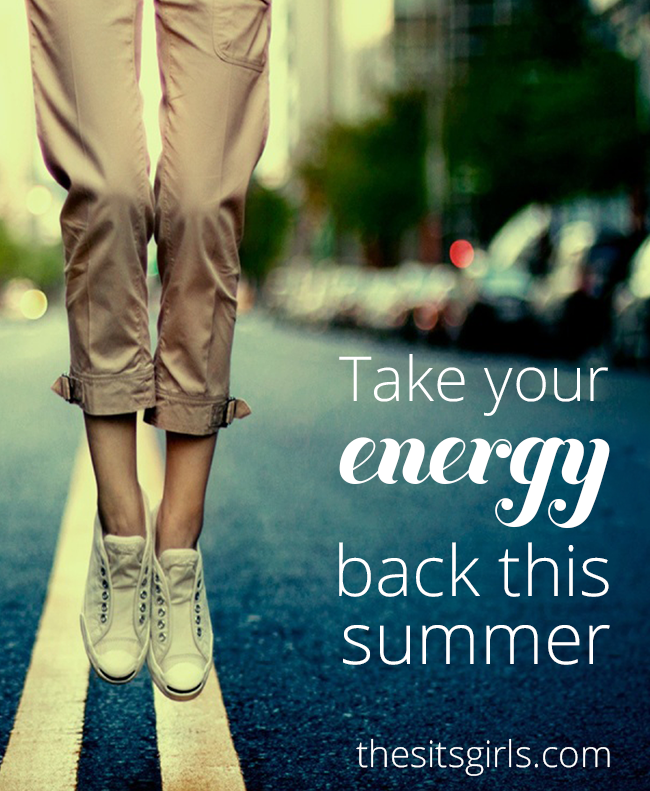 How To Take Back Your Energy This Summer
1. Drink, drink, drink
You would be surprised how fast you can feel rejuvenated with energy after just one tall glass of H2O. Remember to stay hydrated during the day by taking a refillable water bottle to work. Fill it up when you walk around the office or divide up your day with small water breaks. The breaks will give your mind a recess and keep you on track with your water intake for the day – you won't regret it.
2. Stay moving
It may seem hard to stay moving if you work a desk job this summer, but even this job has a solution. Stand up while you're at your desk instead of sitting. This way you can incorporate small exercises into your work schedule. You'll feel alive again. Studies have shown that exercise induces healthy hormones into the brain causing a happy sensation allowing you to become more productive.
3. Don't delay your morning
When the alarm sounds, get up! The more you push the snooze button, the more likely it is that you will be more tired at the time you do awake. Wake up, enjoy a peaceful breakfast, and get your day started. Why wait?
4. Enjoy your snacks
Whoever told you that snacking isn't healthy– well, they lied. Snacking throughout the day is found to give a person twice as much energy as compared to a three-meal-a-day diet. Enjoy your carbs – gluten-free diets in some cases are not the healthiest alternative. The right snacks can give you jolts of energy during your old afternoon slump period.
5. 
Take a daily vitamin
Many adults do not realize the importance of vitamins and minerals to a healthy diet. A proper daily vitamin can improve weight, energy levels, and skin complexion. A daily vitamin does not suffice for a healthy diet, but it can help with the nutrients that you are neglecting with your daily intake of food. Combining a daily vitamin with healthy portions can make a world of a difference pertaining to your sustaining energy throughout the day.
6. 
Relax in the sun
Research shows that when being exposed to the right portions of sun, there are health benefits that can help one increase energy levels daily. The body produces a wonderful vitamin, Vitamin D, when exposed to the sun. Vitamin D can aid with many health improvements including mood and energy. So this summer do not hide from the sun – it is your friend, in moderation.
7. Say no to stress
It is no secret that stress can lead to exhaustion. Some stress is unavoidable as things can happen in a flash, but other stress such as cleaning the house or daily chores can be avoided with scheduling and help. It is time to say "enough is enough" to stress. This is your summer, don't allow stress to push you away from all of the opportunities that await for you.
8. Take time for you
Divide up your week and within that time, take some of it for you. What do you want to do? Something adventurous or maybe a little cozier? This is your life – don't waste it being tired and overworked. Take back your life, a day at a time.
Author Bio: Rachel
I'm Rachel, a lifestyle blogger living in a small town in Pennsylvania. I am a published writer and a personal stylist. I started my blog to have a place to write but now it has developed into a place where I can express my love for writing and help people along the way. My blog is a lot like a journey. As I write and discover more about the world – so will you. Ultimately, it's a lifestyle balancing relationships, fashion, beauty, food, circumstances in life & everything in between.