This post may contain affiliate links which may give us a commission at no additional cost to you. As an Amazon Associate we earn from qualifying purchases.
You've started a blog and now you're losing your mind. There's so much to do! And sometimes when you look at your to-do list, you wonder how on earth you can do everything that needs to be done.
To make matters worse, you look around and see all these people who are killing it – they're all over social media, they're getting new blog posts up, creating ebooks and courses. What do they know that you don't? Do they have some sneaky sci-fi way of getting more hours out of their day?
Probably not – but what they do have is a handle on overcoming time management obstacles!
Time management is one of the biggest challenges for bloggers and other work-at-home entrepreneurs – and one of the most important keys to finding success working for yourself is being able to overcome these time management obstacles.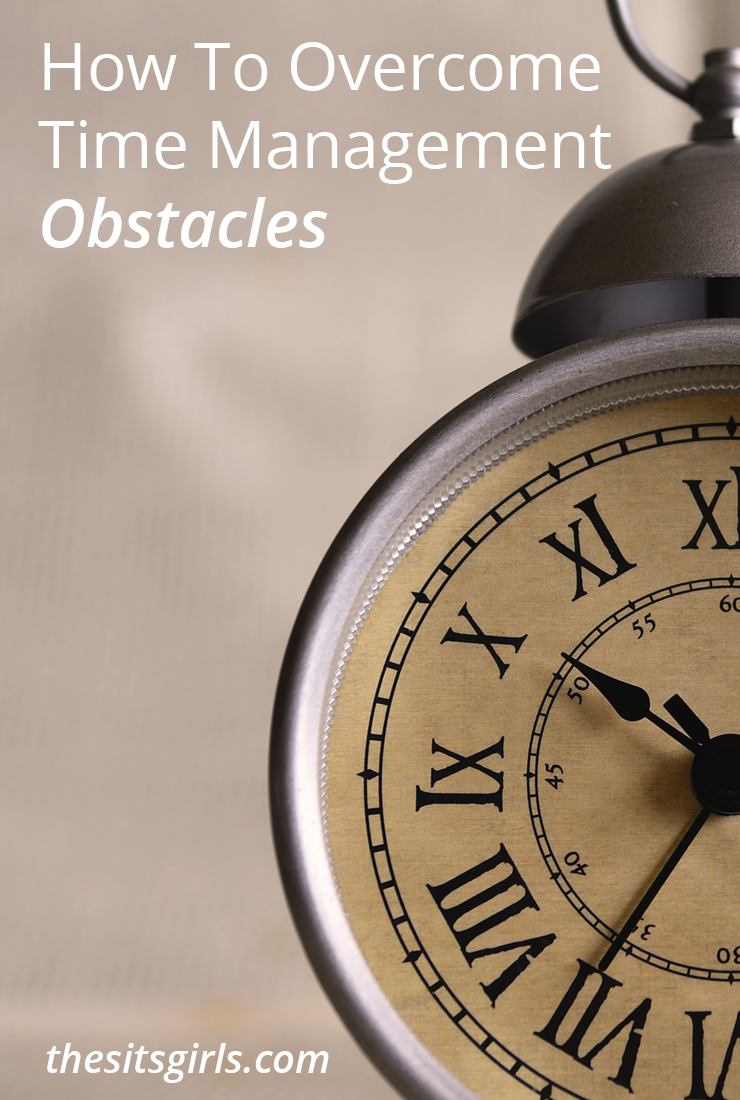 What are some of the major time management obstacles?
See if any of these sound familiar…
1. Lack of Planning
You sit down at your computer to start work, but before you do, you…
Check email
Refresh Facebook four or five times
Text with your BFF
Spend some time checking your website stats
Get lost on Pinterest for half an hour
It's really easy for one quick text to turn into 3 hours of not getting anything done. You can avoid this by knowing what needs to be done each day, scheduling it out, then sticking to the plan.
2. Procrastination
We procrastinate for lots of reasons. If you're feeling burned out because you've been working too much, procrastination may be a way to avoid it. Perhaps you've got a task you dislike doing – you'll probably procrastinate getting started. Or worse, you may be suffering from something like Imposter Syndrome, which is creating a mental block that causes you to put off important jobs for fear of being judged.
3. Perfectionism
Often, perfectionism is used to avoid chores you don't like, or that you feel inadequate at. For example, say you love writing, but aren't crazy about promotion. You may spend all day – or even days – creating a perfect blog post, leaving little to no time for the promotion tasks. And of course, your excuse for not promoting will be, "I don't have enough time!"
4. Never Saying "No"
For many bloggers, poor time management is less a case of too little time, and more an issue of trying to do more than is humanly possible. You're working on your business, writing guest posts, creating a product, possibly working another full or part-time job, taking care of kids, running a household, dealing with the PTA… something's got to give!
You're literally setting your blog up for failure.
So what's the solution? How to you move past these obstacles and make yourself a time management queen?
4 No-Nonsense Steps To Overcoming Time Management Obstacles
1. Figure Out Where Your Problem Is
Look at the time management obstacles I've detailed above. Which one of them most closely suits your situation? The first step in finding a solution is knowing what's at the root of your problem.
2. Set Goals and Prioritize
Setting goals and knowing how to prioritize are key factors in managing your time.
Learn to set SMART goals:
Specific
Measurable
Action-Oriented
Reasonable
Time-bound
Break large goals up into smaller steps, and then prioritize the steps. If something isn't moving you towards your goal, reevaluate whether or not it's something you should even be doing.
3. Create a Schedule That Works For You
There isn't a "one size fits all" blogging schedule. Some people do well posting every day, others are happier posting once a week, or even once a month.
As you create a task list, you'll probably find that long-term and short-term lists work best. Bullet journaling is a great way to help you keep track and stay focused on the priorities. Or you might be happier using a bound blog planner, a paper calendar, or one of the many online planners, like Google Calendar or Trello.
4. Don't Be Afraid To Ask for Help!
If you've trimmed down as much as possible, are using every possible minute, and still can't get everything done, maybe it's time to look for some assistance. You may want to hire a VA to handle some of your blogging chores, or maybe you'd rather hire a housekeeper so you'll have more time to spend on your blog or clients. If you're a mom, it might be a great help to have a babysitter for a few hours a week, so you can work uninterrupted.
Don't forget to make sure you're using technology to your full advantage – social media schedulers like BoardBooster, Buffer or CoSchedule can help you free up quite a bit of time.
Time management isn't an impossible dream! You can get overcome those time management obstacles if you're able to recognize where your problems are and what's causing them. Once you've figured that out, you'll be on your way to creating a plan to overcome them.