This post may contain affiliate links which may give us a commission at no additional cost to you. As an Amazon Associate we earn from qualifying purchases.
Listen, we've all been there. Ten more minutes browsing your favorite blogs leads to an article you've been dying to read, which paves the way for some meme guffawing (and subsequent sharing)- and before you know it, it's 3am and you've gotten zero things accomplished. (Least of all the online work that you needed to be doing in the first place.)
The Internet is full of so many fun things like Twitter, Pinterest, Facebook and other sites. Getting distracted and spending way to much time on the computer is an easy thing to do!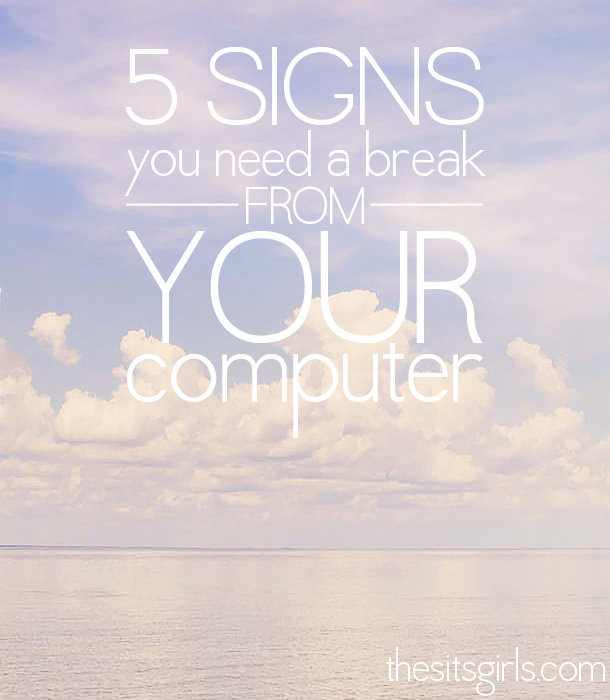 5 Signs You Need a Break From Your Computer!
We've all had those moments when we get sucked into doing anything other than work! However, we all need to take a step back from time to time and simply power down.
Here are 5 telltale signs that you've been spending too much time behind your computer.
If you can relate to any of these, then you might want to consider taking a technology break. (no judgement here, friends) We all need one at one point or another!
5. You've reached out a hand to "like" something in mid-conversation with a real, live person.
(It doesn't count if the other party didn't notice.)
4. When you do sleep, your dreams don't play out. They scroll down. (Or swipe.)
If you are having dreams about all the cool things you pinned on Pinterest, you might need a break! Instead of spending more time on the computer finding cool projects to do, print out some of the fun things you found on Pinterest. Then spend a weekend creating new recipes or DIY projects. Turn those dreams of yours into a reality.
3. A five minute software update- or worse, a reboot- makes you twitch and curse the heavens.
(Alternately, it makes you realize that you haven't peed in five hours and that now would be an exceptional opportunity.)
2. You see real life images in perfect, hue-enhanced squares.
(And wonder how someone can feel like an event really occurred if it hasn't been posted online.)
1. And on more than one occasion, you've shared a blogged post with your significant other. About your mutual kids.
(While he's at home with you. And seated beside you on the couch.)
Guilty as charged? Go ahead, I'm giving you permission to log off, experience the best that Real Life has to offer, and unplug for a teensy while.
After you share this post, obviously.
How about you? What're your telltale signs that you're neglecting reality in favor of virtual reality?
Ready for More? Keep Reading!
If you enjoyed this post, you will want to keep reading.