This post may contain affiliate links which may give us a commission at no additional cost to you. As an Amazon Associate we earn from qualifying purchases.
There are so many stories these days about how people are getting in trouble for how they use social media and their personal blogs. So many individuals are turning away from the release of real writing and turning towards surface posts. Anonymous blogs. Guest posts with no real name or signature.
And while I understand the importance of protecting oneself, and I understand the way that people want to protect their children and their family members, I also think that open and honest writing is what's real. And I don't plan on stopping any time soon.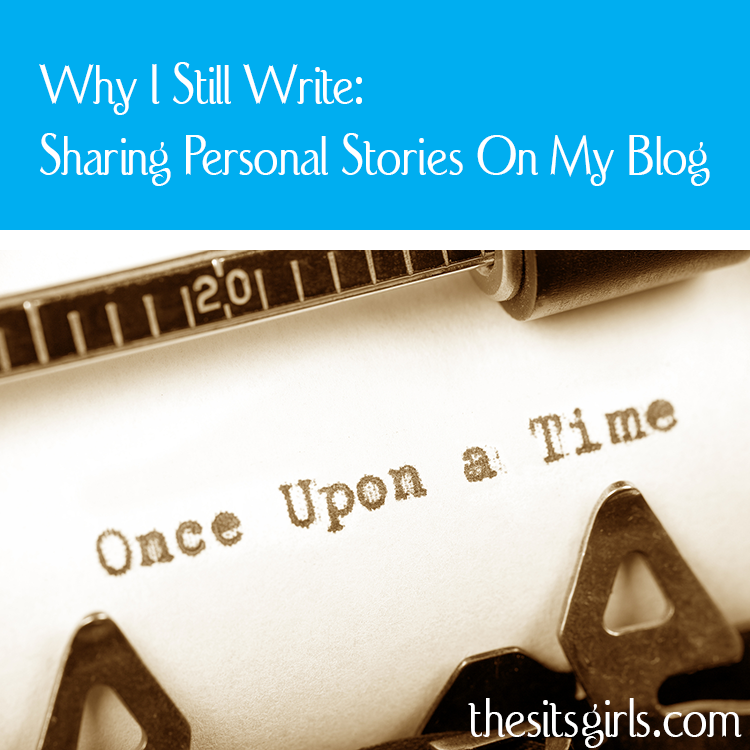 Why I Still Write: Sharing Personal Stories On My Blog
If you know me well enough, you know that I'm the kind of person who speaks pretty freely about my experiences. If you don't know me – well – let me introduce myself by way of my words.
I lost my dad unexpectedly last fall, and there was no way I would have gotten through those early days without writing about my grief. I wrote too much, too often, too little, not enough, when I wanted to and when I didn't … and that's how I survived. Still survive.
In my every day life I experience anxiety and sometimes overreact to things that stress me out. And the ability to relay these experiences and have people respond with support and recognition? Critical. The ability to be there as someone who others can relate to? Essential to who I am as a person, especially through my words.
I'm a mom to a beautiful, amazing, brilliant 7-year-old daughter. Motherhood can be rough, unexpected, glorious, stressful and so much more. Writing about those experiences? Those days? The nights she won't go to bed? The mornings when rushing her out the door can be breathtaking, and not in a good way? Make me relatable and shows you I'm real.
I'm a very emotional person. Sometimes I'm a sap. I'm close to my family. I love my husband. I'm easily frustrated and often fidgety. I'm a person, behind the blog, I'm me. And so, ON the blog? I'm also me.
I didn't expect for things to turn out this way, but as I wrote I realized the friends I was making through blogging were also real people. They were people who truly cared about my daughter, my anxiety, my stress and my loss.
There are many reasons I'm thankful for blogging. Many reasons I appreciate the outlet that it gives me and the connections I've made. Many ways that blogging has empowered me as a mom. And through all of this, what I always remember is that me being me, being open and honest and real? All of that has enabled me to have the opportunities blogging has given me. It's part of the reason why the majority of my Facebook friends are people I've never even met in real life.
It all comes back to the written word. These people got to know me through my blog. Through my words. They continue to know me, all the sides I care to show them, the good and the bad, the happy, the sad (yes, I do realize that rhymed!), the corny and otherwise delightful. They know the difference between my laughs. From a Bwahahaha! to an AHAHAH!!! They know my smiley faces. And they know my voice. My blog did that. I did that. And I will continue to. For as long as I can.
Do you share personal stories on your blog?
Keep Reading
Looking for more inspiration in your blogging life? Here are a few posts you'll enjoy: