This post may contain affiliate links which may give us a commission at no additional cost to you. As an Amazon Associate we earn from qualifying purchases.
Having a blog can be a lot of fun – you get to write about and share the things that are important to you in the hopes that it entertains, educates, or inspires other people. What's not to love, right?
For many of us, there comes a point where we would like to start making a little bit of money with our blogs. You may be thinking this very thing, but you aren't sure how to start. That's why we've put together this list of 14 ways to monetize your blog – take a look and see if there's something that both you and your audience would benefit from, and get on the path to make money blogging today!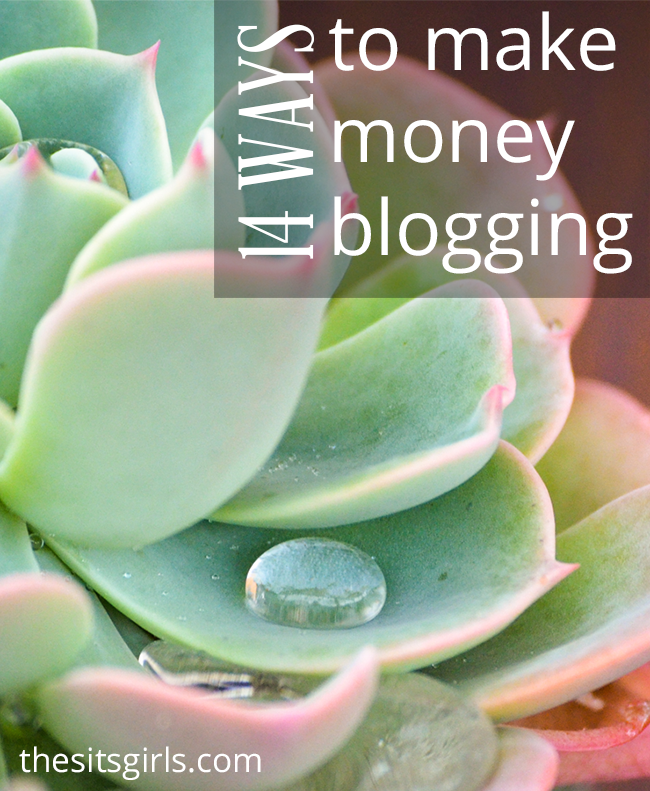 14 Ways To Make Money Blogging
1. Sell Affiliate Products
This is one of the simplest ways to start monetizing your blog, and just about every blogger starts out this way. Simply join an affilliate program, and market their products on your blog. When someone makes a purchase, you get a commission. No matter what you're niche, you're bound to find an affiliate program that fits your audience's needs.
Some popular affilliate programs are Amazon and Commission Junction for physical products, or Clickbank for informational products. 

Some bloggers feel like it's tacky to try to sell things to their readers – but if your audience is getting value from your posts, and if they have come to respect you, then they will appreciate you telling them about products they might like. For example, if you post a slow cooker recipe, you may mention how much you love your new slow cooker. Add your Amazon affiliate link and – that's it! You aren't pushing a sale on someone, you're giving valuable information based on your experience, and showing the reader where they can find their own.
2. Join an Ad Network
This is one of the simplest methods of making money with a blog. Simply start an account with an ad network like Google AdSense, and place the ads on your blog. Whenever someone clicks on a link, you make a little money – anywhere from a few pennies up to a few dollars.
3. Sell Banner Ads on Your Blog
Your side bar and header are valuable real estate. Other websites related to your niche may very well like to pay to advertise something there. You can reach out to other site or blogs personally, or you can you can use a networking site like BuySellAds to help you connect with marketers.
4. Sell Your Own Ebook or Other Digital Product
While it's easy to sell affiliate products, it's can be more lucrative to sell something you've created yourself. You can create a digital cookbook, a book on crafts for children, or a "How-To" on anything you blog about. If you don't want to write, you can even make a series of videos that teach a variety of skills. 

Both PayPal and eJunkie provide easy ways to set up your product with free "Buy Now" buttons so you don't need to deal with processing payments.
And don't forget – when you sell your own product, you'll be able to get your own affiliates to help sell it for you!
5. Sell A Physical Product
Any physical product you sell – whether it's something you make or a product you're a distributor of – can be sold on your blog. One of the most popular products being sold right now is essential oils. It's very easy to work a mention into just about any blog post. For example, if you're child just started back to school, you can mention that you've used a specific oil to help them get to sleep with a link to your contact or order form.
If you sell handmade products online, like on Etsy or on Zazzle, you can use your blog to promote those items too.
6. Drop Shipping
Another way that you can sell physical products is through drop shipping. You can create your own store on your blog, and the orders are fulfilled by a drop shipping company. It's a great middle ground between affiliate sales and having your own product.
7. Offer Your Services
Offering services to your blog readers is an excellent way to start making money right away. Think of all the things you learned how to do just to set up your own blog – WordPress installation and simple blog design, SEO services, article writing, and more are all services you can offer to other people. If you know how to use Photoshop or Illustrator, you can sell those services in the form of blog headers, side bar banners or eBook covers. Do you like to write? Why not offer freelance writing services – you can create ebooks for other people for a very good price.
But there's more to offer than just blogging services, of course. You can offer coaching, menu planning services, homeschooling plans – I have a friend who uses her food blog to offer her catering and personal chef services!
8. Email Marketing
Some bloggers don't like to advertise or sell things on their blog – but they still make money with it. How? They use their blog to create an email list. By collecting emails from your blog readers, you can create a powerful and responsive list of prospective buyers for whatever product or service you want to promote.
Setting up an email autoresponder service is easy and inexpensive – it can even be free to start out with Mail Chimp or Mad Mimi. Then send your subscribers an email once or twice a week packed with information they can use. Don't bombard them with offers – that's the quickest way to get them to unsubscribe. Every 4 or 5 emails, offer a paid product or a link to a service you sell. 

You can combine this with the some of the other methods. For example if you're selling your own ebook, you can send out emails that offer bits of information about the same topic. Tell your subscribers ahead of time that the book is coming out, and offer them a discounted "subscribers only" price for a short time.
9. Collect Leads for Other Companies
This is an interesting monetization method that not too many people use. It's called "pay per action" and it works something like this: You get traffic to your blog, and you send them to another site through either an ad or a link in your post. The post will go to a site where the reader will take a survey, or fill some kind of form, usually looking for more information. For each person that clicks through and completes the action, you get paid.
Banks often have programs like this – for each person you send who applies for a credit card or requests information on a loan, you make a small commission.
10. Create a Membership Program
Membership programs can be done in many different ways, but what they all have in common is they bring a fairly steady income.
A simple type of membership program is a paid forum, where special content is available only for members of the forum. This is great when you've got a very specific type of niche, where your readers might like to communicate and support each other. 

Remember when I mentioned that you could create your own products to sell? Many of them could be done as a membership program. Imagine creating monthly menu plans and shopping lists to sell to busy working moms – they pay a monthly fee, and receive your new information each month.
11. Do Paid Reviews
Many companies will send a free product for you to review for your blog – in fact, there are sites that are devoted to connecting vendors with bloggers. Depending on the company, you may only get a free product – but there are plenty out there that also pay good money. You might do a written review, or you can record a video of yourself using the product. Upload it to YouTube and Facebook and get more traffic to your review!
12. Sponsored Posts
A sponsored post works a bit like a product review, in that you're working to promote a brand. Rather than a review, they want to see a post where you're using their product, so for example you may do a recipe post using "Brand Name" ingredients; or take a trip with your family and use "Brand Name" water bottles during the trip.
Brands that offer sponsorship often want you to share their brand on social media too, and will usually contract you for a certain number of tweets and Facebook or Instagram posts.
13. Donations
For real! You can put a virtual "tip jar" on your blog in the form of a donation button. Instead of asking people to donate, you can say something like "If you liked this post, why not buy me a cup of coffee!"
14. Sell Your Blog
If you've been blogging for a while and have realized that blogging isn't for you or that you're in the wrong niche and want to start over, why not sell your blog? It's the ultimate way to make money with it! There are lots of people out there looking for blogs that are already set up and established.
That's 14 different ways you can make money blogging – surely there's one that feels like a good fit for you! You may be surprised – your readers just might be out there wanting to purchase something from you. After reading your posts, make sure you've given them a way they can take action.