This post may contain affiliate links which may give us a commission at no additional cost to you. As an Amazon Associate we earn from qualifying purchases.
When writing a sponsored post, you want to do a good job for the company who paid you or provided you with product, but you also want to write a post that your readers will enjoy, as well. In order to keep that balance, there are four elements you should include in a good sponsored post.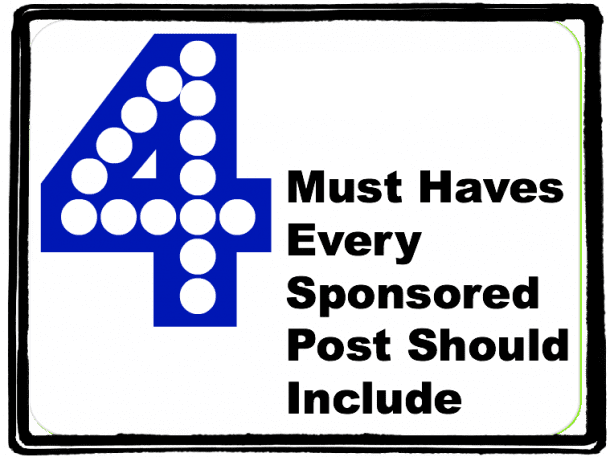 Your Voice
Whether you are doing a review or talking about an event or whatever you are writing, you should always keep it in your voice.  Your readers should be able to read any of your posts and say "Oh yes, that's her." This goes for your sponsored content as well.  Even though some brands will provide you with key points they'd like you to include, you can find a way to say them in your own voice.  Plus, if  a brand just wanted you to post their press release, that's what they'd ask of you: but they want your voice as well.  A sponsored post should not sound like a commercial- it should sound like you, but with a topic decided by the terms of the sponsored post.
Your Opinion
To avoid sounding like a commercial, make sure you aren't just rewording the brand's message. Include your honest opinion!  If you really do love something, tell your readers why: tell them how it relates to you, how it relates to them. Don't be afraid to mention the negatives as well. For example, I recently reviewed a car and while it was really fun to drive and had great gas mileage, I had to let my readers know that it wasn't the car for my family of five because we need more room.   While you want to keep it honest, do be careful about slamming a brand as it can make other brands hesitant to work with you.
Your Photos
When you can, use a personal photo that relates to your sponsored content. If it's a review, show a photo of you (or your kids, if that applies) trying out the product, rather than using a stock image.  If it's not a product review, still use a personal image if you can: find something that relates to the topic of the post.  Though if a brand asks you to include a certain image, do be sure to include that as well.
A Disclosure
If you've been paid or sent product in exchange for your post, you are required to disclose this in your post. A standard disclosure would read "I was sent product X for review in exchange for my honest review." or "This post was written as part of a sponsored campaign for brand x. All opinions are my own."