This post may contain affiliate links which may give us a commission at no additional cost to you. As an Amazon Associate we earn from qualifying purchases.
Do you remember the last job interview you had?  (Don't get anxious on me…) Do you remember where you were, how you felt, and what you said?
You looked good. You felt good and you had done your homework. You walked into that interview knowing that you were prepared to be the best candidate for the position.
You WANTED that job, bad.
And then… the doors opened to the interview room and *holding your breath…*
you rocked it!
You put your best foot forward: You were savvy. You were genuine in your compliments. You knew your stuff and you were quick to observe where and how you fit in.
That, friend, is the secret to successfully connecting with influencers.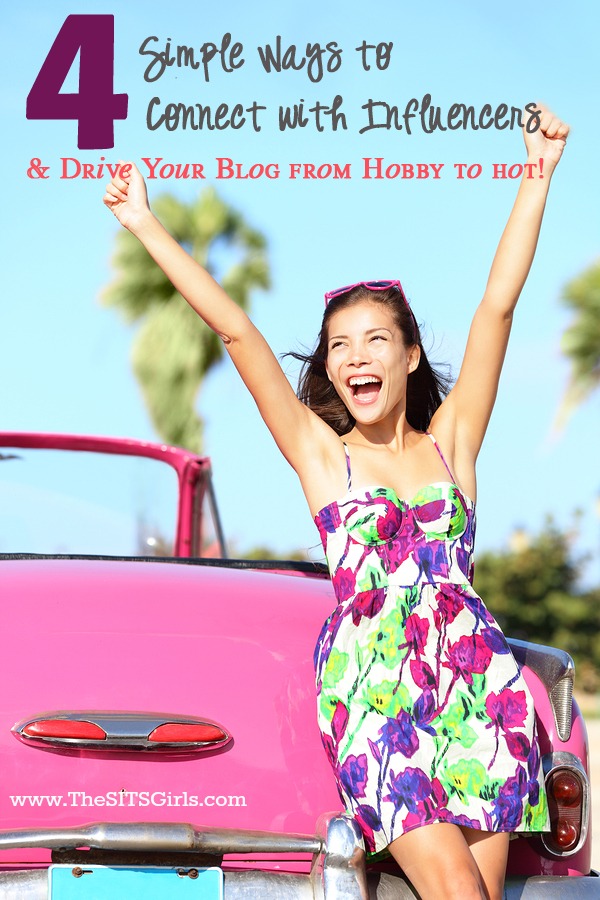 Here are Four Strategies to Make Sure Your Best Foot is Forward …
1. Be Savvy
Being savvy in the blog promoting world is all about being in the right place and surrounding yourself with the right people.
The Right Place: Different influencers have different influences on different promoting platforms (Wow! That was a lot of differents…) Watch the platforms you are regularly participating in and you will see that one influencer may have an engaged following on Facebook but not so much on Twitter, or Pinterest etc. Make sure that you are connecting with influencers where their influence is most powerful to begin with. For example, if you want to connect with Mari Smith, you're going to go to Facebook, not Twitter, not Pinterest, not Instagram. Although she has a presence on each platform, Facebook his her thing. That's her place, so that's where you should start connecting with her.
The Right People: The influencers you choose to connect with has

EVERYTHING

to do with how successful you are in connecting. Do you have complimentary products? Do you have relatively similar engagement in your communities? Can you add value to one anothers communities? If you are just connecting with people because they have a high number of followers or likes, your wasting your time. Micro target and stay focused when you go out looking for the influencers who will really have an impact on your blog promotion.
2. Be Genuine
Every influencer has a nose to sniff out spammers and brown nosers. Don't be tempted. Be real. Be genuine. Don't spam every blog post they write with insincere comments or re-tweet everything you see in their stream. Take your time. Engage where it's most applicable and be steady. Remember, this is about a solid long-term relationship. Nice and easy does it…. every time.
Curate, Curate, Curate: Curating (or sharing) is such a great way to get noticed by influencers. When you genuinely share articles that are helpful for your audience and direct your audience to the influencer, they start to warm up to you. The more you share, the more they return. But don't get spammy. Remember, long-term relationship here, not a one-night stand.
Comment: You all are already

EXCELLENT

at this, so it shouldn't be too hard to adopt. It's a natural reaction when you start connecting and curating, commenting is the icing on the cake.
Thank: Thank you is such an underrated and underused phrase. There are so many ways to use it. When the influencers you're focusing on start to respond find nice, simple ways to thank them without groveling. 🙂
3. Know Your Stuff
How do your skills bring value you to their audience and how does your audience bring value to their brand.
Identify the skills and assets you have that will add value to the influencers audience. Don't pitch them out right with your skills, just demonstrate them with the articles you post, the comments you leave and the engagement you have within their communities.
4. Be Quick to Observe
Know Your Place: This isn't a hard sell game. This is a long-term relationship. If you really want to attract influencers who eventually advocate for you then you must know your place and accept it. Know when you're a follower, know when you're a community member, know when you're engaged and engaging and know when it's your time to step up and influence.
Know How Your Brands are Complementary: Be quick to observe how your brands work well together. Don't get stuck looking for influencers in your industry or among competitors. Open the doors to unlimited promotion opportunities by connecting with influencers inside and outside of your niche and industry who have an audience that would benefit from your brand and vice versa.
If you need a jumpstart on uncovering who and where your influencers might be, here are some good ways to start:

Remember that influence isn't always in numbers – focus on the influencers engagement and response within their communities.

Watch for patterns – where are the influencers engaging? Where is their circle of influencers engaging? Go and be there. Scout it out and find your place.

Make a short list – Naturally continue engaging with people who are responding to you. If they don't respond to you after a few shares or introductions, don't be afraid to drop them like hot cakes. If they don't have time for you, you shouldn't be using your precious time on them.

Rinse and repeat. You'll be on influencers radars in no time!
Once you're on their radar and you've had some interaction and time to meld, then hit them with your best shot, fire away! Ask for the opportunity to guest post or cross-post so you can expose yourself more directly to their audience and continue growing your newfound relationship.
Ready. Set. GO!
If you have questions, fire away in the comments section and I'll stick around to chat!
p.s. I quoted two songs in this article, I challenge you to find the lyrics and write the titles in the comments, just for fun 😉 (Double kudos if you can name the original singers!)