This post may contain affiliate links which may give us a commission at no additional cost to you. As an Amazon Associate we earn from qualifying purchases.
That's it! You have had enough! You are ready to quit your day job.
I am ready to support you. I am ready to get you out of the rat race, into a lifestyle you love. Earning the money you are worth, and working with clients with whom you can teach and share your message.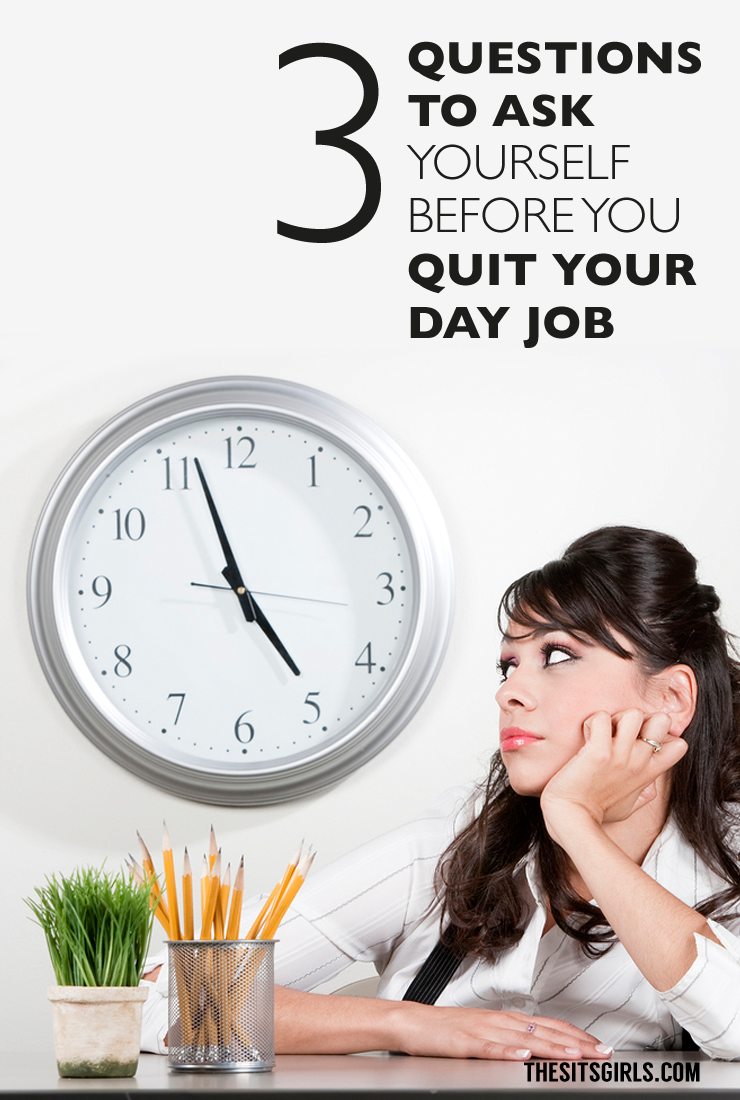 3 Questions to Ask Yourself Before You Quit Your Day Job
So, let me help you get started on your exit plan, by considering these three questions for getting freedom from the desk.
1. How much money do you need to live comfortably? I see too many well intentioned business women quit their job without crunching the numbers first. For example, launching your dream business is not worth going into foreclosure for, especially when situations such as that are avoided with simple planning. If quitting your job means you are going to have to eat baked beans for a month, never be able to go on holiday; or is going to force you to give up your yoga membership, then maybe, it may be worthwhile sticking with your day job just a little longer.
You can always get a part time job or contract work if your day job is unbearable. Just don't completely throw a regular salary out the window until you have all your ducks in a row.
The best way to test out the waters is to see if you can go part time in your day job. This will allow you to spend time establishing the framework for your business, while also having a regular salary.
2. How much support do you need? Starting a business takes dedication. It takes determination and grit. You need to have a support system so you don't go totally crazy through the process. This is where a business coach becomes a necessity, especially when you are new to running your own business, setting up infrastructure, determining prices and, most importantly, getting clients.
Ever heard the saying, "it's not a business until you make money" ? The right business coach is the fast track to making the money you need to replace your corporate salary.
This is also the time to consider whether or not you will need administrative or technical assistance for website building, newsletters, and content for your website.
Finally, do you have friends and family that will be positive and supportive during this start up and building phase of your business? Have you talked to those closest to you about what kind of emotional, financial, and moral support you may need?
3. What's your plan?  You need an exit strategy. Talk with your support network to determine when you will step down to part time and when you will quit your day job. Make a plan that includes taking into consideration: money, coaching, a timeline, and part of the business you will work on before quitting. Set reasonable goals to achieve your exit strategy.
You also need a business plan. It doesn't have to be a formal 20 page document, outlining every aspect of your business, but if that's your style, totally do it! You need a step-by-step plan of how you will go from: no business, to paying clients, to doubling your corporate salary. Write it down then walk it out.  Click here to learn more about the business infrastructure you will likely need when you set up your business.
Starting a business while working is possible. It's hard but it can be done and successfully. With a bit of preparation and planning you can smoothly transition off the corporate ladder and into your dream business and lifestyle.
Yes it's scary. Yes some days you may feel like it's impossible but I promise you it isn't.
With determination you can do anything. And you can most definitely do this.
With love,
Jess
Author Bio: Jessica Nazarali
Jessica Nazarali is the coach who inspires women create coaching businesses and build beautiful, personal brands. Find out how you can earn $27K in one month while working for yourself at http://JessicaNazarali.com.
Keep Reading