This post may contain affiliate links which may give us a commission at no additional cost to you. As an Amazon Associate we earn from qualifying purchases.
Getting paid to blog- it sounds amazing, doesn't it? And it can be so flattering- someone values what you have to say and wants to either send you something or pay you. It can feel like "Yay! I've arrived!"
But before you agree to write a sponsored post, you need to take some factors into consideration.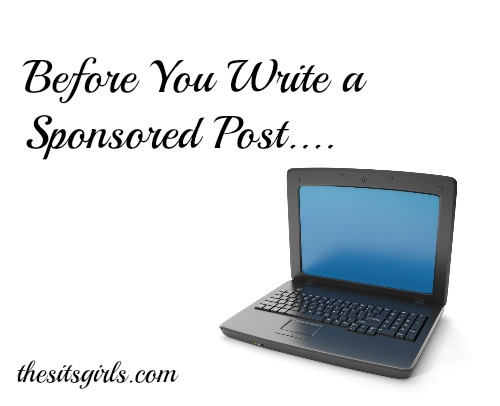 Is it a fit for your blog?
If a product or company has absolutely nothing to do with your blog and you can't find a way to make it make sense to your readers, you might need to pass. Sometimes you can get a little creative and even stretch yourself to make a topic fit. But other times, it will simply sound disingenuous to your readers and you should probably pass. I often get pitched products for little girls. I do have some darling nieces and they can sometimes be testers for me but in general as a mom of three boys, I have to pass when a company or product is for girls.
What are you being asked to do?
And is it FTC-compliant? Run far away if they are asking for links that aren't no-follow or if they don't want you to disclose that you have a relationship with them.
As long as it's all up-to-code there, take a look at the amount of work they want you to do. What you are expected to do prior to posting: review, make/bake something, or simply familiarize yourself with the brand. What you are expected to do in your post: post length, content, photos, etc. What you are expected to do to promote your post: number of tweets, facebook shares, instagram, etc.
You need to decide if you can do justice to the sponsored content. You don't want to just slap something together and then expect to get paid or to get more sponsored opportunities. So you have to decide if you can do the work involved.
Really understand what they are looking for and figure out if you have time for it and also if the compensation you will be receiving is worth it.
What are you getting in return?
Have no doubt that your post has value. Otherwise, you wouldn't be asked to do it. And it will be taking up your time to complete and space on your blog, so you should be getting something in return. Though again, you do need to be providing something of value to them as well.
Deciding what you need as far as compensation looks different to each bloggers. And it will change as you go from being a new blogger with a small audience to a seasoned vet with a larger audience. Sometimes you have to start with product as your only compensation. Other times you'll participate in a live event. And other times you'll receive monetary compensation(sometimes along with product or an event). And still others, you are simply opening a door to working with a brand or possibly doing a favor for a friend.  But you have to decide for yourself if what you receive is worth your time and blog space.
What factors do you consider before deciding to write a sponsored post?