This post may contain affiliate links which may give us a commission at no additional cost to you. As an Amazon Associate we earn from qualifying purchases.
For most of us, blogging begins as a hobby. We write about our daily lives, kids, families, recipes, or whatever strikes the right mood. It is not long, however, before we discover blogging has great business potential. The opportunity to make an income blogging, selling products, or offering services transforms our hobby into a viable small business. But starting as a hobby, means that most of us didn't have a blog business plan in place from the beginning.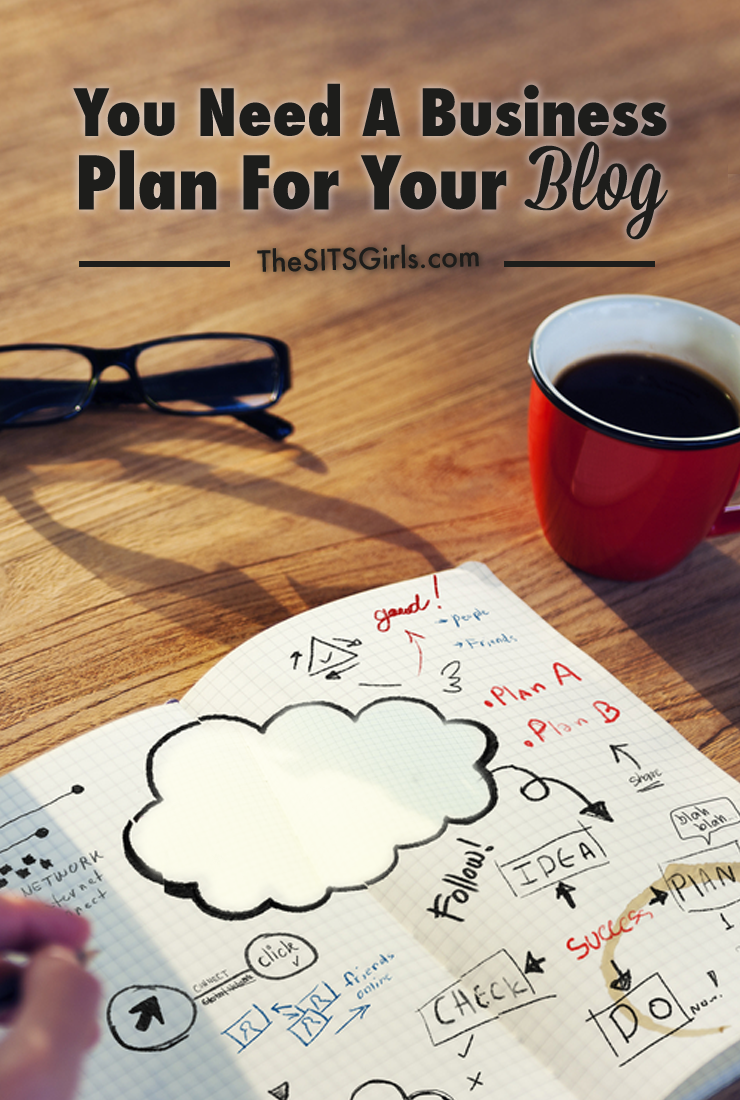 Why You Need A Blog Business Plan
When a blog hobby transitions to a blog business, it needs structure. Here is where the blog business plan enters the process. At first, the thought of creating a blog business plan is overwhelming. But it is a tool to help lay a strong foundation for the business, answer future questions, help with future decisions, and lay a path to business success.
Basic vs. Intense Blog Business Plan
Some blog business plans go into great detail. Depending upon your available time and needs, you may decide to work on a basic blog business plan and separate branding plan. Detailed business plans may delve into marketing, branding, and other specific areas. A basic blog business plan touches on those areas but with less intensity. Here are some tips help you get started crafting a blog business plan that fits your plans.
1. Mission and Vision Statements
These should reflect your beliefs, what you hope to accomplish with the blog, and how you can serve your readers. Define who your target audience is and how you can help them.
What are your responsibilities to your readers?
What do you share that is different from other blogs?
Who are you to the reader?
Why are you doing this blog?
Where do you plan to go with the blog?
What are your core values and principles?
Who is your reader and what do they need?
2. Structure and Guidelines
Decide on your blog categories, posting schedule (once a week, twice, 5 days?), guest posting guidelines if you plan to invite guests, and sponsored post guides.
3. Monetization
Take time to consider the different monetization options. In this section you will decide what and how you will monetize your blog. Monetization options include: blog products, your services, online courses, affiliate programs, sell ad space, membership services, or pay-per-view services (like Google).
How a business plans to earn revenue is an integral part of the planning process. Create a specific plan with as much detail as possible about revenue generation. For example, "offer x, y, z ad spaces for X, Y, Z dollars a month".
4. Marketing and Sales
While we are talking about monetization, let's touch on marketing and sales. Promotion is a huge part of a blogging business. Writing great content is only the beginning. We all know after publication, promotion is key to attracting readers and generating revenue.
How will you promote and how often? Social media? Email? Guest posting?
What social platforms will you use to promote on? Facebook? Twitter? Instagram? Pinterest?
How often will you promote on each platform or?
How will you sell your services or products?
5. The Competition
Research other blogs in your niche. Try to get a sense of what is already available to your target audience and what makes you different. Ask these questions and write down your answers: What do you like about them? What do you dislike? What information do they share? How will you do it differently? What makes you new and unique? What type of reader does their blog attract?
6. Financials
In your blog business plan, an outline of what the business will spend helps with short and long-term planning.
Start up costs – purchasing a theme, domain name, and hosting. Business formation fees (LLC, etc.), business furniture, computer
Monthly expenses – graphic memberships (PicMonkey etc.), purchasing stock images, hiring help, supplies for products, travel, advertising / promotions etc.
Monthly revenue – track the money your blog earns every month
The best advice, when starting the blog business plan process, is to take your time. Complete the sections in any order you like. Give thought and consideration to what you want for your blog business. Your business plan is a living document. It can be easily changed and updated to suit the direction you are taking your business.
Share you blog business plan process with us. We'd love to hear how you are doing.
Keep Reading
Want more advice about setting goals and monetizing your blog?
Check out these posts!