This post may contain affiliate links which may give us a commission at no additional cost to you. As an Amazon Associate we earn from qualifying purchases.
We're in the middle of blog conference season and business cards for your blog are probably at the top of your packing list, right? (You can't head to Bloggy Boot Camp without them.)
Business cards are probably the #1 marketing tool for bloggers offline. At conferences, there's going to be lots of new bloggers you meet who you're going to want to connect with online, but not enough time to jot down each other's information… that's where blogger business cards come in!
I bet by the end of the conference, you'll have a nice big stack of cards from awesome bloggers you met and you'll have all the info you'll need to find (and stalk, if you'd like) those bloggers online.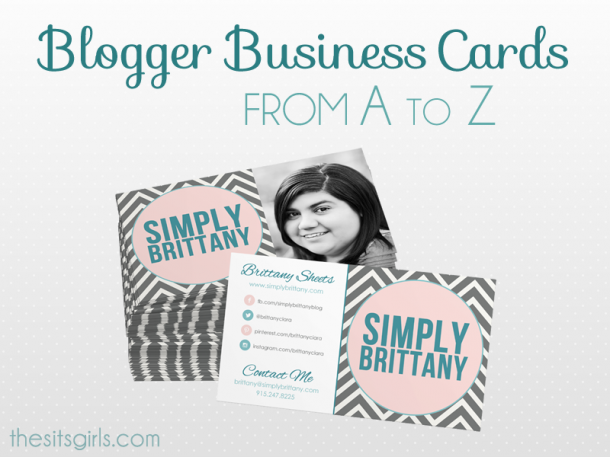 Blogger Business Cards From A-Z
A Picture
Make your cards more personal by including a picture of you. That way when attendees are looking through their stack of business cards, they'll be able to remember you by your face.
Blog Title
You want others to know the name of your blog, right?!
Contact Info
Make sure you provide a way to contact you, whether it's your email, phone number, or both. You never know when a company attending the conference is interested in working with you.
Die-Cut Cards
If the typical rectangle business card isn't for you, look into die-cut cards… I have a client whose restaurant is themed around circles and swirls, so her cards are round and keeps with the theme of her business.
Express You and Your Blog
I was 18 when I attended my first blog conference and my business cards represented that. I had a colorful design that embraced my youth and matched my blog. Think of it this way, if someone can fall in love with you because of your business card, imagine what they'll think when they see your blog.
Fonts & Typefaces
We all love cute and funky fonts, right? But make sure you use fonts and typefaces that can be read. Remember, business cards are small.
Give Them Out
You didn't purchase 150 business cards for them to just sit in your purse, did you? Hand out your cards to everyone!
Hole Punch
If you're asking yourself what you're going to do with all the business cards you've collected at blog conferences, here's a tip for you. Hole punch the business cards you've collected and use a book ring to keep them together.
Icebreaker
Blogger business cards are a great icebreaker. When I attended BBC in 2010, one blogger hadn't recognized me… but I handed her my card and instantly the conversation started because she was an avid reader of my blog. You never know who you'll run into!
Jot Down Notes to Self
Make small notes for yourself on others' cards. For example, I would write TX on cards from Texas bloggers because I really wanted to connect more with them.
Know Your Pitch
When handing your card to PR reps at blog conferences, make sure you know your pitch just in case they ask you to share more about yourself and your blog.
Logo
Including the logo to your blog makes your cards recognizable by your current readers and provides new blog friends a taste of your blog design.
Material
Paper, plastic, plexiglass… oh my! Business cards can be made from anything these days. Wood, metal… cookies! The possibilities are endless.
Name
Include your personal name on your cards. It makes them more personal.
Ordering your Business Cards
There are lots of places out there where you could get your business cards, my favorites are Moo, Vistaprint, UPrinting, and Tiny Prints.
Phone Number
If you have a blog that's business oriented or PR friendly, include your phone number. Remember, sometimes there are companies at the conference and if they want to work with you, a phone number gives them a great way to contact you.
QR Code
Some bloggers opt to include a QR code on their business card so that others can quickly scan to their websites.
Refer to Others' Cards
Imagine you're at a conference and the speaker asked if there were any questions. Well, Becky at your table had a great question and you want to share it on Twitter because you're interested in what others not at the conference think. You've never connected with Becky before, but she handed you her card at the beginning of the session… now you can mention her on your Twitter post because her handle was listed on her card.
Social Media
Include URLs for your social media accounts. Facebook and Twitter are the most popular to include on blogger business cards. I've been able to include Instagram and Pinterest on mine, as well. TIP: use fb.com instead of facebook.com to shorten your Facebook URL.
Tagline
If your tagline fits, add it! Sometimes, your tagline speaks volumes!
URL
Always include the URL to your blog. Always!
Verify Your Cards
This one is important! I learned the hard way. A week and a half before an event, I realized I didn't have cards. I turned to Vistaprint's pre-made designs for a quick solution… when I typed my URL I input funfunepkids.com instead of funforepkids.com. I never double-checked. Don't make the same mistake I did. Make sure all your info is correct.
White Space
Leave some space on your cards for notes, some bloggers do write on business cards. (Refer to J.)
X-tra
Pack extra cards with you just in case.
YOU
Your business cards should be a reflection of your brand, which is YOU! Make your business cards fit YOUR style and personality.
Zero
The number of your own business cards you want to go home with after a blogging conference. 😉
I hope this post helps you understand more about blogger business cards and why they're important, especially at blog conferences or events.
Do you have business cards designed and ready to go?
Interested in More Posts on the Business of Blogging?
If you enjoyed this post on business cards for bloggers, then be sure to keep reading!