This post may contain affiliate links which may give us a commission at no additional cost to you. As an Amazon Associate we earn from qualifying purchases.
Just about every blogger wants to know how they can best monetize their blog. After all, if you're blogging professionally, you want to make money with it, right?
We tend to see the same answers over and over, too: join an ad network, sell affiliate products, write an ebook and sell it. These are all great ideas, but not many of us think of how we can sell our skills to offline businesses.
I hear you now, wondering exactly what skills I might be talking about! How about all those serious SEO and marketing skills you picked up in the course of creating your blog? There are a lot of ways you can sell those skills to offline, local businesses and boost your blogging income offline.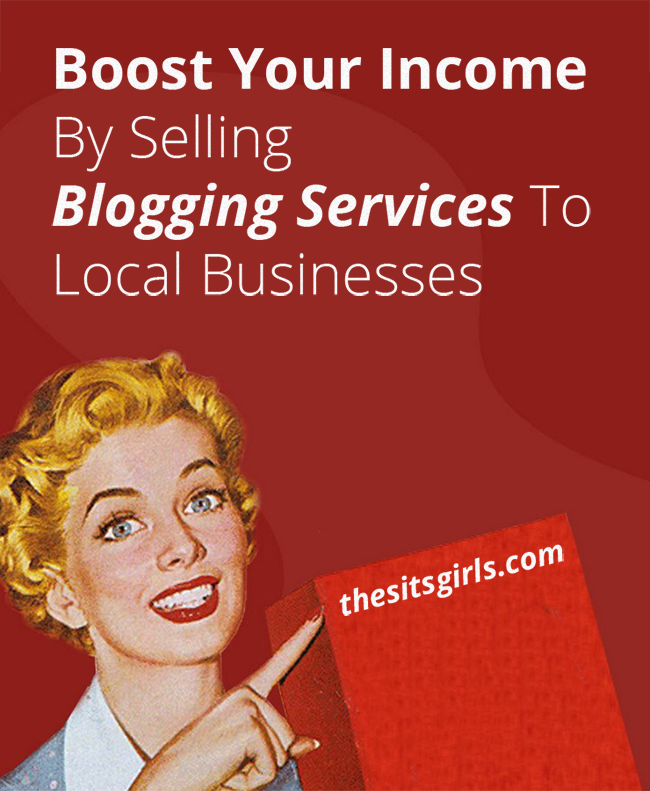 5 Services You Can Offer Local Business To Boost Your Blogging Income
1. Website Building
If you know how to use WordPress, you can create a website for local businesses. It's pretty simple to create a static home page for them. Depending on the business, you may add photo galleries, product pages, coupons pages, or information on the staff and services. Of course, it's always a good idea to have a blog for SEO purposes.
This can be a one time service, or an ongoing project where you create a SEO plan and help them implement it by providing content for their site.
2. Social Media Management
There are plenty of people out there who have no idea how to create a Facebook Fan page or Google+ page for their business. There are business that will gladly pay hundreds of dollars to get their accounts set up and maintained for them.
Check out these tips to help you get started as a social media manager. 
3. Search Engine Optimization
Do you know how to make websites rank in Google? Local business tend to be much easier to rank because they have less competition for their local keywords. If you have a basic knowledge of SEO, this is a service you can offer to local businesses who have a website promoting their services.
4. Article writing
Article writing can be very lucrative. Many business have a site with a blog that needs content updated on a regular basis. Create a long term business plan by creating that content for them.
5. Package Deals
If you're interested in creating a serious income, you can package all these services together. Build a site and provide SEO while providing content and social media management for their site. This is something you can actually turn into a full-fledged business; you might even eventually hire other people to write the articles and do the social media updates for you.
Most people who run offline business don't have the time needed to learn the intricacies of SEO, social media, or website creation. They rely on people like us to provide these basic skills that we've honed creating our own site. If you want to boost your blogging income, this is an excellent service that you can start offering today.