This post may contain affiliate links which may give us a commission at no additional cost to you. As an Amazon Associate we earn from qualifying purchases.
I admit that when I first started blogging, I wasn't at all concerned about building my email list. In fact, I didn't even have a list and I barely even knew what "building a list" meant in terms of blogging.
It wasn't until my traffic grew and I started doing more research into blogging that I began to understand why an email list was so important. A lot of people were landing on my blog every day. Some might come back, and some may never find me again. Having the email addresses of all those readers meant that I could make sure they didn't forget about me!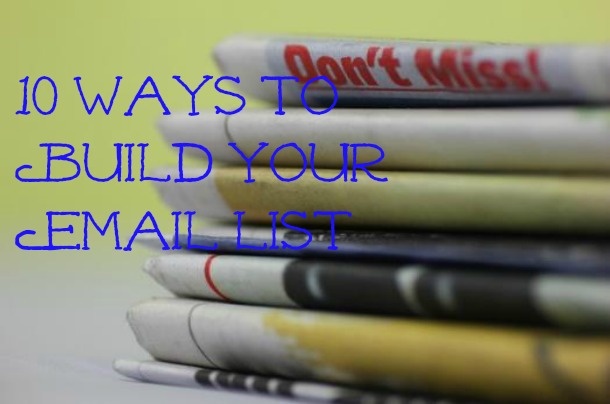 10 Best Ways to Build Your Email List
So having an email list is one thing, but it won't do you any good if you can't get people to sign up for it. You want those readers who like your content to start receiving your updates so they'll turn into regular readers, if they aren't already. But how do we get them to do that? Fortunately there are a ton of different strategies for converting email subscribers.
Below are 10 of the most effective ways to build an email list:
1) Make Use of a Visually Appealing Sign Up Form
It goes without saying that your blog visitors can't sign up for your newsletter if they don't know you have one. Put an email subscribe form on your site in a place where people can't miss it. A popular spot is above the fold in the top sidebar, or even in your header. Some newsletter services, like Aweber, come with forms that you can easily copy/paste into your blog. If you don't like the look of the forms your newsletter service offers, you may be able to hire someone to create a form that is visually appealing and fits well with the look of your blog.
2) Offer an Incentive
Give your readers an extra incentive to sign up for your email list. Maybe you could hold a monthly giveaway open only to blog subscribers, or offer a free e-book download to new subscribers. Readers also tend to love free printables — calendars, organizers, to-do lists, or anything else that might tie in with the theme of your blog. Another excellent idea if your blog is focused around products is to offer a special deal, freebie, or coupon available to subscribers only.
3) Get Social
Don't just advertise that you have a newsletter on your blog. If you are active on social media, make it a point to let the people who follow you know that you have a newsletter and invite them to subscribe on occasion. Many newsletter providers will give you a direct link to a sign-up form, which makes it really easy to convert subscribers via social media. Some providers also have Facebook apps that let you build sign-up forms right into your Facebook pages!
4) Advertise in Your Email Signature
If you correspond regularly with your readers via email, you may want to think about adding a link to your newsletter in your email signature. People who take the time to send you a message may very well be interested enough in your content to become subscribers, and putting that option in front of them through your email signature is a great idea.
5) Put a Sign-Up Box To Your Email List On Each Post
Don't want to put a sign-up box in your sidebar or header? Another way to get your subscribe form in front of a lot of eyes is to place the form at the top or bottom of each post. If you have a WordPress blog, the Magic Action Box plugin (free) makes this pretty easy to do. You can also style the boxes yourself if you're pretty good with CSS and want a certain look.
If you do not want to use a plugin or you are not using WordPress, you can always just put a link to your sign-up form in manually. Write a quick little blurb at the end of each post reminding your readers to sign up for your newsletter. Simple!
6) Invite Readers to Sign Up Below Your Comment Form
My newsletter provider has a plugin for WordPress that places a check box just underneath the comments form, and when selected it automatically signs the reader up for my weekly updates. I can change the text to make it read however I want. So far, this is converting pretty well because it's not at all invasive and the only thing a person has to do is simply tick the sign-up box. My newsletter provider is Feedblitz, but I think most of the other popular providers offer this option. If you're on WordPress, you can try Newsletter Sign Up plugin that will make it really easy for you to put a check box at the bottom of your comment form.
7) Participate in a Joint Promotion With Another Blogger
If you want to grow your email list, one idea is to go in with another blogger who wants the same thing and do a joint promotion. This would be a way to get your newsletter subscribe link in front of more eyes. Just make sure the blogger you choose is someone else within your niche or in a related niche so that you'll be targeting people who would likely be interested in your content.
One idea for a joint promotion would be a giveaway that each of you could host on your sites. You could include newsletter sign-ups for both blogs as entry methods for the giveaway.
8) Promote Offline
Don't stick with just online promotion. For example, if your blog is centered around a business that you run, you could easily promote offline as well. Make sure that you include a business card containing all your contact info — including your newsletter sign-up link — with every single purchase. Tell people about it in person when discussing your blog and invite them to sign up. If you do any offline publishing (newsletters, magazines, or even books), make sure your blog link and newsletter sign up information is printed at the bottom of your content.
9) Write Guest Posts
We all know that guest posts are a great way to gain new readers. At the end of each guest post you write, include not only a link back to your website, but also a link to your newsletter sign up form. Sure, not everyone is going to sign up right away, but it's worth having in place if you manage to get even a handful of new subscribers per month via this method.
10) Become Active on Forums
Online forums exist for pretty much every subject imaginable. For example, I blog about working from home, so I tend to frequent some of the more popular work from home forums. Find a forum centered around your niche and become an active, helpful participant. Then, make use of your signature line so that it includes a link back to your blog and/or your newsletter sign-up form. If you are helpful and post frequently, over time the other members will begin to trust you. This means they may visit your blog and/or sign up for your newsletter through your forum signature.
Now it's your turn! Do you have any other newsletter-building tips you'd like to share? What methods have worked for you when building your email list?
More on How to Build Your Email List
Still wondering how to build your newsletter? Keep reading!
About the Author: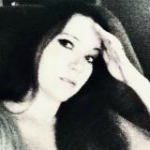 Anna Thurman is a stay at home wife, mother, and blogger. She researches various online money-earning opportunities and work at home jobs. Her findings are published via her website, Real Ways to Earn Money Online. If you would like to receive updates from her website, you may subscribe here.