This post may contain affiliate links which may give us a commission at no additional cost to you. As an Amazon Associate we earn from qualifying purchases.
Joining us today is Frantic Mommy, who is here to give us the lowdown on business networking: the why, how, and what the heck? She's dishing on why you need to get involved and how business networking can be especially important to bloggers.
Blogging and business networking are not usually two skills you see go hand-in-hand. Unless, of course, the business networking you are talking about involves the words "hardware" or "essential components."
The "networking basics" I am referring to is business networking. The act of the face-to-face connecting with like-minded business peers in an effort to get referrals and grow your business. This may be a bit of a foreign idea for some since many bloggers are introverts, (not that that's bad!) and our world is the Internet and the Blogosphere. As a blogger, most of the people we connect with on a daily basis are people we are not eye-ball-to-eyeball with.
I have lived in both worlds. I am a blogger/writer just like you as well as being a "recovering sales professional." As a blogger, I know darn well personal face-to-face interaction with our peers is not something that happens on weekly or even monthly basis, and yet it's still soooo important.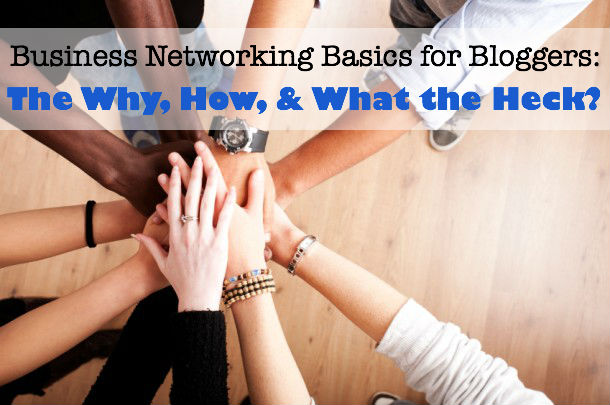 Why Network?
Imagine if you had the key to attracting more customers, growing your business faster, and creating sustainable success in your personal and professional life.
YOU DO. It's called business networking.
Business networking puts a face to your business and gives you a physical business presence outside of the walls of your biz. Imagine yourself connected to a group 50+ like-minded individuals who were willing to refer their friends and family to YOU when the need arises. It would be like a big, giant Sales Team working for you and your business. It is estimated that the average person knows about 250 people. And each of those people knows, in turn, another 250 or so people. This means that for each new person you meet, you gain access to a potential pool of 62,500 people separated from you by just two degrees!
How Business Networking Works
Do Not Fear The Paper Nametag
Ever see someone at a gathering that you know you know, but you can't remember their name? So, being too embarrassed, you don't speak to them at all? Possible opportunity lost. The funny thing is, they are probably thinking the same thing about you. Wear.A.Nametag.
Get To The Point, Homey
One of the quickest ways to make people glaze over and tune you out is to blather on for 15 minutes to answer a question, "So, tell me about your blog." Unfortunately, people have 9-second-gold-fish-attention-spans these days so you need to pare your answer down to the lowest common denominator. In one sentence, sum it all up for them. "I blog about travel" isn't going to cut it either. Be specific; "I blog about traveling abroad as a family with small children." Use your intro or "elevator pitch" to inform people of three things (quickly):
Who you are.
Readers you are targeting.
A problem you're trying to solve or a passion you are sharing.
Practice The "3 Ups"
In business networking (whether it's face-to-face or virtual) always remember it's not all about YOU.
"UP" number one is Ante Up. If someone asks about you and your blog, reciprocate.
"UP" number two is Show Up. Bust out of your comfort zone and show up to conventions, gatherings, and function. Be seen, darn it.
"UP number three is Wear Your Business Bling: Arm yourself with hot business cards and even logo'd clothing. Business cards are mandatory. Not only because they are professional, but because I have a bad case of Mom Brain (and I am sure I am not alone). I need something to remember you after I leave the gathering.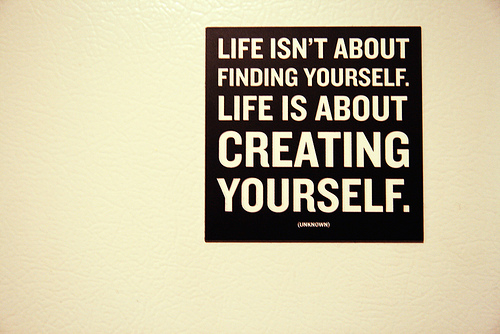 Be Yourself!
I know this sounds complete cheeseball, but just be yourself. "Authentic self" is not just a hip buzzword these days; it's an honest way to conduct yourself. Obviously I don't want you cursing like a sailor and showing people your new back tattoo, but I do think you should be YOU.
"Sometimes to move forward in your dreams, you need to take a chance. AND be ready to do so!"
What the Heck? The Golden Rule of Business Networking
Give First. Get Second. Be of service, a giver of value first, and then receive. Trust me. It does come back to you. No, this is not some screw job. This is not volunteerism. It's building of trust and goodwill. I help you, you help me, and together we grow our businesses and become awesome.
"Let's face it; sometimes business networking gets a bad rap. That's because people think business networking is about selling themselves, pitching their product, or getting business leads. Positive business networking is the opposite. It's not "all about you"; it's about what you can do for someone else. The magic is that when you start networking this way it will take all the pressure off. People stop selling themselves, and start listening and focusing on the other person. It's about opening a relationship, not closing the sale. It's the power of connection."

-From the book, Working The Pond
So are you ready? Chomping at the bit? Good. You need to be. Don't miss out on golden opportunities to become acquainted with those who can help you personally and professionally. To network properly, you need to get out of the cubicle.
Business networking is a "contact sport" that can't be done from behind a desk sending emails. Form a plan. Research business networking groups in your area. I can honestly say, of all the business networking groups I have been in, I can without a shadow of a doubt recommend your local BNI Chapter. Their structure, guidelines, effectiveness, and success rate can't be beat. Find one close to you and ask to be able to come as a guest. Bring business cards and be ready, your are about to tap into a whole pool of proactive business people.
Enjoy!
About the Author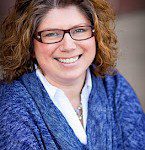 Queen of the Kingdom of Tired: Being a parent i say "not-so-much" wwayyy too often. Parenthood is da bomb and Excedrin and Pepto are my friends. I write Frantic Mommy just cuz I know darn well someday I will become famous. And I kinda like to make people laugh. Especially parents. If I can give another Mom a moment of "oh thank goodness it's not just ME….." MISSION ACCOMPLISHED.