This post may contain affiliate links which may give us a commission at no additional cost to you. As an Amazon Associate we earn from qualifying purchases.
If you'd like to work with a particular brand, chances are you are going to have to pitch them instead of hoping they'll find you. But what should your pitch look like? Most pitches should include these four components: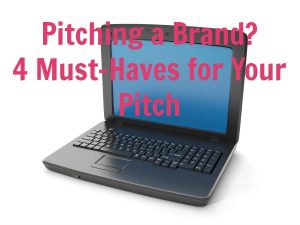 Show you know the brand
Your opening should show that you do know something about the brand that you are pitching. Give an example of a product of theirs you love or want to try and why.  Maybe it's something you've read about their brand that sticks out in your mind.  Show that you aren't just pitching every brand that sells an item, hoping someone will bite.
Explain why you are a fit for the brand
Not every blogger is a fit to work with every brand. Let the brand know why you are a good fit. Do you already use their products? Do you have the perfect audience for their brand? This is also where you should tell a little bit of info about you personally and your blog, including some relevant stats.
Detail the partnership
Let the brand know what you want from them: whether it's product for you and/or a giveaway or monetary compensation.  Also explain what you are willing to do for them in terms of posts, ads, and/or promotion on your various social media platforms.
Next Steps
Let the brand know that you are looking forward to hearing from them. If you are open to other partnerships with them aside from the one you outlined, let them know that as well.
Have you tried pitching a brand yet? What tips would you add?