This post may contain affiliate links which may give us a commission at no additional cost to you. As an Amazon Associate we earn from qualifying purchases.
Are you looking for direction when it comes to your blog? Today we're focusing on how to develop an effective business plan to take your website in the direction it needs to go. By following these steps, putting together a business plan is easier than you might think!
When I first made the leap into the blogging world, I did what all new bloggers do; I started researching all the things bloggers are "supposed" to be doing. I was excited, proud, and passionate about my little space on the Internet. I quickly realized that being successful in blogging requires a lot more than stellar writing; it requires time, commitment, an appealing design, high quality photos, marketing, social media savvy, and a strategic focus.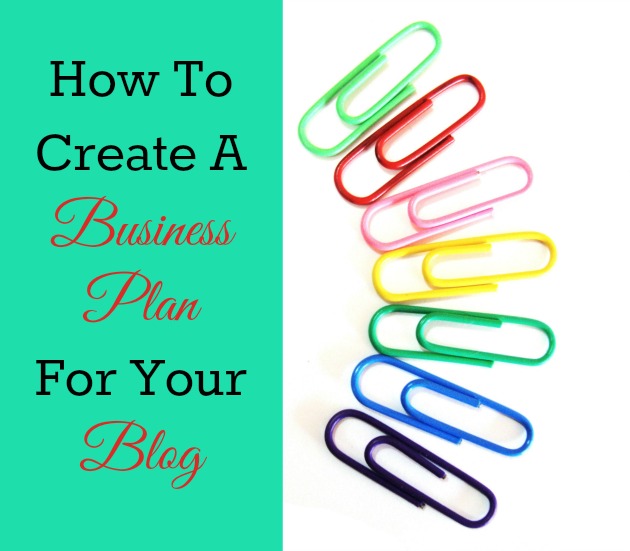 How to Create a Business Plan
Take a look around at your favorite successful bloggers.  You will see that most of them have been blogging for a year or more, and none of them became successful by accident.  Great bloggers have a clear vision about who they are in the blogging world, where they want to take their blog, and who they are trying to reach.  The good news is anyone can be successful in blogging with a plan and a lot of passion.  Today we are going to share with you how to create a business plan for your blog.
Step 1: Define Your Product and Your Purpose
Every business plan begins with an idea for a product.  It might be a tangible product like a fabulous line of cowboy boots or it might be a service, such as party and event planning.  Bloggers also offer a product, we offer writing that entertains our readers, we offer advice and tutorials, we share our experience and expertise.  In order to take your blog forward, it is important to understand what it is you want to offer your readers.  Are you hoping to provide them with inspirational writing, make them laugh, teach them how to make a centerpiece?
Step 2: Define Your Brand
Your brand stems from your purpose.  Once you have an idea what it is you are going to offer your readers, your product, so to speak, you need to position it in the blogging marketplace.  Honda markets itself as a reliable and affordable car, while BMW differentiates itself as a luxury vehicle.  Who do you want to be in the blogging world?  How do you want to be perceived?  Are you a busy working mom with talent for organizing, or are you a health conscious chef?  Be clear about who you are as a blogger and this will guide your path as you grow your blog.
Step 3: Identify Your Audience
Any blogger will tell you, in the beginning, readers do not magically appear.  You have to go out and find them.  Before you can find them, you need to know who they are.  What kind of readers would be attracted to your content?  Is it women?  College students and singles?  Moms?  Tech lovers?  Crafters?
Step 4: Determine Your Budget
Most businesses involve some start up costs.  Before a business is able to bring in any revenue, it often has to invest in equipment, offices, and marketing.  This may not be possible for all new bloggers, and that's okay.  Many blogs are able gain traction using free platforms and templates.  However, you may be able to reach your business plan goals more quickly if you make some upfront investments.  If you are able to, investing in a unique domain name, hosting service, and a premium theme or design will do wonders for your branding and attracting sponsors, brands, and readers.  These are the things that project professionalism, commitment to your blog, and differentiate your blog as business rather than a hobby.
Step 5: Define Your Long Term Goals
At The SITS Girls, we like to talk about defining your end game.  As bloggers, we need to know where we are going before we can decide how we are going to get there.  Take some time to contemplate where you want to take your blog.  Be specific.  Do you want to monetize your blog?  What are your income goals?  Do you want to use your blog to launch and market a product or service?  Do you hope to turn your blog into a book?  What is your timeline?
Step 6: Create a Marketing Strategy
Now that you know who your readers are, you need to find out how to reach them.  Where do your readers hang out?  What social media platforms are they most active on?  Do you have topics that are frequently searched for online?  Do your research and investigate what other successful bloggers in your niche are doing.
Step 7: Set Short Term Objectives
When you have a long term focus, it can help to set short term objectives to help you stay motivated and measure your progress.  If your marketing strategy involves growing your social media platforms, you can set numerical goals to increase your following on a monthly or quarterly basis.  If your strategy involves search engine traffic, you may want to set goals to increase your page rank for certain flagship blog posts. Regardless of your strategy, it is important to set small milestones to keep yourself on track.  It also keeps you from getting overwhelmed.  Think "small manageable steps."
Your Turn
Let's keep the discussion around how to develop a business plan going. Leave a comment on this post below or head over to our Facebook page to keep the conversation going.
No matter what your blogs goals are, a little planning goes a long way.  Have you created a business plan for your blog? What has worked and what hasn't?
Ready for More? Keep Reading!
If you enjoyed this post on creating a business plan for your blog, then keep reading!