This post may contain affiliate links which may give us a commission at no additional cost to you. As an Amazon Associate we earn from qualifying purchases.
We spend a lot of time coming up with blog posts, social media promotion and organizing our editorial calendar. The one area that usually gets overlooked is your blog's budget. Running a blog requires money and if you want to run your blog like a business then creating a blog budget is crucial.
Over the next couple of weeks, take some time to plan out your 2014 blog budget. Creating your budget will allow you to foresee expenses and ensure you can maintain your blog all year.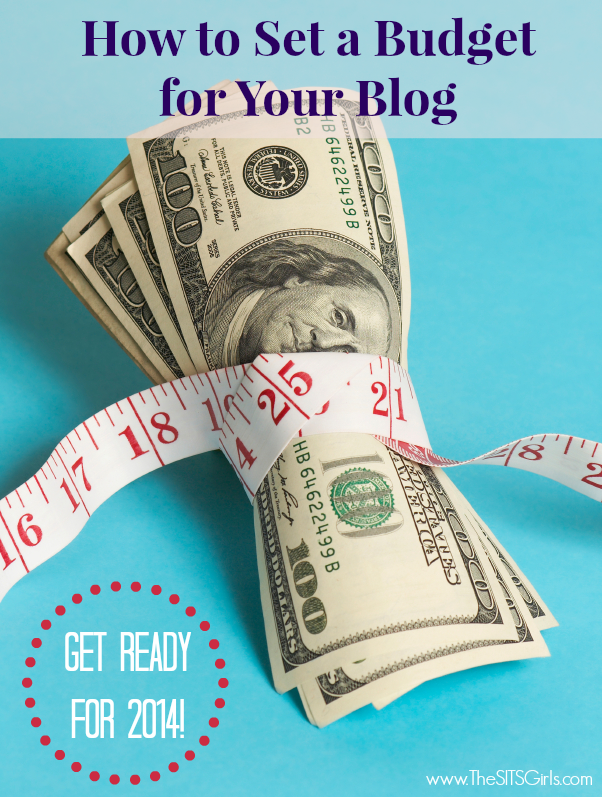 Creating Your 2014 Blog Budget
The budget below is sample of the things you might want to consider budgeting for. Your budget will probably look different than this and that is okay!
Required Spending: $100 to $200 Per Year
Domain Name: $14/year
If you pay for your domain name on a annual basis this will run you about $14 a year. Sometimes registering your name for longer periods at a time will save you money. You can also look for online coupon codes to lower this expense.  If you opt for domain privacy that will run you and additional $10 to $20 per year.
Hosting: $60 to $200/year
If you are running your domain on a self-hosted platform, you will need to factor in hosting costs. These costs are going to vary based on the company you are obtaining your hosting through.
Optional Spending
Web Design
Some bloggers are able to make their sites look beautiful on their own. However, some opt for hiring a web designer. If you plan on having your site designed by a web designer, you will need to factor in this expense. Web Designers can run you a couple of hundred and on up into the thousands of dollars.
Advertising
If you plan on advertising this should be factored into your budget early on. Advertising consists of running ads on Facebook, purchasing ad space on other blogs or maybe even promoting your site on Twitter. The amount you will spend on advertising will budget from blogger to blogger.
Plugins
There are some wonderful plugins available for free, but some do cost money. Even if you don't use any paid plugins right now, you might want to create a budget for these paid plugins in case you decide to use one. If you set aside $25 to $50 for plugins, then you should be covered.
Employees
There comes a time when we need to hire help. You might need to hire someone to help with kids, schedule social media updates, handle the technical side of your blog or write content for you. Take some time to see what people are charging for these services and plan this expense into your budget if it applies to you. You might even want to factor this into your budget if it doesn't apply to you. You never know when the help might be needed.
Blog Conferences
Attending a blog conference is an investment that can take your blog to the next level. Start thinking about what conferences you want to attend during 2014 and set up a budget for the conference ticket, travel, lodging and food.
Business Cards
Every blogger should have a set of business cards! If you don't have business cards then make sure you start pricing these out and add them into your budget.
Lastly, you will not want to forget about maintenance on your computer, internet service, self-sponsored giveaways and taxes.
And don't forget about the things like internet service, notebook or desktop, and your business license. If you reach a point where you want to determine if your blogging business is making money, then you'll have to take these into account as well.
Your Turn
Let's hear from you!
What are your big expenses for your blog in the new year?
Looking for More Posts Similar to This One?
Looking for more posts similar to creating a budget for your blog? Then be sure to click through the below links or head over to our Facebook fan page to continue the discussion!