This post may contain affiliate links which may give us a commission at no additional cost to you. As an Amazon Associate we earn from qualifying purchases.
A great way to monetize your blog is to make printables or other easily downloadable items to sell. What you sell is up to you. It can be an artistic image, poster, cupcake toppers, water bottle labels, photo booth props, organization plan, or anything else you can imagine.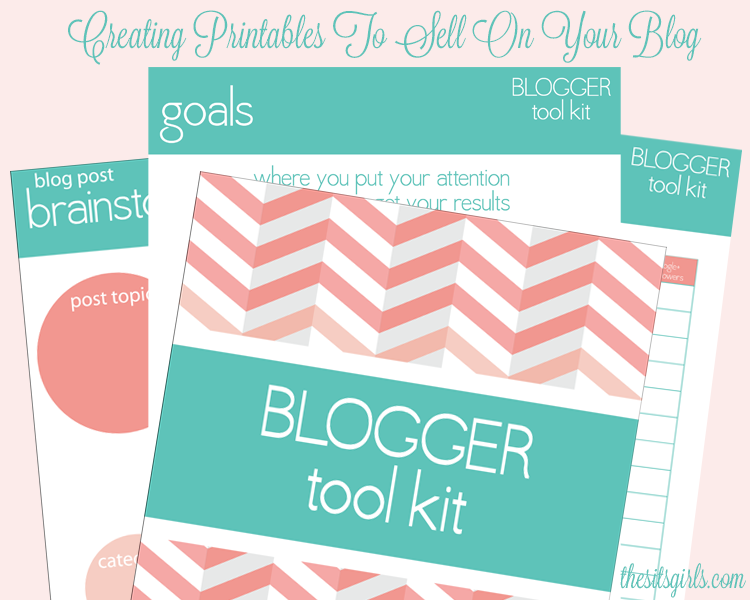 How do you make printables?
If you have access to a PDF creator (most of us already do) then you can make a printable.
To create my photo booth props & posters, I use PicMonkey. It's a very easy web based graphic design site. They have a free version, but I suggest leveling up to the paid version for some cool fonts and icons. It's approximately $33 a year, and after you sell a few printables, it will have paid for itself.
Take note: PicMonkey only lets you download in PNG or JPG files and those are OK to sell too, but PDF files are best because they have a set size and are usually easier to print. Most JPGs or PNGs can easily be converted to a PDF using the Print or Save As function on your computer.
Canva is another site similar to PicMonkey. It's free as well, but also has some paid options available. I've briefly tried it out and it seems easy to use. I have seen quite a few people make some pretty cool images with it. Canva files download as a PNG or PDF.
Bonus tip: If you need to merge your PDF files into one file, but don't have the budget to pay for Adobe Acrobat, there is a free app available through Google Drive. It's called PDF Mergy. You can merge files saved in Google Drive or on your computer. They have a drag & drop option or a manual select option. You can arrange the files before merging them together, so they are in the order you want. I suggest that when you save the individual PDFs you number them in the order you want them to go in the merged PDF. It saves a ton of time and stress.
How do you sell printables?
Here are a few ways I've found that are fairly easy, even for the technically challenged.
Selling on Etsy
Etsy has the ability to sell downloadable items.  You can sell up to five files in a listing. There are limits to how large the file can be, but you also get to open up an Etsy store and have them handle all of the technical stuff. Of course, they take a portion of the proceeds of each sale as well as charging you $0.20 per listing every four months. Once you go through the Etsy motions to create the store, then set up a link to the item from your blog and create a blog post around it.
Bonus tip: Create a page on your blog with links listing all of the blog posts about the items you sell on your store or a page with links to items in your store.
Pros:
You set the selling price.
Once the store is set up and all the items are uploaded, it's sort of on auto-pilot. People place orders and they get instant downloads.
There's no emailing of documents from your end unless you choose that option due to personalization of the printable.
You can easily link to your store/items from your blog.
Cons:
There is a ton of competition on Etsy, and getting found in the search results can be tough, but it can happen.
HTML is not allowed. Your descriptions are text based, and the only way to emphasize anything is to use ALL CAPS. However, you can put a link in the text description and Etsy will recognize it as such.
Selling on Fiverr
Everything on Fiverr starts at $5. The things sold on Fiverr are called gigs.  People offer all kinds of gigs. Some of these are basically jobs to do various things like write website copy or designing logos. People also offer self help books, gifts, and customizable downloads. As you get further in the Fiverr process, you will be able to offer gig extras to make more money per sale. For example, if you initially want to sell an ebook for $5, but someone also wants some more printables such as an activity book or posters for kids, you can add that on too after you've reached Level One status.
Pros:
Easy to set up and the process is fairly simple to follow.
Post the links on your blog to attract buyers.
Cons:
You will have to actively respond to gig requests and upload the digital file through Fiverr.
There is no auto download option.
You don't have as much pricing flexibility initially.
There are tons of ecommerce options when it comes to selling printables. I found a few recommended by some other bloggers, but I have personally not tried them.
Other ecommerce sites:
Feel free to browse them and price compare. Nothing will be free, but you do want to get the most for your money, and find something that won't cause you a ton of heartache.

Do you sell printables on your blog? If not, what would you sell?

If so, what advice would you give to others thinking about starting up a printables business?
Keep Reading
Looking for more information about printables and making money on your blog? Here are a few posts you'll find helpful:
Disclosure: This post includes affiliate links.