This post may contain affiliate links which may give us a commission at no additional cost to you. As an Amazon Associate we earn from qualifying purchases.
When writing a sponsored post you need to make sure your post includes a disclosure. It needs to be a clear and concise statement at the beginning of your posts where you talk about a product or service that you were paid to talk about, were given free products to talk about, or any post which contains affiliate links. Be sure to place the disclosure before any links to a sponsor's website.
Sometimes when I am writing a sponsored post on my blog, I feel like the normal "This is a sponsored post for ____. All opinions are my own" can be a little boring and robot like, because everyone else is doing it.  I decided to change it up a bit all while staying in the guidelines of disclosing what I needed. Also when changing it up, I needed to make sure I didn't use up valuable SEO real estate in the opening paragraphs of my post just for a creative disclosure.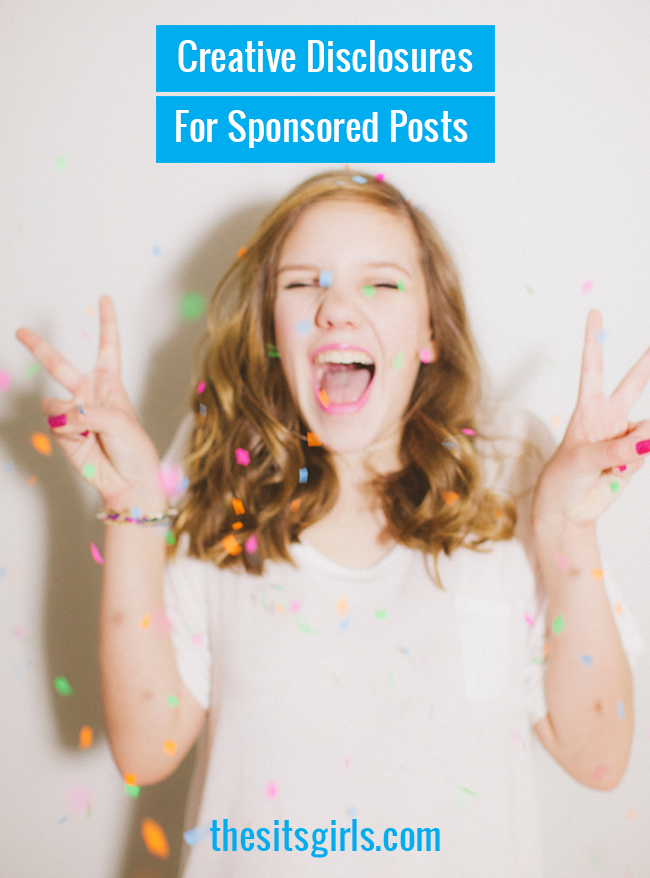 Creative Disclosures For Sponsored Posts
Thanks to _________ for making this sponsored post possible by suppling me with _________.
When ______ asked me to do a sponsored post with their ________, I was so excited because I knew that __________!
I am so thrilled to have this opportunity to receive a complimentary _______ from ______. Thank you, _____, for sponsoring this post.
This post is brought to you by our sponsor _____. The opinions expressed below are that of ____.
When doing a sponsored post, there may be specific wording that a company wants you to use for your post disclosure. Be sure to follow the guidelines the sponsor sets for you. Also, disclosures that aren't made until the end of your post after you've inserted affiliate or sponsored links in the content may be construed as misleading.
Be creative when doing your post disclosures, but make sure you're following the FTC rules at the same time.  Your readers want to trust you and your opinion. Please remember to only share information that you whole-heartedly believe in.
*I am not an attorney, nor do I play one on TV. The information provided herein is not legal advice and is only based on my own experiences as a marketer. If you have specific questions, visit the FTC report.
Do you have a creative or fun disclosure that you use on sponsored posts?
We'd love to read it!
Keep Reading
For more tips about making money with your blog, check out these posts: