This post may contain affiliate links which may give us a commission at no additional cost to you. As an Amazon Associate we earn from qualifying purchases.
When creating sponsored content, exclusivity requirements should always be a part of your agreement with the brand or network with whom you are working. Exclusivity is important to brands as a way to show you are not promoting their direct competitor at the same time. It's also an important way influencers can share an authentic endorsement in their sponsored content.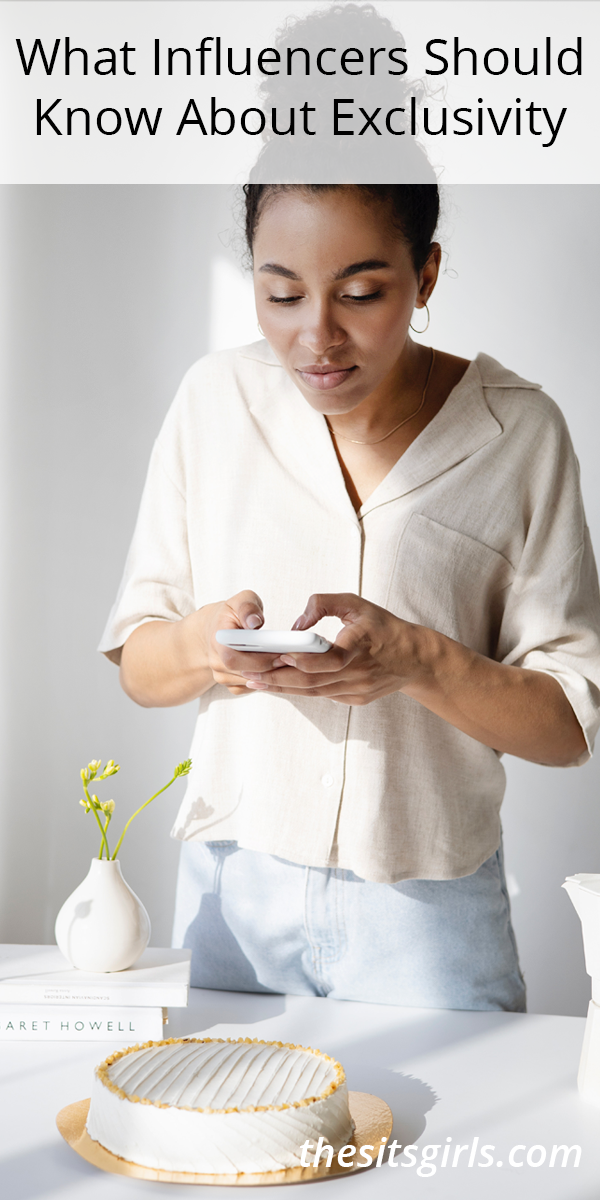 What should you know about brand exclusivity requirements?
Exclusivity requirements should outline two things: how long you will remain exclusive and what products fall into the category for which exclusivity is being claimed.
Agreements will typically outline how long after posting before you can share about a competing brand. The industry standard is 30 days, but that is always subject to change on individual campaigns. While it is generally not specified that you cannot share about competing products prior to posting your sponsored content, it would still be considered poor form to post about a competitor just before sharing your sponsored content. Another consideration is what sponsored work you already have scheduled on your calendar. Carefully look at posting timelines before applying to campaigns with a direct competitor to ensure you don't run into any potential exclusivity issues.
Another thing that should be made clear are the product categories that fall under your exclusivity agreement. Most brands have a variety of products under their corporate umbrella. In many cases you will only be expected to avoid specific product categories. For example, a brand may have dozens of different cleaning products, but in the case of their dish soap campaign they might only want to avoid you sharing about other dish cleaning products. When in doubt, ask your campaign contact for clarification.
Can you charge more for exclusivity?
Agreeing to not work with competing brands impacts your earning potential. That means charging for exclusivity is not only appropriate, it's expected. It's worth noting that the fee for exclusivity is typically baked into the fee you earn when working on a network campaign. This is always the case on Sway campaigns.
How much should you charge?
When thinking about your fees, think about how much money you stand to lose by agreeing to not work with competitors for your period of exclusivity. This won't be a dollar for dollar match, and should not reflect the money you would like to earn. Instead, think of this fee as additional compensation for the money you were likely to earn if exclusivity was not part of your agreement.
When you are pitching directly to brands, your fee for exclusivity does not necessarily have to be line-itemed. Simply offer a reasonable period of exclusivity as part of your agreement, with your fee reflecting the total cost of all services you are offering.
How does exclusivity benefit influencers?
An important part of working as an influencer is creating trust with your audience. While you can think of exclusivity as something that hampers your ability to earn income, it can also be a way to show that your product recommendations are valuable.
Showcasing similar products back to back dilutes the power of your endorsement.
Being selective shows brands that you are thoughtful in your partnerships and are invested in providing them, and your audience, with meaningful recommendations. Always keep the importance of your endorsement in mind when applying to campaigns or pitching brands that are potential competitors.
Communication is key when it comes to influencer creativity
The easiest way to make sure all parties, including yourself, are happy with sponsored opportunities is to ask questions. When in doubt about the exclusivity requirements, ask! When everything is clearly spelled out, those unpleasant surprises can be avoided.
More Posts For Influencers