This post may contain affiliate links which may give us a commission at no additional cost to you. As an Amazon Associate we earn from qualifying purchases.
The FTC has been busy this year. In April they updated FTC guidelines for disclosing on Instagram and for the first time ever, sent out letters to a group of influencers who were known to have not disclosed brand partnerships in their sponsored Instagram posts to educate them about the stricter guidelines. Earlier this month the FTC brought their first action against a social media influencer for failing to use disclosures, updated their endorsement guide, and educated consumers on affiliate marketing on the FTC blog. Now, in an #Influencers101 Twitter Chat, the FTC answers questions from Influencers about disclosures on social media.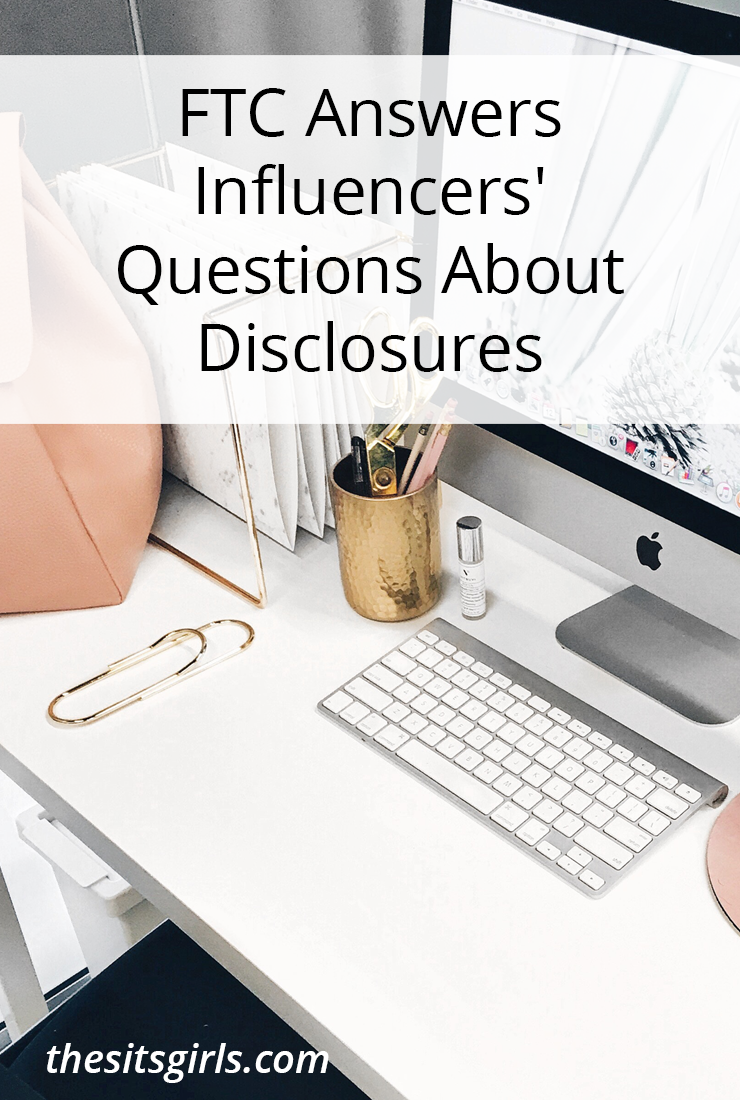 The FTC Answers Questions From Influencers About Disclosures
Many of the FTC answers reinforced information already available in the previously released .com disclosure guidelines and the answers to some frequently asked questions about the FTC endorsement guides. But there was some new information shared in the #Influencer101 Twitter Chat that influencers need to be aware of before sharing sponsored blog or social media posts.
Disclosing Sponsored Snapchat and Instagram Stories
You need to superimpose a disclosure on the pictures and videos shared through Snapchat or Instagram Stories. In a series of pictures, you need to include the disclosure on each one, because images expire, and followers may have missed the first one in the series. You need to ensure that the disclosure is easy to read in the amount of time your followers are able to view the image. Don't bury or hide it.
Disclosing On Platforms That Offer Their Own Disclosure Tools (YouTube, Facebook, Instagram)
Some social media platforms offer disclosure tools that are optional, like YouTube's Paid Promotion notification, or required, like Facebook's branded content tool or the new branded content tool from Instagram that is being rolled out. Influencers wanted to know if these in-platform disclosures were enough. Even though the tools mark the post as being paid, the FTC does not consider them to be sufficient, and you still need to include a disclosure in the post itself.
Disclosing On Pinterest
On Pinterest, you can either disclose by superimposing the disclosure on the image you are pinning, or by including the disclosure in the pin description.
Disclosing Affiliate Links
If you are sharing affiliate links on social media, you must disclose. There is a whole section on affiliates in the FTC FAQ's influencers should review. Tip: "Affiliate link" is not a clear enough disclosure. 
If you are sharing affiliate links in a blog post, you need to disclose in the post, before the links, but you do NOT need to disclose in a social post that points people to your blog post.
#XXPartner Disclosure
When asked about using #Ambassador as a disclosure, the FTC said it was not sufficient and recommended using #XXPartner (XX to be replaced by the brand name, e.g. #CokePartner, #PepsiPartner).
Previously, the FTC has said that #partner was not an acceptable disclosure, but during the Twitter chat they clarified that #XXPartner could be used instead of #ad or #paid as long as you include the brand name in the hashtag.
Disclosing In Video Reviews
In a video review, you must include the disclosure both verbally and in text, to ensure that people who are watching the video without sound will know it is sponsored.
Do I Have To Disclose Freebies?
Short answer, yes. Always. If a brand sends you a product for free, even if there is no requirement for you to post about it and no other payment exchanged, you are still required to disclose if you share anything about the product in a blog post or on social media. If you don't want to use the word "sponsored" you can say something like "XX brand sent me this ___ to review" or "XX brand gifted me this ____."
See The Full FTC #Influencers101 Twitter Chat Here
The FTC answered a lot of great questions in addition to the ones we covered. You can view the full #Influencers101 chat in the below widget or by clicking here.
The most important thing to take away from the answers shared during the FTC chat is: DISCLOSE. 
You can also read our overview of FTC guidelines, with examples for language to use in blog posts and social media posts, and our overview of FTC guidelines for Instagram.