This post may contain affiliate links which may give us a commission at no additional cost to you. As an Amazon Associate we earn from qualifying purchases.
Whether you are new to blogging or a seasoned veteran, you need to understand the FTC Guidelines for bloggers and influencers on how to properly disclose sponsored content for advertisers on your blog and social media channels.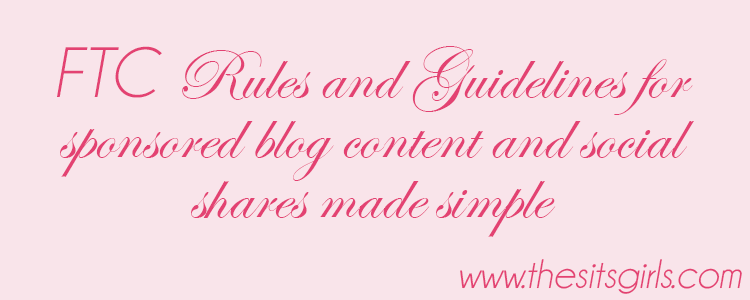 Understanding the FTC Guidelines for Bloggers
If you're new to blogging, the FTC Guidelines for Bloggers may seem a bit overwhelming, but trust me they're not. They simply state that you must disclose all relationships with brands, in a clear and conspicuous manner. Also, both you and the sponsor have an obligation to be accurate in your claims about a product. No lying!
Sponsored Posts and Product Reviews
When writing sponsored posts and product reviews, you need to let your readers know immediately they are reading sponsored content. While the disclosure does not need to be the first sentence of your post, the disclosure must come before any sponsored links.
It can be brief like the below example:
This is a sponsored post written by me on behalf of (Company Name).
Here's another example to consider:
I am so thrilled to have this opportunity to receive a complimentary FastAction™ Fold Click Connect™ Jogger from Graco.
In both examples, you are identifying to your readers that you have been compensated for this post. In the second one, you are working it into the post in a more natural way, while still meeting the guideline. 
If the sponsored post requires a longer, more descriptive disclosure, you can add this to the bottom of your post.
Be sure to disclose any affiliate links you have at the top of the post, as well.
Social Media
When you send a tweet, post to Facebook, upload an image to Instagram, pin an image to Pinterest, or update any other social media channel that is promoting (amplifying) a sponsored post or sponsored content, you need to once again let your readers know they are reading sponsored content.
To let readers know the are reading sponsored content on a social media channel, simply add the word AD (or #ad) before any URL links. This disclosure must be in every social media amplification and it needs to be in a prominent place. This is true for any social media amplification for which you are being paid.
You must make sure the disclosure stands out, and must be placed before any links.
Here are examples of what tweets that are compliant with the new guidelines look like:
#ad Loved meeting my #GracoJogger buddies today and trying out our new strollers! Have u seen how pretty they are? http://bit.ly/UJOMAl

Come see how much my baby Jane LOVES her new #GracoJogger today on my blog. She's smiling from ear to ear! (#ad) http://bit.ly/UJOMAl
As always, we encourage you to take some time to read through the FTC guidelines for yourself! You can check out a copy here: FTC Guidelines.
Keep Reading
Looking for more information about the business of blogging? Here are a few posts you'll find helpful: