This post may contain affiliate links which may give us a commission at no additional cost to you. As an Amazon Associate we earn from qualifying purchases.
Are you organized? Do you love social media? Can you get amazing interaction because you rock at building a community? If you answered "yes" to any of these questions, you can get paid to manage social media accounts!
I know it sounds a little like an infomercial, but it really is that simple! Many bloggers and other business owners would rather do anything than spend time on their social media accounts. They outsource this to people like you, because you're efficient with time and know what you're doing.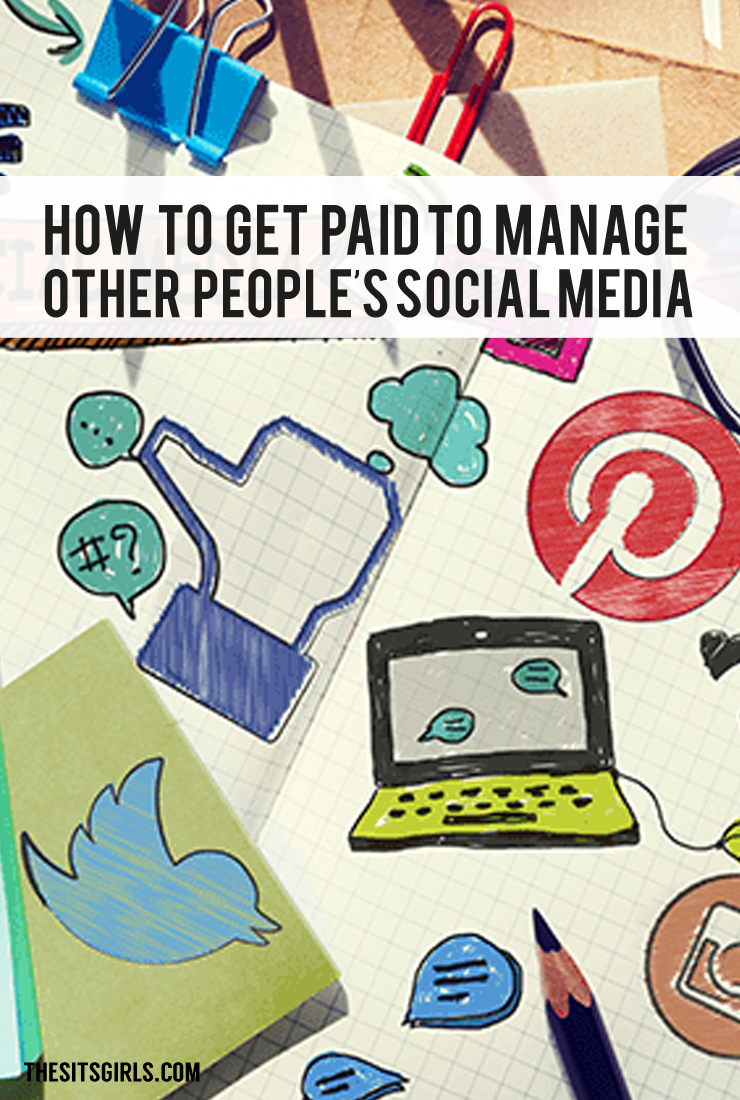 How To Get Paid To Manage Social Media Accounts
If you're running your own social media accounts successfully, others will notice! That is your first "in" as a social media manager for others.
Tools to Use
To be a successful social media manager, you must be organized. I'm talking spreadsheets, planners, the whole nine yards. It's also helpful if you're decent with time management. There are tools you can use to make your life as a social media manager easier.
HootSuite: A free program (with a $9.99/mo upgrade available) for scheduling tweets, Facebook posts, etc. This also works for posts in Facebook groups, which is great.
Cochedule: A content marketing editorial calendar for WordPress, $10/mo.
PicMonkey: A free photo editing tool (with a monthly upgrade available), PicMonkey makes my life easier all around. There are several PicMonkey tutorials on The SITS Girls blog.
How to Find Clients
Facebook: There are many groups (I won't link to them because they change all the time) set up specifically for finding virtual assistants and social media managers. Join those, watch the flow of things, and offer your services as soon as you feel comfortable.
Craigslist: While Craigslist can be kind of shady and spammy at times, many of my clients have found work by utilizing their ad section for their local area. The best thing about being a social media manager? You can service clients from all over the globe! So essentially, you could put an ad up in every city you can find to grow your client list that way.
Locally: If you haven't created business cards for your services yet, now's the time! You can make your own business cards using Picmonkey, or you can order them from places like Vista Print.
What to Charge
Much like with blogging, what to charge is completely up to you. While we have a habit of undercharging, I think pricing our services properly is something we can only learn from trial and error. When I'm pricing a job, I think of my hourly rate (or what I hope to get paid each hour – it varies), and how long the job should take me. Sometimes you will end up pricing too low, because you underestimate the time it will take. That's where experience comes in! The more projects you work on, the more clients you have, the more streamlined the process will be.
How to Get Started
Start by writing down your goals, and work backwards while making a step-by-step plan for yourself. If your goal is to have five new clients by the end of next month, that's great!
If that was my goal, the first thing I would do is type out the service I want to offer. Next, I'd join some Facebook groups specifically for bloggers and Virtual Assistants. From there, just keep making progress towards your goal. If you reach it quickly, set a higher goal. If you don't reach it, reevaluate and figure out why you didn't. Connect with others that offer social media management and see if they have any advice.
Keep Reading
Looking for more information about social media and making money? Here are a few posts you'll find helpful:
Disclosure: This post includes affiliate links.