This post may contain affiliate links which may give us a commission at no additional cost to you. As an Amazon Associate we earn from qualifying purchases.
As a lifestyle blogger, what draws my readers in is my ability to tell a story. Whether it is just a tidbit from our daily life that I share on Facebook, or a full length post about my son growing up, these stories are what really drives readers to my site. I know my readers don't come to my site to read a review that they could easily find on Amazon or get information they could find on a brands website, they come to the site for my story. And that's why good storytelling is important.
Not only do readers love a good, relatable, personal story, but your story can also be beneficial to brands. By being able to write about a product from a personal standpoint you take readers beyond a product's function and make it part of the story. Good storytelling is a great way to share a brand's message and provides both readers and brands with compelling content.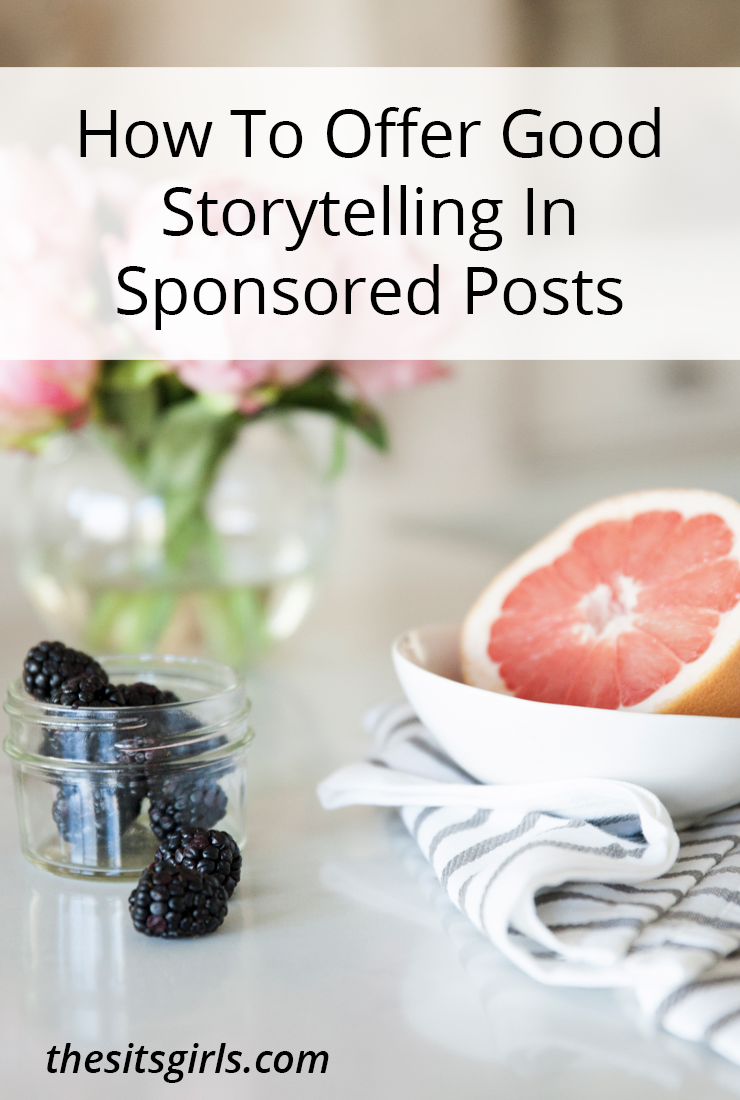 How To Offer Good Storytelling In Sponsored Posts
When you make the decision to work with a brand, think about how that brand impacts your life and how their message fits your lifestyle. For example, if a brand wants you to talk about the health benefits of a snack food, you can tell about a time that you were in a hurry and needed to have something quick and healthy to throw in your bag. This naturally places the product in the post and gets the brand's message across without it sounding forced.
Another way to offer good story telling is during the pitching phase. Before you reach out to a brand, think about why you want the product and what it will do for you. I recently wrote about a baby carrier that can be worn in the water. When talking with the rep from the company, she mentioned that she didn't want a typical review, and I mentioned that I wanted to write about balancing 2 kids at different stages in the summer. My story and her message about the carrier making life easier came together seamlessly. By asking yourself questions like "what problem does this product solve for me" or "how does this improve my life," you can easily find a foundation to build your story.
When I'm working on reviews or sponsored content, I read over the brand's message and then I forget about it for a bit. Instead of jumping right into writing I play with the product, live with it for a few days, or let the topic of the sponsored post marinate in my brain. I find this makes me less likely to be obsessed with the messaging when I write, and helps me to build a story organically around the message.
Use Questions
Use these questions to think about what story you could tell with a product you receive:
How did the product make me feel?
When did I use it?
How did my child play with it?
What was the benefit of this product?
How does it make my life easier or more fun?
Often times I find the answers to these questions are the same as the brand's message, that the product is serving the message.
Word of Mouth Advertising
Think of sharing a brand's message as "word of mouth advertising." Friends constantly ask other friends what they love about a product. When that happens to me, I tell them how I used it and what makes it great. When using storytelling to share a brand's message, it should feel as if you were telling a friend about it, not as if you are a pushy salesperson.
The bloggers that I see do branded content best are those who, when you read their post, you don't feel like you are reading branded content. When a writer tells you a story and can weave the message into it readers find themselves nodding along and thinking about a time they have been in the same situation as the writer.
Write What You'd Want to Read
My biggest piece of advice for good storytelling: Think about the type of post you want to read and then write that. There are tons of ways to naturally weave a brand's message into a story, while you want the message to be clear, you never want it to be in your face or spammy.
Keep Reading