This post may contain affiliate links which may give us a commission at no additional cost to you. As an Amazon Associate we earn from qualifying purchases.
When you become a blogger, one of the things that you will find yourself encountering is wanting to grow your blog, work with other bloggers, and working with brands and businesses. You want to be able to promote yourself and your blog in the best light possible. One of the easiest ways to do this is to create an awesome media kit that promotes you and your unique blog.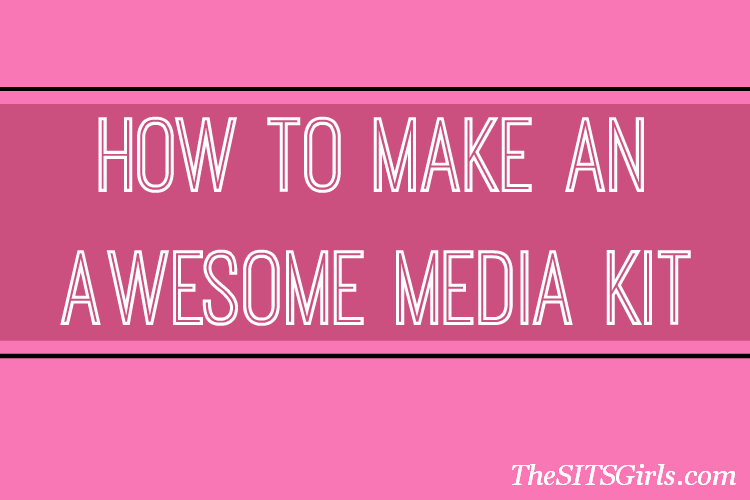 How To Make An Awesome Media Kit
What you want your media kit to do for you:
Showcase your unique writing style
Highlight your blog readers, social media reach, and Internet influence
Promote yourself as blogger that can truly help a business and brand
There are several ways you can go about creating a media kit that catches the attention of anyone that views it.
Use Picmonkey or iPiccy
One way you can create an awesome media kit is to use a free program like PicMonkey or iPiccy. You can use images and fun fonts to highlight your creative style while still keeping a professional document. Using Pickmonkey you can add banners, texts, headers, and logos to create a Media Kit that thoroughly expresses you.
Add Your Own Image
Having your own headshot is a must for any media kit. You want to be able to have a brand remember you, be able to recognize you from a conference, and be able to put a name to that amazing face. This makes your media kit more personal, but memorable for anyone who wants to work with you and help promote your blog.
Blog Stats and Numbers
A must have for any awesome media kit is a place for you to brag about your blog reach and social media reach. Even if you think you have a small blog and believe your reach isn't that big, your readers are valuable to you, which means that are valuable to other people as well. In social media especially, if you have just one reader or one follower, if that one follower shares your piece to their thousands of followers, than you are golden. Find your number of readers, subscribers, and social media followers, and include those numbers on your media kit.
Sell Your Story
The most important piece of information that will make your media kit awesome and stand out, is to sell your story. Tell your story on who you blog for, who your ideal reader is, and what makes you different. Showcase what makes you different from that other food blogger, mom blogger, or fashion blogger. Adding a fun quote or something to remember you by is a fun way to make your media kit pop.
This is my media kit. You can see that I incorporated all of these tips to make it shine.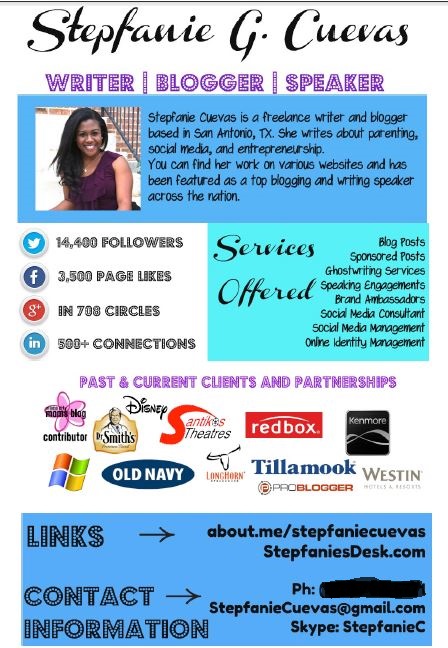 Remember that a media kit is supposed to highlight your blog and your readers in the best light, so make sure that is a reflection of what you want brands to see. Make it fun, but most importantly, make it you!
KEEP READING
Are you looking for more tips to help you create your media kit? Here are some posts you'll find helpful:
Disclosure: This post includes affiliate links.