This post may contain affiliate links which may give us a commission at no additional cost to you. As an Amazon Associate we earn from qualifying purchases.
Have you seen those income reports where bloggers talk about the tens of thousands of dollars they earned last month? Yeah, I love reading those, too. And the thing I kept noticing was that almost all of those bloggers had their own products to sell.
In January of this year, I decided I wanted in on that income stream.
Sure, I love my ad network and sponsored posts are fun, but I wanted to start earning income that wasn't based on my traffic or someone else's product.
So I decided to write an ebook, and I did it in 45 days.
It was a whirlwind of activity! My readers loved it! (You can see the sales page here.) I did this while keeping up with my blog and my 4 kids.
Note: I've put together a bonus resource for you with the whole strategy I used to write my ebook. Make sure you click through at the bottom of this post.
Forty-five days from idea to launch – that's all it took! I find that short term projects are great at keeping me focused and motivated.
Unfortunately, as we bloggers know, sometimes the writing just doesn't come. And if you're working on tight deadlines (ahem, like 45 days for the whole project), you won't have time to spare.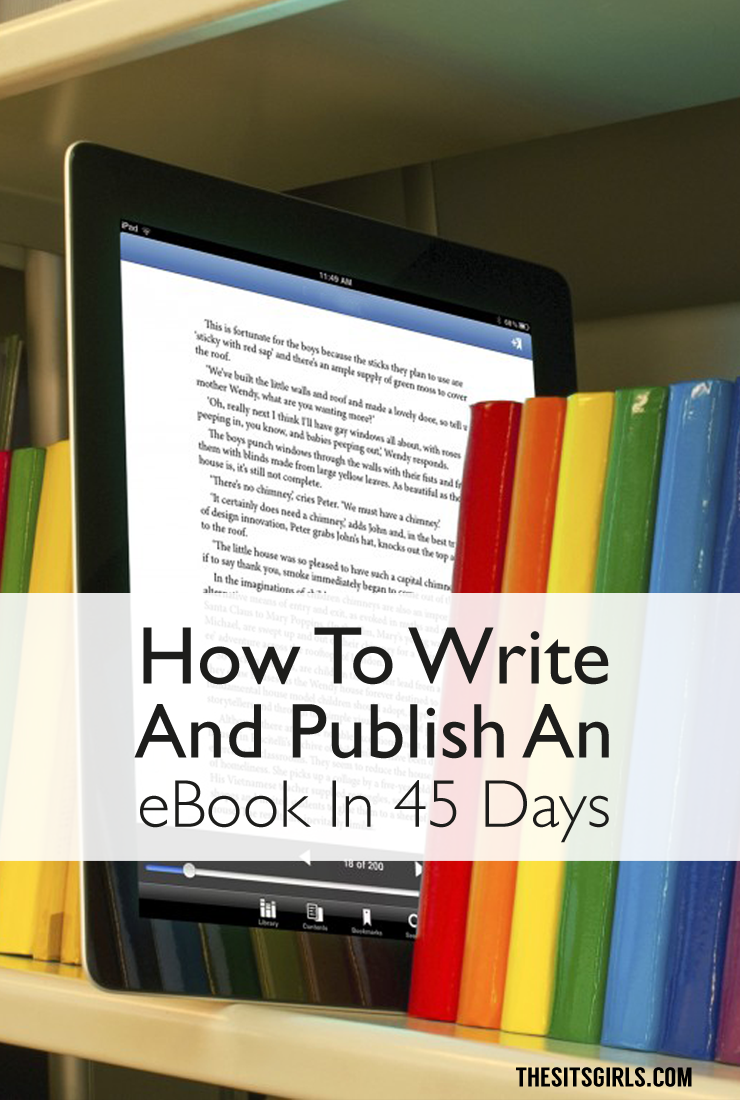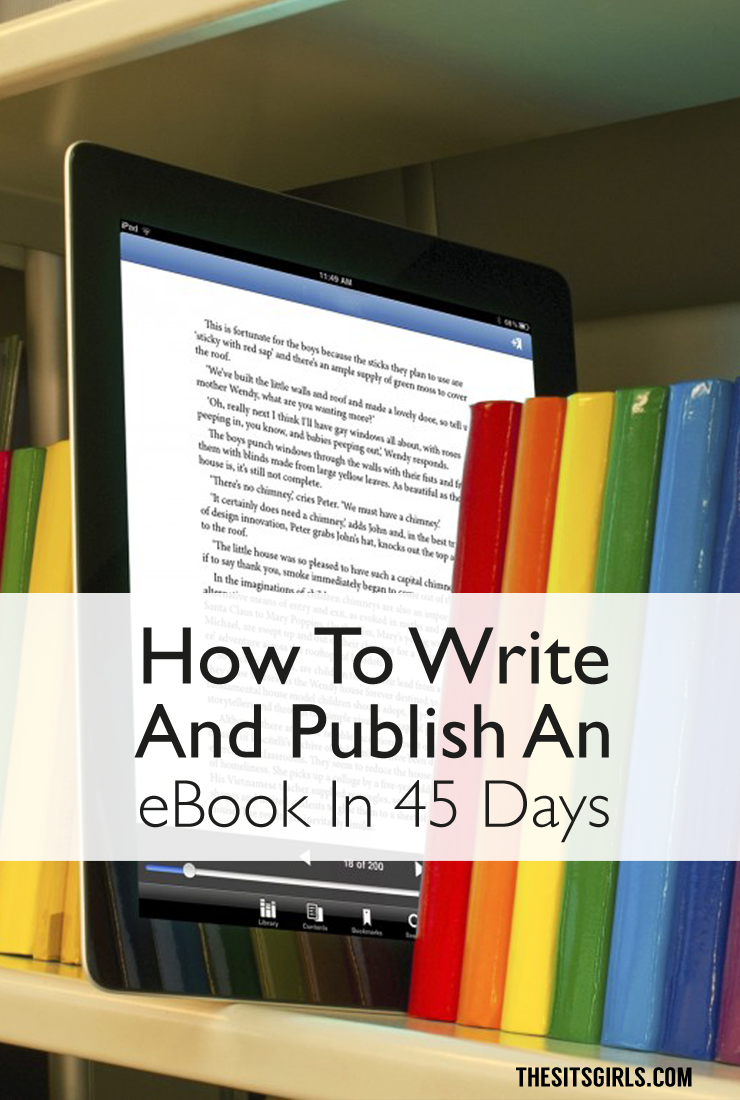 How to write an ebook without wasting time.
1. Always outline first
Outline the main topics of your book (these will become chapters).
Then outline each chapter. Make it rough – don't worry about formatting or grammar. Just get your main ideas into a list on paper or electronically. Use sticky notes if you like.
Having an outline is critical to being able to write your book efficiently.
2. See if your outline needs re-arranging
Print it out, make notes, highlight, etc. You may find things that don't belong at all or that need to go in a different spot. Add to it if needed. Your outline becomes your table of contents.
3. Create files for each chapter
Paste the section of outline for each chapter into its own file. Now you're ready to fill in your outline.
4. Pick the easiest chapter and start writing there
If your outline is thorough, this should go pretty quickly. If not, go back and add more detail to the outline.
5. Check off the items on your table of contents as you go
This will help you track your progress. Plus, who doesn't love to check things off on a list?!
What to do when you get stuck and can't write
Eventually you'll get to the point when you sit down write and you're stuck. The words aren't coming. The ones that do come are awful. It's all junk and you wonder why on earth you picked this topic!
I've been there.
It happens every time I tackle a big project. It's the messy middle and it's completely normal. You have to be ready for it and push through it.
Here are some strategies to conquer the messy middle.
Pick a different section to work on. You can tackle that tough spot later.
Walk away from your computer. Maybe it's time for a break (and that means a true break, not 30 minutes on social media!)
See if you need to re-arrange some paragraphs. This may help the creative juices start to flow again.
Dictate out loud to Google Docs. The voice recognition is pretty good and it may be easier than typing.
In the end, you just need to keep writing even when it's bad (it will be)!
Ernest Hemingway said all first drafts are crap. (Actually he used a different word, but you get the picture.) You have to write the junk in order to get to the good stuff.
Bonus resource for you:
All my secrets to publishing an ebook in 45 days
You'll learn:
How I validated my idea and pre-sold the book
How I decided on pricing
The timeline of the entire project
My strategy for a simple cover design
My entire budget of under $200
See how my sales broke down ($4000+ in the first 8 days!)
… plus lots more!
Have you written an ebook yet? What are you waiting for?