This post may contain affiliate links which may give us a commission at no additional cost to you. As an Amazon Associate we earn from qualifying purchases.
With the rising use of ad blockers, brands are looking to partner with bloggers who can reach their target audience. Sponsored posts are a wonderful way to bring in extra income, and when you learn how to write sponsored posts your readers will enjoy, you can expose your audience to new products and help them discover great brands.
We have all seen the sponsored post that essentially looks like a press release slapped up on a page. In contrast, we have also seen posts that highlight a brand's product where the brand's message is woven seamlessly into the content. These posts can be engaging, authentic, and may provide something to the reader such as information about a new product, a delicious recipe that they might love, or even a great giveaway. Which post would you rather read?
Remember: An audience is a privilege, not a right.
When you are presented with a potential brand partnership, there are a few things you need to keep in mind so that it's a win- win for all parties involved: you, the brand, and (most importantly) your readers.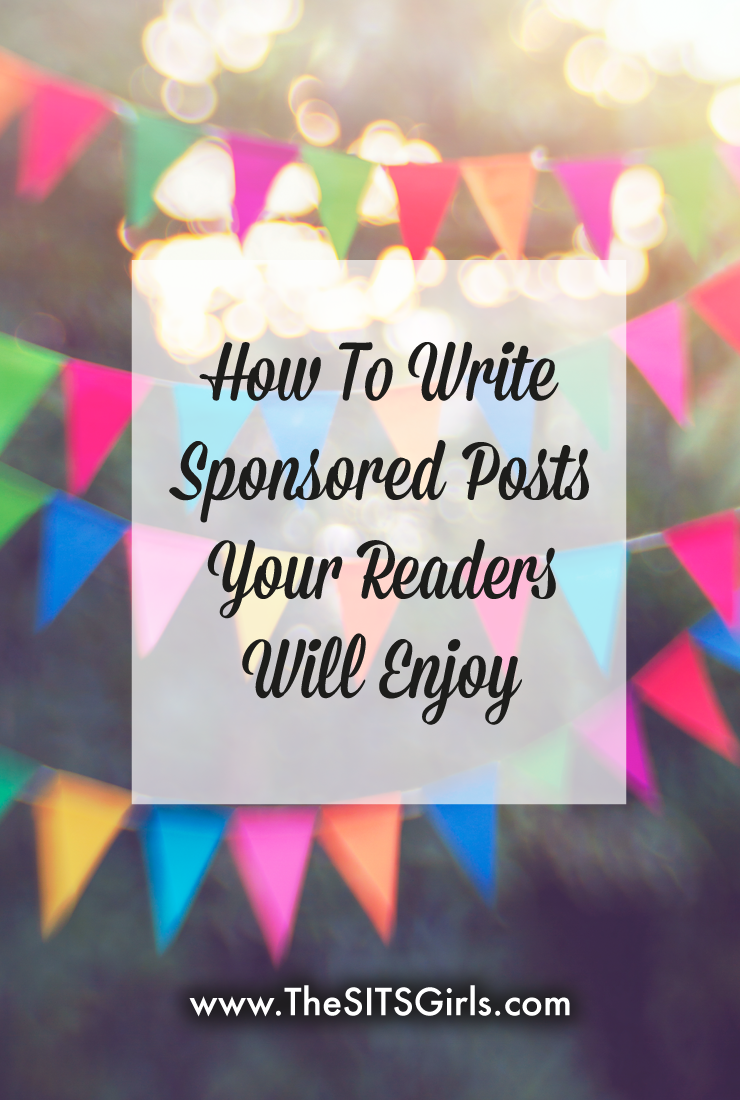 How To Write Sponsored Posts Your Readers Will Enjoy
1. Align With Brands That Both You And Your Readers Will Love
One vital part to successful sponsored posts is authenticity. Another key is partnering with brands you use and your readers would enjoy. Your readers rely on your opinion and influence, so if you do a post for a product you would never use, they can tell. They trust your opinion, so respect their trust by making thoughtful choices on brand partnerships. In the same respect, also remember the brands you are already working with so there will be no conflict of interest. You don't want people to see you aligning yourself with one brand only to partner with a competitor a month later. Your readers will remember, and you run the risk of alienating them.
2. Be Professional
There are always pitches you will receive that are not for you. Whether it's problems with product alignment, off-target pitches, or compensation issues, be professional in your interactions with the brand representatives. Many reps work with different brands and they do talk to each other. While you might want to blow off steam and complain in a Facebook group about a pitch and send a snarky response back to the rep or complain publicity, my best advice is don't. It reflects on your character and these representatives will remember.  Your readers are everywhere and they could perhaps be in those Facebook groups, be those representatives you just got snarky with, or they might see your online vent.
In the spirit of professionalism, go above and beyond when it comes to the sponsored post. Be timely – whether it's returning an email or publishing the posts — and give the post your all when it comes to social promotion. When you act professional, the representatives will know that they can count on you to be a great advocate for their client and will possibly reach out to you with additional projects.
3. Value Your Work
At my first Bloggy Boot Camp, there was a speaker who told the story of getting a bottle of sauce as compensation for a post. That always stuck with me – is your time, effort, and endorsement worth a product that is, essentially, around five dollars? Whatever your niche, sponsored posts take time, not only to write and develop the content, but also to share the post across your social media channels.
Posts are also evergreen, especially when it comes to food blogs. Food bloggers often have recipes they developed years ago that still generate traffic and buzz for the brand. When a brand representative sends a pitch your way, remember, it's a conversation. See what they are looking for and what they expect from you, and value your response accordingly.
4. Do Not Be Afraid to Say No.
There are times we all get a pitch that either doesn't align with our content or readership, doesn't have a budget, or conflicts with a brand we have recently worked with. Do not be afraid to say "Thank you but this would not be a good fit at this time." Often, if I get a pitch that isn't right for me, I email the representative back and tell them that while it would not be a good fit for me, perhaps I might be able to connect them with another blogger that would be a better fit. Not only will the representative remember your professionalism, when they have a campaign that you would be a good fit for, they will probably reach out to you.
5. Disclose. Disclose. Disclose.
I cannot stress this enough – if you receive compensation from a brand, you must disclose as per the FTC guidelines. This disclosure needs to be clearly stated where the reader could see before they begin to read the content and before they come to any link to the sponsor's site. The general rule of thumb is to disclose before the content starts and the best way to properly disclose is to state plainly, "This post has been sponsored by XYZ." Don't weave the disclosure into the content in a sneaky or unclear way. We could go on for days discussing FTC rules, policies and nuances, but thankfully SITS has a great post to give you a quick overview.
Remembering these few things will have you writing great engaging sponsored posts your readers will love.
What are some tips you have found when it comes to writing engaging sponsored posts?