This post may contain affiliate links which may give us a commission at no additional cost to you. As an Amazon Associate we earn from qualifying purchases.
It's time to put the business into blogging, because it's time for you to start making real money! Welcome back to the Make Money Blogging series part two of four. Grab a pen, cozy up to your screen and let's get started!
If you missed part 1 of this series you will definitely want to check it out here.
And if you're in the mood to learn more, you can come visit me on my new blog Hobby to HOT!
🙂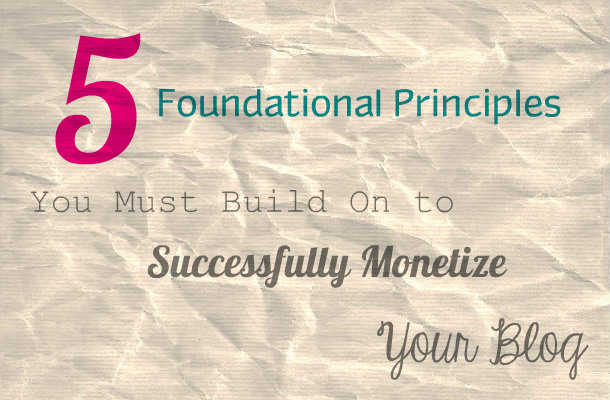 1) Be Deliberate
Luck is not a lady if you're goal is sustainable, scalable, consistent income – strategy is. There are so many facets of blogging. If you're not approaching each facet with a deliberate strategy it's going to cost you big time in the long run. (And you'll spend days beating your head against the wall too 😉 )
The key is asking yourself: "Why am I spending time on activity X, Y, Z…"
I'm sure you've never felt like this, but I often hear bloggers talking about how much TIME blogging takes.
"It's exhausting," they say!
"It's overwhelming and it's taking everything I have. I comment and comment and comment. I guest post. I Facebook, tweet, pin, +1…. but I just can't seem to get anywhere!"
Be deliberate with the time you spend on your blogging business. Make sure the things you're doing are connected to revenue generating opportunities. If you're commenting – focus on your own blog first and then authority bloggers. If you're tweeting and sharing make sure it's adding value for your readers AND connected to your revenue streams.
Always ask yourself, "Why am I doing this?" and "What are the consequences of my actions?"
When you deliberately prepare and deliberately promote, you'll see the tables start to turn. Don't be discouraged. You can do this!
 2) Set Boundaries
When you go from Hobby to HOT! and really start monetizing your blog there absolutely must be boundaries in place. You need to know what you will do and what you won't do, or it can be completely overwhelming and a total failure. (Don't be discouraged – you CAN do this!)
How much time do you really want to spend on your business blog?
How much energy do you have to devote to it?
How will keep the other pieces of your life in balance?
How does your business blog fit into your life?
What resources are you willing to use?
What level of risk are you willing to take?
Do you have a group of people who will help you stay focused?
Are you willing to hire help?
Boundaries help you to be realistic about the role that your blog plays in your life and the role you play in sustaining your blog as a business.
Knowing your boundaries empowers you. You don't have to thumb for responses or stress over opportunities when you know your boundaries and have committed to abide by them. Your boundaries will help you establish and sort out what's best for you and knowing what's best for you is truly the backbone of your success.
3) Manage Expectations
 Managing expectations is a double edged sword: A) managing your expectations and B) managing your audience's expectations.
A) Managing your expectations
Monetizing your blog isn't an overnight thing and working tirelessly, hours on end, for free isn't sustainable.
The trick to establishing and managing expectations that get you places is to focus on everyday victories.
 There will be highs and lows – don't be tempted to ride that roller coaster. Knowing your boundaries and managing your expectations will help you stay in 'neutral territory,' and believe me, if you're looking to run a successful business, neutral territory is the only place you're going to do it.
 B) Managing your audience's expectations
Reader's expectations are HIGH! That's ok, as long as you know how to manage them… 
If you aren't careful, you can set yourself up for doing A LOT of free consulting via email and blog commenting. Readers don't know when to draw the line – they don't want to. So setting boundaries for them will also help you manage their expectations. For example you can set boundaries like:
You LOVE responding to comments on your blog, but you can only do it for 24 -48 hours after the post has been published. (This will do a number of great things for you in more than one way.)

Although you would LOVE to respond personally to every email you receive, you just don't have the time – but your readers will understand that, they are busy too. You can have them comment with questions or tweet you and then reply via blog post for everyone to learn from. (One pattern you'll find is that when one reader has a question, it's usually a question at least half of your readers are asking too – save your time, keep your boundaries and meet their expectations – answer in a blog post.)
Those are just two simple ways to set boundaries for your audience and help manage their expectations (Since most of life's difficulties arise from unmanaged expectations rather than failed attempts, this is an important step.)
4) Make Goals and Have a Plan to Reach Them 
This is easier said than done, but business is all about plans. I wouldn't advocate a formal business plan here, just a simple plan with milestones and goals to help you reach your full potential.
I won't say anything else about this right now – it's an important enough subject that we are inundated with reminders about it on a daily basis: plan, plan, plan. 
Choose to plan. Choose to succeed.
 5) Adjust Your Sails
 Business is about meeting the needs of a market – that requires changes on a regular basis. What works today may not work tomorrow. Your audience has evolving needs and you need to be on the prowl for evolving solutions.
Without being overwhelmed, I think the simple most effective way to do this is asking questions and listening. People tell us everyday the things they want, but the irony is we get caught up in providing the things we think they need.
None of us likes to be told what to do, how to do it or why.
Validate your audience, give them solutions to questions they're asking and let the rest go. Your plan, you will learn, isn't always the best plan. As you move forward to build your blog and generate revenue, remember that everyday is a new day, don't get stuck in yesterday's offering.
Move forward with your audience. Learn to be one step ahead without getting in front of them. Let their responses guide your business endeavor and you will find that the work you do is so much more fulfilling, exciting and motivating when you're moving forward with them.
p.s. Take a look at Hobby to HOT! My new blog is live 🙂 {Happy Dance!}
More on How to Make Money With Your Blog
Interested in reading more posts like this one? You will definitely want to click through the links below: