This post may contain affiliate links which may give us a commission at no additional cost to you. As an Amazon Associate we earn from qualifying purchases.
Learning to make money from home can be extremely confusing, especially with so many "experts" telling us this, telling us that, and then completely changing their minds about that same advice later. I've been working online – from home – since 2006, and am excited to share some tips to get you started.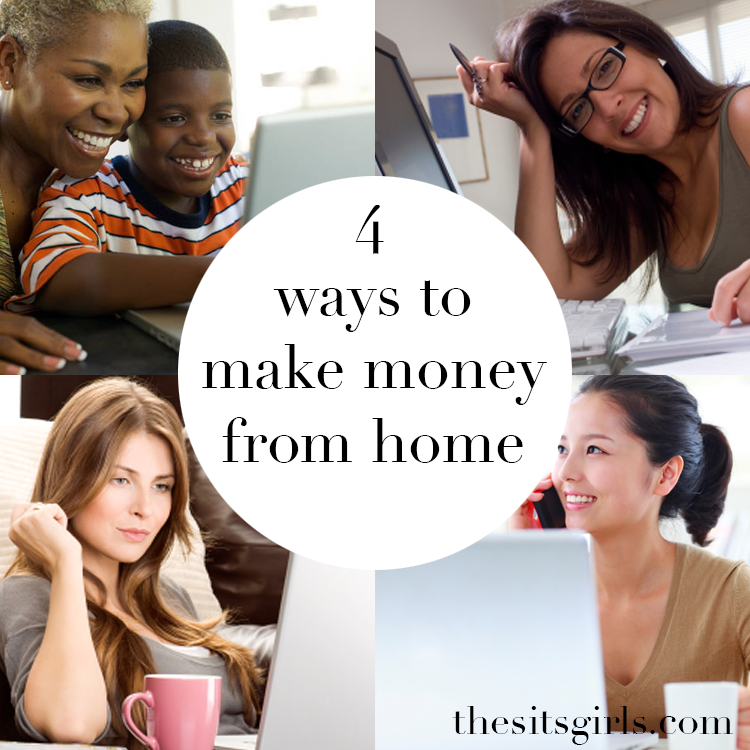 4 Ways To Make Money From Home
1) Make Money From Home Blogging
There are many ways that bloggers make money, because diversifying is the key. To start making money with a blog, you must have a solid foundation – which means lots of awesome content. Food and craft blogs do the best, but the real key to having awesome content is following your passion.
Resources:
Ad Networks like Google Adsense
Affiliate Marketing
Sponsored Posts
Remember: Sometimes, sponsored posts rely on pageviews (at least in part), so increasing your blog traffic is something you should work on from the get-go if you're interested in monetizing.
2) Make Money From Home Being A Virtual Assistant
Being a Virtual Assistant (VA) is perfect for the super-organized work at home individual. While it's not necessarily a requirement to be organized, it's definitely beneficial. A VA can do many things. Basically anything a secretary or assistant would do at an office, you can do from home as a VA. Many VAs are also freelancers that write articles for other bloggers and websites.
Other VA gigs:
Social Media Management
Social Media Consulting
3) Make Money From Home Creating Products
Whether you're creating tangible products (such as jewelry or clothing), or creating digital products (such as printables), the amount of income you make depends on how much work you put in.
Selling digital products – like ebooks – is a great way to make more of a passive income. You write the ebook once, and sell it hundreds or thousands of times! I personally prefer to sell on sites like Etsy and Amazon, but you can also set up your own website to sell them on. It's a bit more difficult to get traffic to your own site, so you might want to start out on Etsy or another "store" site first, and go from there.
Resources:
Selling Digital Products
Creating and Selling Printables on Your Blog
4) Make Money From Home Being A Direct Sales Leader*
Have you tried Direct Sales before? Maybe you've purchased one of those adorable Origami Owl lockets, or held a Dove Chocolate party. Everyone knows about Direct Sales, but when it comes to actually earning money, it can be a bit tricky.
*Note the "leader" in this title. You're not going to make anything from Direct Sales just by signing up. The key with direct sales is VOLUME. Volume with sales and volume with team-building.
To be successful, you'll need to follow industry-leaders (not just ones from your company), and make sure you're passionate about the products you're selling. Pinterest has a lot of ideas for direct sales reps. It takes a lot of legwork, but Direct Sales is one of those things that you spend time building at first and then it kind of works "for" you later on.
Each company has its own rules and guidelines, so be sure to check them thoroughly before you sign up. Some companies don't allow Facebook groups for sales, while others allow groups but not fan pages. Some are strict on the way you can promote. Be sure to check out the commission structure, too! You don't want to put all the work in for 20% of a $10 sale.
Getting in on the ground floor of a Direct Sales company is the best way to make it big. Imagine how much money you'd be making if you got in on the ground floor of Isagenix, Beach Body, Diamond Candles, or any other world-famous company! Search out companies that are new or not so well-known yet: Essential Bodywear, Shure Pets, Macee Leigh, or Mary & Martha.
What's your best tip for making money from home?