This post may contain affiliate links which may give us a commission at no additional cost to you. As an Amazon Associate we earn from qualifying purchases.
New to SITS? Welcome!! Go read this to get started.
If you find yourself wondering how to grow your blog into something more, don't think twice about it.
From changing your blogspot address to an official URL to understanding SEO and search engines, the learning is endless.  It's natural for some bloggers to be interested in taking things to the "next level" with their site.
One topic that intrigued (and baffled) Fran and me during our early days of blogging was the idea that there was money to be made in our little corner of the blogosphere.  When we saw ads on blogs, we couldn't help but wonder how they were acquired, how much bloggers were earning, and whether ads were something that we even wanted.
Although making money is not the reason that many of us begin blogging, it is something most of us wonder about at one point or another.   For some stay at home moms, the cash brought in from blogs can even help put food on the table.
Yesterday, we spent an hour with Darren Rowse of ProBlogger as he addressed an array of questions.  One of the topics that came up most was focused on how to make money on your blog.  In light of that discussion, we thought it would be useful to summarize some of the conversation, as well as to expand on the topic.
Keep in mind that selling ad space on a blog is not for everyone.  However, for those of you who are interested in monetizing your site, there are a few things we can learn from yesterday's chat:
Kathryn from Coastal Chick asked whether she should host ads on her site since she does not have at least 1,000 unique visitors daily.
Blogs of all sizes can advertise.  The lower your stats are, the less money you will probably make.  That being said, starting out small is fine.  It's a great way to learn how to interact with advertisers, while still being able to earn some pocket change.
What's the best way to secure ads for your site?
There are a number of ways to find businesses that you can advertise for.  Here are just a few ideas:
Use the phone book, targeting smaller businesses when your first start out.
Contact advertisers that competitors in your niche are working with.
Google key words that define your blog (or niche) and see which businesses are associated with these terms.
Create your own ad network.
Cindy from Prime Beauty wants to monetize her blog, but isn't sure which method to try.  She would prefer to sell advertising space since she hasn't had much success with affiliate ads.

Forming your own network in order to sell ads is a great idea.  Keep in mind that doing so requires more time and effort than affiliate marketing because you must maintain relationships with those in your network and be open to feedback.
Affiliate marketing is another way to make money on your blog.  It basically is a method for businesses to reward bloggers by paying them a commission for selling their product.
The best way to benefit from affiliate sales is to incorporate the products you are selling into your blog's content.  If you host affiliate ads, consider reviewing the product in a blog post and providing an affiliate link so that your readers can make a purchase.
How do you decide how much to charge for ads?
The easiest way to figure out how much to charge for ads on your site is simply to ask.  Talk to businesses about how much they're willing to spend or get feedback from other bloggers who have a similar niche and traffic.  Don't be afraid to speak up either…many people are willing to share this information with you.
Jessica from Exposing the Drapes to My Twenties asked when a blogger should start selling ads on their blog.
The answer? Monetize your blog from Day 1. Readers can feel betrayed when you start running ads out of the blue. If ads have been on your site from the beginning, then there will be no surprises or feelings of mistrust. The trick is to keep your advertising subtle and balanced.  Avoid turning readers off by having ads all over your blog.
How long does it take for an experienced, full time blogger to start turning a profit?

Although blogging has developed dramatically over the last few years, the ability for people to make money is not guaranteed.  For an experienced blogger, it could take a year or two before he or she will start seeing a profit.  On the other hand, some spend two years (or more) blogging and still do not make much money.  There's really no right answer.
If monetizing your blog is something you're interested in and you'd like to learn more, then check out the links below.  We've compiled a list of resources that we hope will be helpful to you…
What I've Learned About Selling Private Ads
How To Find Advertisers For Your Website: The Ultimate Guide
How Much Should You Charge For Advertising?
15 Affiliate Questions Answered By 3 Experts
When Should You Monetize Your Website
How To Sell Ads On Your Blog
A Screamingly Effective Blog Disclosure Policy: How (and Why) To Get One
Create Your Own "Advertise" Page
How Do I Include Advertisements In My RSS Feed
Do You Have Too Many Ads On Your Site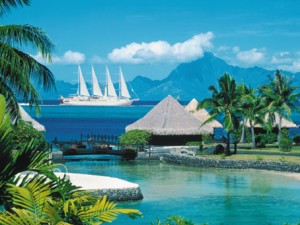 Idea!!  When we all start making millions of dollars from implementing the tips we learned yesterday, everyone will be at the Bloggy Boot Camp in Tahiti we've been dreaming about, right??
* * * * * * * * * * * * * * * * * * * * *
If you'd like to watch part of yesterday's live chat with Darren, you can find the recording here.  (Sadly, the entire hour is not available due to technical difficulties during the discussion.)
On Day 12 of the 31DBBB Challenge in BlogFrog, we are learning about how to maintain an editorial calendar and plan your posts an entire week in advance.  Stop by if you get a chance!
* * * * * * * * * * * * * * * * * * * * *
Tickets for Austin and St. George, Utah, our final Bloggy Boot Camp stops for the year, are on sale now!  Don't wait to buy yours.  We'd love to meet you in person!
And, as always, when you see this:
Leave a comment!