This post may contain affiliate links which may give us a commission at no additional cost to you. As an Amazon Associate we earn from qualifying purchases.
There are so many ways to grow and monetize your blog that it might feel overwhelming. Knowing where to begin or how to implement money making strategies can be daunting. While I'm not an affiliate of Google, I will say that you can make a living from your website using an advertising network like Google Adsense.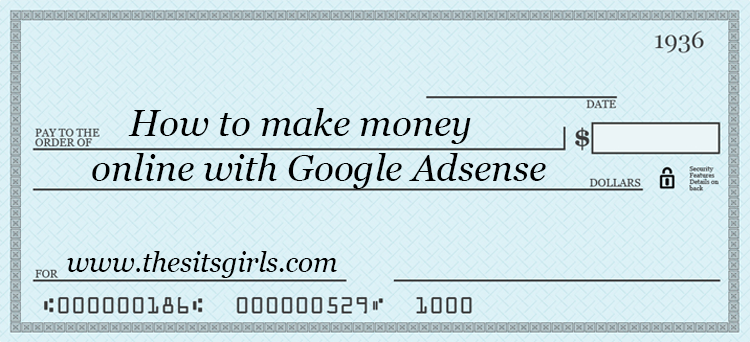 How To Make Money Online With Google Adsense
Nothing is overnight, and blogging is not a "get rich quick" scenario, but if you're ready to leap into monetization with ads, here's what you need to know.
1) Apply
The first step is to apply to Google Adsense (or whatever advertising network you're interested in). Something to note is that not all advertising agencies play nice with others. Some require a contact and a promise to not work with a competing network (for example, Mode Media and BlogHer). Google Adsense will want to see that you have a privacy policy, a neat navigation bar, quality relevant content, and that Google Analytics is installed and working correctly. Google can then price your ads based on your page views. When you're accepted, be sure to follow the rules. Don't click on your own ads, and only have three per page.
2) Get started
Familiarize yourself with their policies, and you can use their Adsense Academy to learn more about how to start making money on your blog. The idea is that you are getting paid per click. The commission you earn will vary, although it's safe to say that you will earn pennies per click. That might not seem like a lot, but if you have a high quality blog with relevant content and ads, it could turn into a payday. Just remember that a high quality blog with great content will bring traffic to your site.
3) Customize
What real estate on your blog are you willing to turn over to ads? Your sidebar, below your blog post, and at the top of your page are popular places. The key is to think about your site design and where a reader's eyes go. I have found more success with ads that are either in the post itself or above the comments. Sidebar advertisements do not seem to work as well on my blog, and perhaps it is because readers gloss over my sidebar since they are so used to seeing ads. You can choose display ads and customize the colors within Google Adsense. You can even create custom channels to have some control over the content that is displayed.
4) Don't have too many ads
Too many ads may discourage a reader from continuing on your website. Keep your blog clean and organized and weave ads into your content organically.
5) Diversify
If your ad revenue doesn't seem up to par after you've experimented with it over the course of a few months, don't be afraid to try something new. Google Adsense is just one network and one way to monetize your website. You can add sponsored content, sidebar advertising, affiliate sales, or other advertising networks to your website.
Don't forget to check your stats regularly so you can tweak your monetization strategy. You can download the Google Adsense app on your phone (with an iPhone or Android device), and you can check activity on the go. Google Adsense may not be my favorite way to earn money on my website, but it is just one avenue (of many!) that is worthwhile for a blogger to pursue.
What advertising networks do you have the most success with?
Keep Reading
Do you want to learn more about making money online? Here are a few posts you'll find helpful: