This post may contain affiliate links which may give us a commission at no additional cost to you. As an Amazon Associate we earn from qualifying purchases.
Many bloggers are spending these first few weeks of 2016 planning out their content and making big plans for improving their blogs, but before you get too far into the New Year, set the goal to get organized for next year's taxes. If you're making any money with your blog, you should plan to file self-employment taxes on your 2016 income tax return.
Use these tax tips for bloggers to stay on top of what comes in, what goes out, and what you need to make the job easier come January 2017. And of course this post comes with a caveat—I am NOT an accountant—I have been earning income with my blog for over 8 years and paying taxes each year, so I am sharing my organizational experience. If you have specific questions about your situation, start with the IRS website and then contact an accountant.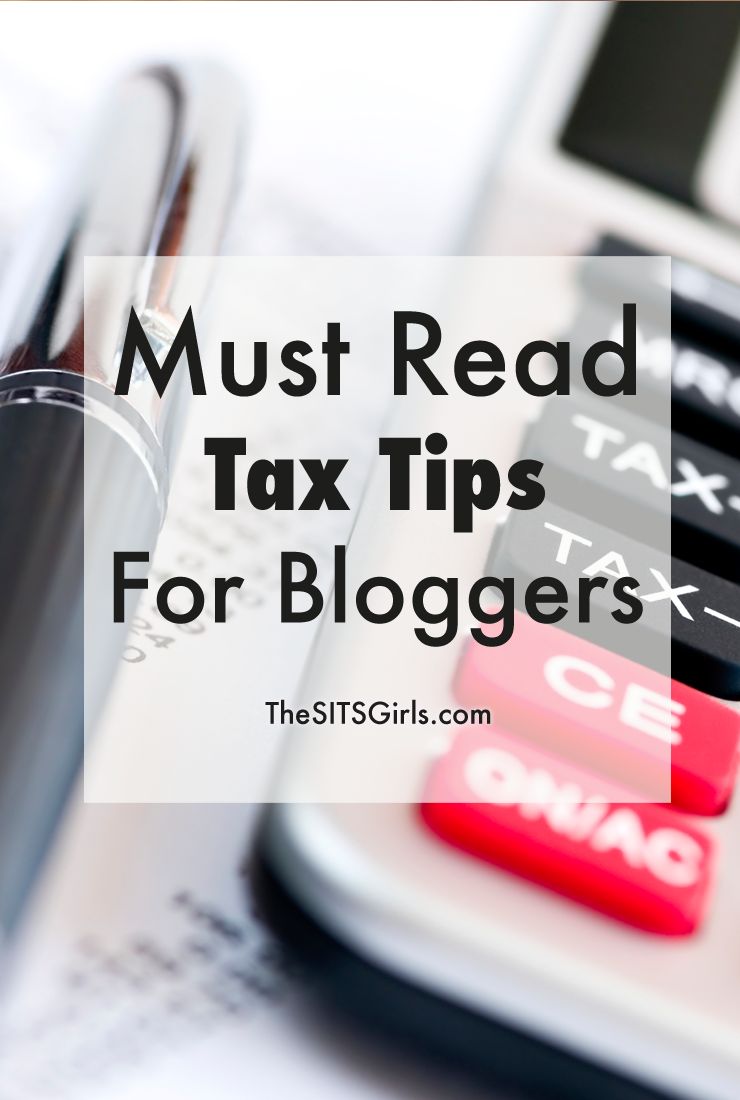 Must-Read Tax Tips For Bloggers
Do you have to pay taxes? Most bloggers are working for themselves and/or working as independent contractors with a company. When that company pays you (for example, for a sponsored post), they are not deducting taxes from that paycheck the way an employer does for a salaried employee. Therefore, you are responsible for paying taxes on that income. Whether your blogging income comes from affiliate sales, ad networks, sponsored posts, etc. does not matter. It all becomes taxable income when you receive it, and you are responsible tracking it and paying taxes on it.
Track your income
I use a simple but thorough system to make sure I'm tracking my blogging income and expenses. While it is not necessary to have a separate checking account, it makes it much easier (true of any home business). You should also have a Paypal account linked to your blog email address; many companies will pay you electronically versus a paper check. On a simple spreadsheet that I call "Actual In/Out 2016," I record each time money comes in or goes out.
For tax purposes, you need to track what actually happens in 2016 as opposed to what you've been promised. For example—this January I'm receiving payments for work I did in November & December 2015, but I could not claim that income for 2015 because I didn't have it yet. It will be claimed on my 2016 taxes. To stay on top of outstanding payments and what I'm expecting to receive, I have another column in the spreadsheet.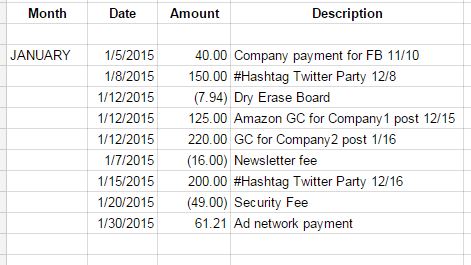 Track your expenses
On that same spreadsheet, I record all expenses that occur for my blog, such as fees for design or hosting services, paid plug-ins, business cards, etc. When I have paper receipts, I collect them in a folder. You can even make a category column and begin classifying your business expenses as you record them during the year, which will help you (or your tax preparer) with filing next year.
Match them up
Every three months, I look over the spreadsheet, bank account statement, and Paypal account statement to make sure every in & out amount is accounted for. By breaking this step up into fourths, you can catch errors and omissions before the end of the year. If you're planning to use an accountant rather than do your own taxes, this paperwork will be already organized.
What are you allowed to deduct?
A typical blogger may deduct expenses such as hosting and domain registration fees, advertising and postage, design work, conference registration, and others. If you are interested in claiming the home office deduction and related expenses (phone, internet, etc.), I highly suggest you work with an accountant. You must prove that those expenses were used exclusively for your business. As a busy mom as well as a part-time blogger, I don't bother with that deduction, since I work at a desk, the kitchen table, or wherever I can find a spot.
Will I receive 1099s?
If you earn more than $600 from a single source (for example, from MassiveSway), you may receive a paper copy of a 1099 form in the mail in January. Companies are required to provide those to independent contractors who earn that minimum, and many now provide them electronically. Whether or not you receive paperwork from someone who has paid you, you are obligated to report that income. Therefore, amounts under $600 should still be reported. Remember that all income you receive is potentially taxable.
By putting some time into setting up a system now, you can save yourself a lot of time and stress come tax-time next January. Instead of looking at a pile of paper, you'll have an organized accounting of your blog income and expenses and be ready to move forward with your business.