This post may contain affiliate links which may give us a commission at no additional cost to you. As an Amazon Associate we earn from qualifying purchases.
Creators are looking to managers more than ever to help them navigate the world of sponsored partnerships. Managers or management teams can be an invaluable asset to creators in certain situations, but they aren't the best fit for everyone. Before you enter into an agreement, it's important to make sure you really need a manager.
Do you need an influencer manager or do you really just need a little help?
In the earliest days of sponsored content, when most opportunities were focused on blogs, virtual assistants (VAs) were the go-to solution for writers who were overwhelmed with the duties of maintaining their sites and social media presence.
VAs can be hired for a variety of tasks, from managing your inbox to syndicating your content across your social channels. Basically, any task that requires your time but doesn't necessarily need YOU can be assigned to someone else.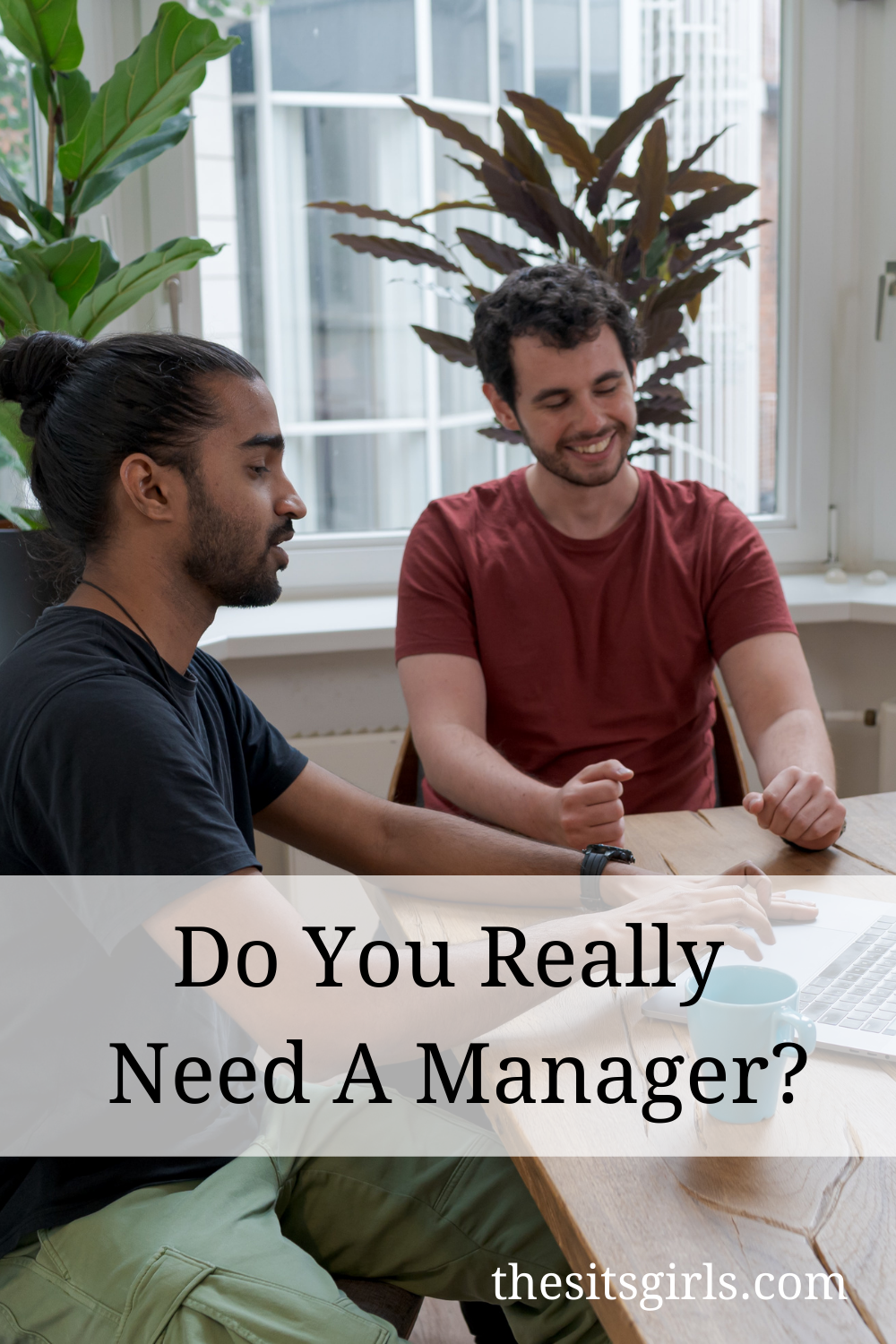 Tasks That Can Be Assigned To A Virtual Assistant
Managing your inbox
Replying to pitches
Scheduling social media posts
Editing posts, photos, and videos
Pitching brands for potential partnerships
Creating content
Trend research and SEO
Managing budgets and expenses
Anything else where you could use a little help!
The tasks you are willing to hand over to a virtual assistant will vary based on your own personal comfort level. For example, you might not want your VA posting on your social channels for you. They can still create a content calendar that allows you to copy and paste pre-created captions and posts into your app or browser, saving you time.
You really can think of your VA as a "lite manager." Once you have found a virtual assistant who is a good fit, they can start reaching out to brands on your behalf and assist in securing partnerships. You can even create a team of assistants with different strengths to help you manage your different needs.
How do you find a virtual assistant?
There's nothing better than word of mouth when it comes to finding a virtual assistant. Ask around to see if your fellow creators have hired a VA. You can post on your social channels saying you are on the hunt for an assistant. There's also the tried and true resource of a Facebook group. There are plenty of groups out there for both creators and assistants that can help you find the perfect match.
Another option you can pursue is hiring an intern. There are plenty of college programs that align with content creation, and internships can be a great resource for both you and them!
How do VAs get paid?
Virtual assistants can be paid by the job or by the hour. You'll need to negotiate this during the hiring process, and come up with rates and expectations that work for you both. Remember that hiring an assistant is a business expense, meaning that it can be deducted during tax season. Speak to your personal accountant for more information on how to track and report these expenses.
How do managers and VAs compare?
A virtual assistant is someone who can help you with almost any task. A manager is someone who will only be focused on securing and negotiating deals on your behalf. An assistant will be paid by the hour or task, while a manager will take a percentage of the deals they help you secure.
When do you need a manager if you are a creator?
Not unlike deciding when you need an assistant, deciding when you need a manager is a personal decision that can be based on a variety of factors. If you feel that you don't have the negotiating skills to make the best deals, a manager can be helpful. They can also call upon their wide network of contacts in the industry to find potential partnerships for you that might never have found on your own. While a VA can pitch on your behalf, they will not have the same business connections that a manager will have.
The one thing you shouldn't use as a reason to hire a manager is being overwhelmed. If you're overwhelmed, consider an assistant instead.
Can a manager help you make more money?
The money question when it comes to managers is a tricky one. Managers are often shrewd negotiators who aren't afraid to play hardball to get you the best possible sponsorships at the highest possible rate. The flip side of this, however, is that it can also mean you never hear about a potential partnership you would love to take because the rates didn't align with your manager's ask.
If you do hire a manager, make sure you set up clear expectations so that they aren't actually costing you money.
For example, if you are willing to work for a lower rate for a small business or within a particular niche, ask that all of those opportunities are sent along to you to consider, even if the rates are below your minimum.
Does having a manager mean you're taken more seriously?
You might think that having a manager has a professional cachet that will garner more respect. To put it bluntly, when someone has a manager, that is frequently a signal to brands that you will be more expensive, not that you are more professional.
If you do think management helps you be taken more seriously, you can use a work-around by creating a management email alias. [email protected] or [email protected] or [email protected]domain.com as the email address in your bios can give the impression that you do have a management team behind you. (No one needs to know it's only you or your VA!)
What are your next steps?
If you still aren't sure if a manager or an assistant are right for you, take your time to decide. Identify other content creators who have a following and style similar to your own and reach out to them! Find out how they're managing their business and share tips. Maybe they have an assistant or manager who will be perfect for you, too!