This post may contain affiliate links which may give us a commission at no additional cost to you. As an Amazon Associate we earn from qualifying purchases.
After you write your posts, you want to make sure readers can read them in any way they choose. As a result, one thing that's important to offer is an RSS feed, the preferred way of many bloggers to follow other blogs. While most blogs are set up to automatically produce a feed, this does not give bloggers the ability to keep track of their varying statistics. While not always focusing on stats is perfectly acceptable, feedburner offers great insights into your readers.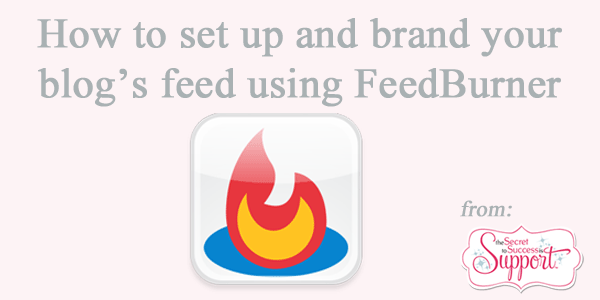 How to set up feedburner
1. First, go to http://feedburner.google.com to set up your feed. You will want to put in your blog or feed address right in the box:
2. Go to the next screen, which will display once your url has been verified and enter your Blog Name & the Feed Address. THIS STEP IS VERY IMPORTANT. If you change the feed address later on, you will have to notify your readers- they are not automatically updated if you change the feed address.
3. Once these steps are complete- congratulations! You have a feed.
Now what do you do with it? In Blogger,  you want to go to your Dashboard and select Settings, then Site Feed. You will see a box titled Post Feed Redirect Url- put your feedburner feed ADDRESS here. For WordPress, download the Feedburner Feedsmith Plugin. It is the one recommended by Google (who owns Feedburner) and is the one that has remained most consistent with WordPress Updates.
Next, you can add your logo to your Feedburner feed to further brand your content!
How to add your logo to your Feedburner Feed.
1. Log in to your feedburner account and select the "publicize" tab. 
2. Make sure your email subscriptions option is activated, and select "email branding".
3.  Insert the url of your logo image. Note that it should be 200px x 200px or smaller.
4. Scroll down to adjust the font, colors, and then to see your preview. Click Save.
That's it! Now your logo is in your feed updates delivered to your readers each and every day. Happy blogging!