This post may contain affiliate links which may give us a commission at no additional cost to you. As an Amazon Associate we earn from qualifying purchases.
Many bloggers work hard to learn how to use their cameras, and find that they have a real gift for photography. It is a natural progression to think about making money with those skills. But just having a camera isn't enough if you want to start a professional photography business.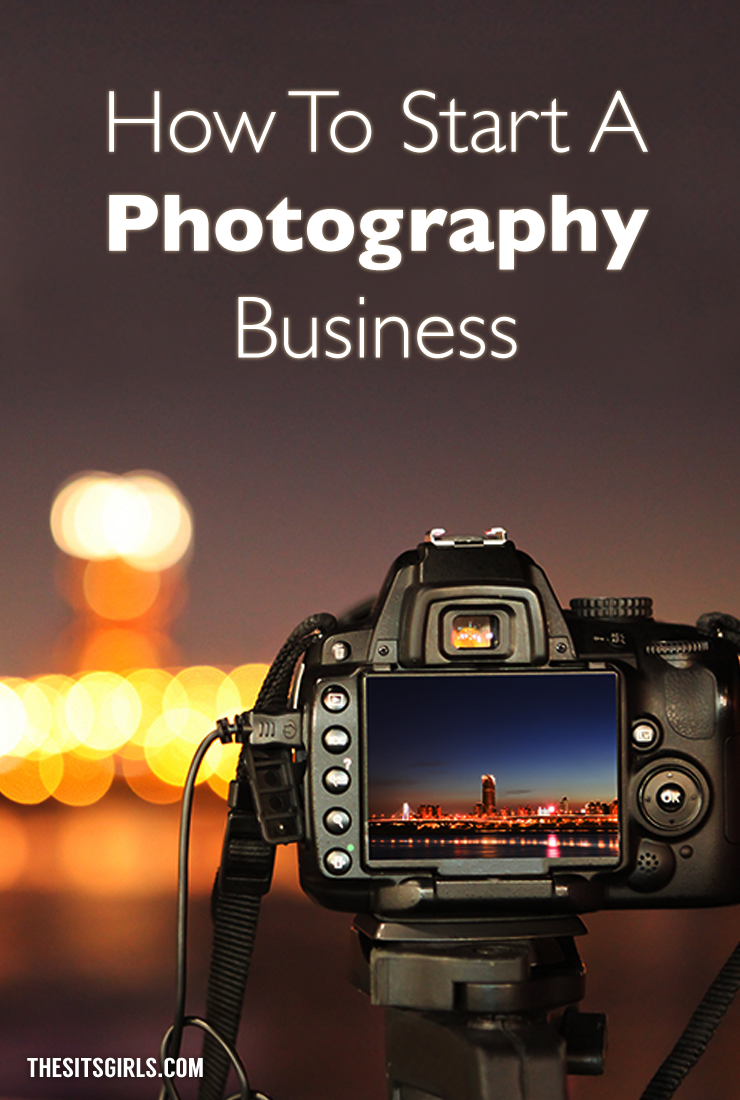 How To Start A Photography Business
If you are an aspiring photographer, ready to make the plunge into the photography industry, but don't know exactly where to start, I am going to shed some light on how to start your own photography business.
1. Build your portfolio
Decide what type of photography you want to pursue. Find your niche and build a portfolio around it. In order to build a strong portfolio, you need to know how to master your camera. If you are going to be successful, you need to have more than just a basic knowledge.
You need to understand light, and be prepared to work in any kind of environment, including low light situations. I know there is a lot to learn, but in order to differentiate yourself from the average photographers in your area, you need to be able to control the available light and master the off camera flash.
You need to define your style and editing techniques. Do you like soft and airy images, or bold and contrasting ones? You clients will book you for your style and vision, so be sure to create a strong and consistent brand. It is important to create a consistent portfolio.
2. Create a website
If you think about it, where does everyone go to find a photographer in the area? You're right, online using their phone or computer. So, creating a strong brand is important. If you want to look professional, a website is a must. Your prospective clients want to see your current portfolio and get a sense of your work. Your website is a great platform to showcase it. That's what your clients will want to see.
Think about what you would like your branding colors to be and focus on creating a great client experience from the very first click. There are a few "must haves" when it comes to building your website. Some of the things to consider are:
About Me page. Your clients want to know who you are and what you look like, so be sure to introduce yourself and have a recent picture of yourself on you About Me page.
Testimonials. Testimonials are a great way of imposing trust. It is important that your clients trust you with capturing their special moments.
Contact information. Make it easy for your clients to contact you. Whether you decide to create a contact page, or just have your contact information available on the website, make sure your clients can easily reach you.
3. Legalize your photography business
This is where the least fun part comes in play. Without legalizing your business though, there is no business.
Register your business.

The simplest form of business to create is a sole proprietorship. A lot of people who are just starting a business choose this because it requires the least amount of work. Although this is the easiest route, it also carries the largest amount of liability. With a sole proprietorship, the business and the sole proprietor are considered one, and if something were to happen to the business, not only are the business assets at risk, but also the personal assets. If you choose that this is what you want to do, you will need to file a DBA (Doing Business As) with the local circuit court.
The next most-used business entity for photographers is a LLC. By choosing a LLC, nobody can target your personal assets, only the business assets. While there is always a loophole when it comes to laws, someone could technically go after the owner personally, but it is very rare for this to stand in court. By forming a LLC, you are protecting yourself and your business.
Regardless of the business type you decide on, and depending on the county your business resides in, you may need to obtain a business license.

Apply for a tax ID. This is a simple step that pretty much anyone can do. Simply go to the its.gov website, find the FEIN page, fill in some information, and submit it. Once that is done, you instantly receive your FEIN and are ready to go. It really is that easy!
Set up a bank account for your business and apply for a credit card. Track all your business expenses on this card (camera gear, purchasing a website domain, etc.) so that they can be easily recorded.
Purchase liability and equipment insurance. You want to be covered in the event that a client falls and gets injured. Protecting your equipment is also important.
Starting out from the beginning with all these things in place will give you a good foundation to build a strong, successful photography business that will bring in an income for you and your family for years to come.