This post may contain affiliate links which may give us a commission at no additional cost to you. As an Amazon Associate we earn from qualifying purchases.
Ahhh, money. The thing we all want to make, or make more of, but never like to discuss or spend too much time even thinking of. A few years ago, I made a presentation on blog monetization to a group of bloggers and I included this quote, which I still love:
I am not interested in money. I just want to be wonderful.
Wouldn't that be nice? To just be fabulous — to write fun posts and take cool pictures and post what you want and magically find money deposited into your bank account?
Unfortunately, blogging as a business is a hustle. You need to seek opportunities, as they very rarely come to you. And you need to be prepared to take advantage of anything that comes your way.
So how do you get started making money blogging? There are a lot of blogging tips and tutorials that will help you, but if you start with these five steps, you'll be in good shape!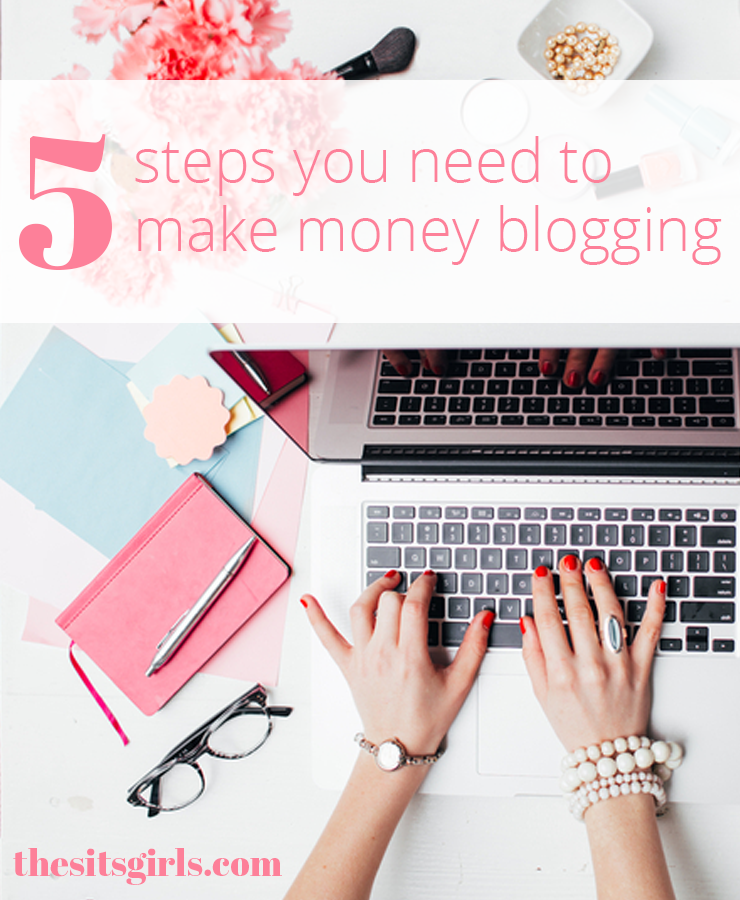 5 Steps To Making Money Blogging
1. Know your worth/value.
Setting your rates for sponsored posts, banner ads, speaking fees, and more can be a nearly impossible task. So few of us share our rates with each other, and none of us wants to under or overvalue our work.
You have a few options:
Ask around. While most bloggers don't publicly share their rates, they're often willing to share them with you privately, and it can give you a good jumping off point.
Ask the brands! While it's good to know generally what your work can get on the market, it never hurts to ask, "What's your budget?" I've actually gotten more than I planned to pitch by asking that question.
Use an hourly rate. Search the Internet and you'll find some good guides for what freelance writers, photographers, graphic designers, and web developers get per hour. Because you'll be doing all of those tasks, why not use that as your guide? I like to keep two rates in mind — one for things like writing and one for more technical, time-consuming tasks like creating graphics, editing video, etc. — and use them to figure out how much each project should cost. If a blog post is going to require five hours of writing, photography, etc., I can quickly come to at least a starting point that I think is a fair value for my time.
Use the CPM model. The basic concept is: use an average CPM rate (that's price per 1,000 impressions) and multiply it by how many pageviews you get. If you charge $2/CPM for a banner ad and get 10,000 pageviews a month, you'd price your work at $20 to start. Of course from there, you can change out the CPM ($4 for bigger ads, $1 for smaller) or for price-per-location. If you want a more detailed look at this model, you can find it here, but this will get you started.
2. Have your media kit and rate sheet ready to go.
So many bloggers wait until they're asked for a media kit or rate sheet and then panic. I get at least two emails a week from someone asking for a quick turnaround on graphic design. Why do that to yourself? It doesn't matter how high or low your numbers are — media kits are for ALL bloggers.
3. Seek out opportunities.
If you are waiting at home for someone to call you and offer you the big bucks, you're likely in for a long wait. And frankly, the people that approach you because they know that you have a lot of traffic or a specific audience are often looking for your reach, not in making a true partnership. If there's a brand you're dying to work with, introduce yourself! Let the representative know that you love the product, have a unique perspective, and pitch them something specific:
I'm working on a post all about my favorite fitness products and I'd love to review your activity tracker as part of it. Can we jump on a quick phone call this week?
The worst you will hear is no, and even a no is not a no forever. It's amazing to me how many bloggers don't realize that most marketing departments are tiny — one or two people trying to handle social media, blogger outreach, maximize budgets, etc. If you approach that team in the right way, you could be the answer to their prayers!
4. Wear the white hat.
For the sake of ALL bloggers, please be professional! I speak with so many agencies and brands who tell me that they are hesitant to work with influencers because of bad experiences in the past (did you follow the Lord & Taylor debacle?). Be proactive in educating your partners on things like disclosure, no-follow links, contracts, and more. Be clear and meet your deadlines. And go above and beyond. That should be easy if you're only taking on projects that you're passionate about. If you find yourself really dragging your heels on writing a post or doing something you're supposed to do, that may be a sign that you need to reconsider that and future partnerships.
5. Find the right balance.
I've done it. We've all done it. Jumped at an opportunity because we were blinded by dollar signs, or a cool trip or free stuff, and forgotten to ask: "Is this a good fit for me? for my readers?" Not all of your readers will understand or support your decision to make money, and that can be disheartening, but it's okay. I choose to be very transparent with my readers, so they can stop coming if they want, but they can never say they didn't know.
But you'll need to be careful. Post too much sponsored content, or post too many close together, and you run the risk of alienating the very people who make it possible for you to make money. So keep them in mind, be picky, be smart and make sure that you stay true to you.
Want more tips for writing successful sponsored posts for your blog?