This post may contain affiliate links which may give us a commission at no additional cost to you. As an Amazon Associate we earn from qualifying purchases.
I've come to a professional place I never thought I'd be at – writing sponsored blog posts!
Honestly, it's a wonderful life for me. I think the signs always pointed to it. I majored in journalism, and I particularly concentrated on magazine writing and persuasive writing. All of that aside, I have always been a lifelong consumer. As an example, I used to collect coupon inserts in the Sunday paper – not to save money – but to get a feel for all of the new products I wanted to try. I'm a product and services junkie. Always was. Always will be!
And for further transparency, I still get a rush every time I get an acceptance email or sign a contract for a sponsored blog post. I'm a firm believer in both visual and written storytelling, and when they combine? It's nothing short of beautiful. The #1 reason I think I've found success in sponsored blog posts is passion and ambition. I haven't slowed down once in eight years of blogging. I choose campaigns that are great fits, and I give each job my all. That doesn't mean I don't still have a lot to learn. The last 2-3 years of sponsored posts have been eye opening.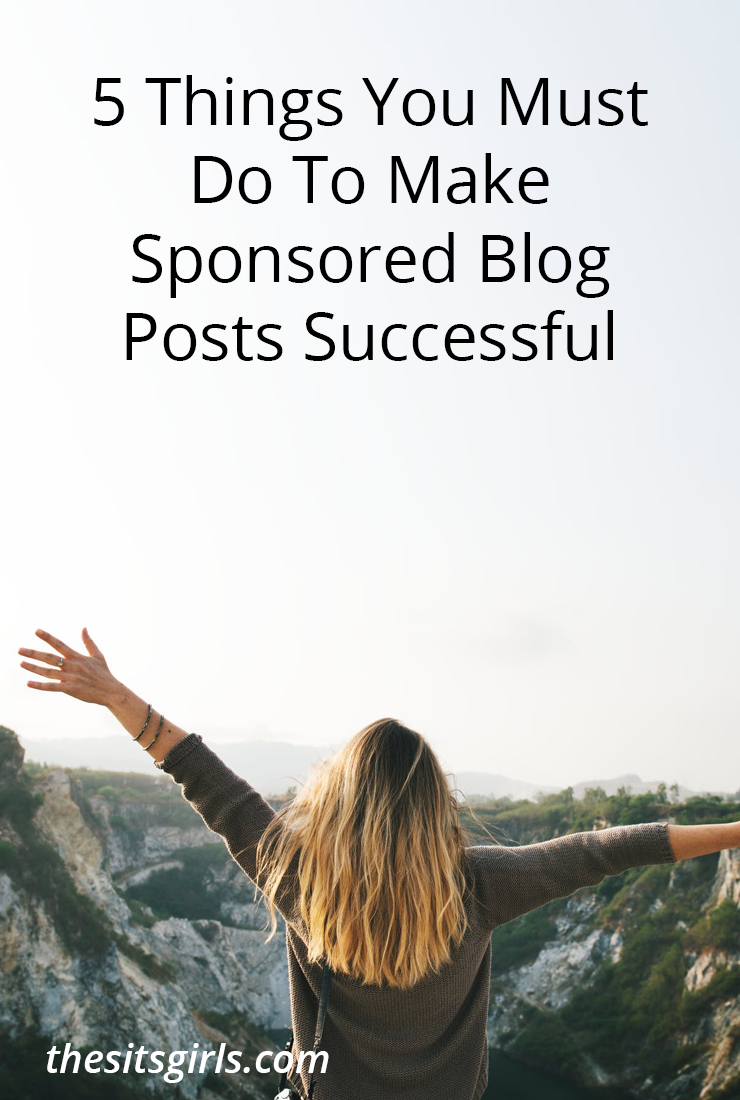 5 Things You Must Do To Make Sponsored Blog Posts Successful
If you're thinking about doing sponsored blog posts, congrats! And if you're already doing them and wondering how to get more sponsored posts in your life, these five tips might be for you.
1. Do sponsored posts, but make sure you don't ONLY do sponsored posts.
I have personally struggled with this, because my star was rising faster than I could keep up with. I do 1-2 organic blog posts a week, or more, mainly because I'm a writer and I need to always remember why I started the blog. For the business world, this will help you built trust with your readers. You will be considered more of an authority to readers and clients if you write personal posts. You can write stories, do photo shares, participate in link-ups, and share recipes, crafts, or projects.
2. Tell the story the best way YOU know how to tell it.
The best sponsored posts are written exactly like a good organic post. Be YOU. Your voice is unique and that's what sets you apart from other bloggers. If you were chosen for a sponsored blog post, that's most likely because you pitched a great idea, or a client saw something in you that would be beneficial for their product or service. This is your time to tell your story and weave your personality into it.
3. Proofread for grammar, editing, claims and tone.
When I proofread a blog post, I do a number of run-throughs. Spelling is less of an issue with spell-check, but I still need to do one run-through for spelling. The second run is for grammar, and checking for fragments, long sentences that can be split up, and making sure I don't end sentences in prepositions. The third and fourth reads look for my tone and wording. Am I being too salesy? Am I making claims that are unfounded? Am I mentioning competitors? And mainly – am I breaking any client guardrails?
4. Photos matter.
Photos make or break a blog post, at times, and can make a good one cross over into GREAT. You will most likely have image requirements, but if not, here are some things I've learned. First, when in doubt, try to avoid having logos or other brands in your photos. If possible, put yourself in your photos! I'm a photographer, but since I do a lot of lifestyle blog posts in which I want to invite the reader into seeing more of the product, I ask another photographer or have my husband or daughter take photos after I've set up the scene. They just have to press the shutter button!
Use at least one image per every 350 words. Use large files that are also optimized for site loading. Always check for clutter or anything undesirable in the background of your photos. When it doubt, simpler is better. Not everyone has the time to become a professional photographer, but you can certainly learn a lot about photography here.
5. Mind your manners.
I am as professional with clients and readers as I was when I worked in a corporate office. That means that all of your client emails and phone calls should be conducted as business emails and phone calls, because you are running a business!
Be timely! It astounds me how often fellow bloggers tell me that they miss deadlines. Life happens – for SURE – but if possible, give your contact a heads up if anything will be dramatically late. They have families and lives, too, and will most likely understand. Just like when you were first job searching and going on interviews, remember that a simple thank you card/email goes the distance.
Always disclose if you've been compensated for your blog post, and yes, that includes products and services as well as monetary compensation. This isn't just a courtesy for your sponsors and readers, it's required by the FTC.
*As a bonus tip, when you are hired to create sponsored blog posts you are more often than not supplied information about disclosures, key messages, guardrails, image requirements, etc. If you're ever unsure, always ask before posting!
There are tons of tips out there to make your sponsored blog posts successful, but I think, ultimately, success lies in the heart of it. If you're putting your heart into your sponsored post, it shows. If you have impeccable manners, timeliness, proper disclosing, good grammar, and compelling content, that will set your blog post apart. That will set YOU apart. Rejections happen, don't let them get you down. A well thought out blog post is one that will make you more hirable to that client, and to other clients. A well thought out blog post is one for the ages – because you can be getting page views YEARS later if you do a great job.
Good luck! You've got this.
For more advice about sponsored blog posts, check out these tips for incorporating great storytelling into your blog posts.