This post may contain affiliate links which may give us a commission at no additional cost to you. As an Amazon Associate we earn from qualifying purchases.
Tax season is creeping its way upon us faster than we probably want to accept it. For us solo-entrepreneurs, we can start filing our taxes on the 18th of January this year. If you haven't already, now is the perfect time to start getting all of your receipts and proof of income gathered up. Although I do have an accounting degree, this not official financial advice. I recommend that you talk to your personal accountant about these tax tips for bloggers, because everyone's situation is different and, as a result, different rules may apply to you.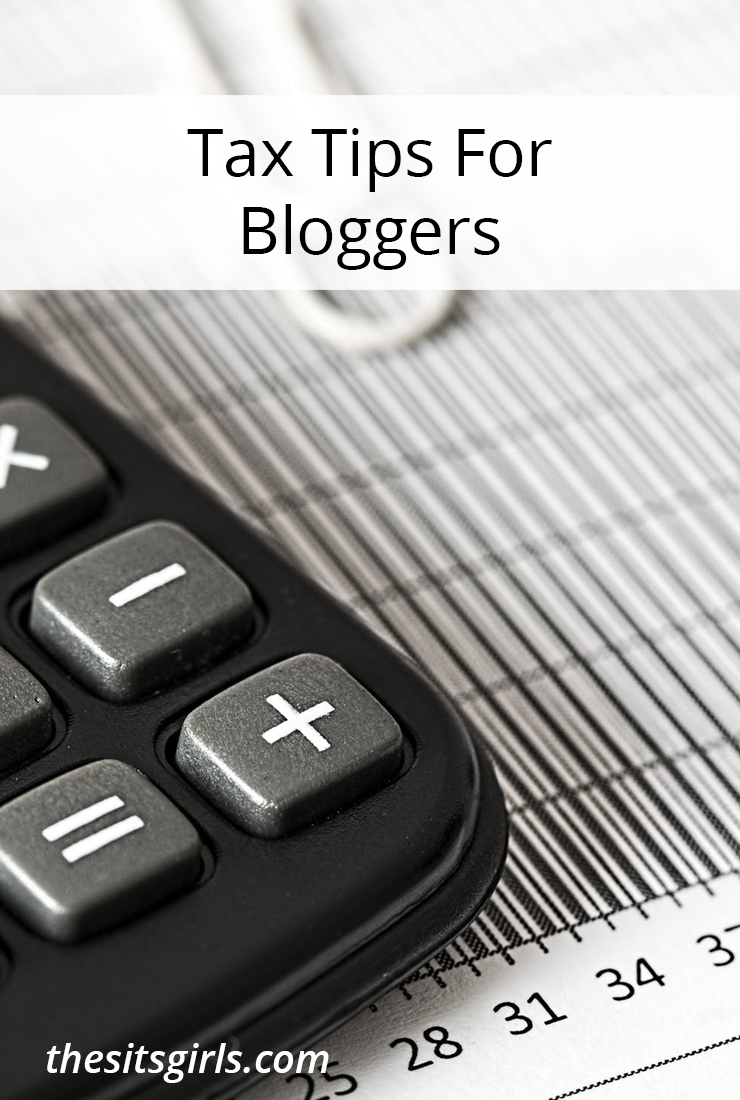 Tax Tips For Bloggers
Note: this post contains affiliate links which give us a commission at no additional cost to you
If you're anything like me, you go to all of the various online tax services to see which one garners you the biggest return. It may be time consuming to do that, but you could gain an additional couple hundred dollars OR MORE for the time spent doing this. The reason for this discrepancy is because each program handles deductions differently. Some tax programs ask every little question to help you gain the most refund back, and some are more general.
Common Expenses For Bloggers
Advertising
Paying for social media ads
ads on other sites
website (domain name and hosting)
website design and maintenance
any plug-ins you may have bought
Business cards (If you made them, what program did you use? What about the cost of the card stock?)
Software Costs
I know many of us pay to have PicMonkey, Canva, and/or Adobe products. We also pay for images. All of those expenses are covered as well. If you bought Photoshop or programs like it, these are also expenses.
Don't forget antivirus software for your computer. I also pay for Microsoft 365, and that counts as an expense, too.
Additional Education
When you attend conferences, pay to join webinars, and buy courses and books, these are expenses you can write off. Don't forget to count the cost of hotel rooms, food, and gas to attend these events as well as mileage if you drove your own car. If you bought special attire for these events be sure to count that, too.
Office Expenses
You can count office supplies such as paper, writing utensils, planners, printers, computers, and other supplies you may have used for your business.
Now, if you have an office that you use for blogging only, you can count it as a write off. You can also claim some of your utilities, internet, and other expenses in this instance. Be sure to talk to your accountant in regard to these write offs, because they are a bit more advanced, and you want to make sure you meet all of the requirements before you claim them.
Employee Expenses
If you hired virtual assistants be sure to write off those expenses. Don't forget you could have hired your kids to work for you, too. If they made less than $600 you are NOT required to give them a 1099.
Things to Keep in Mind When You File Your Taxes
Speaking of 1099's, be sure you don't count income twice. You will be obtaining a 1099 from companies that paid you more than $600 for the year.
Also remember to count the income you made from products/services you received. That free refrigerator that you got in exchange for online promotion DOES count as income.
My absolute favorite place to do my taxes online is FreeTaxUSA, because they are simple and easy to follow along. However, they do not always provide me with the most refund, because this software tends to put everything into general sections rather than break everything down. When I know I have a lot of expenses I can write off, it's not the best option to use. TurboTax is another solid choice to consider using, but beware they do go into major details. As a result, they do tend to garner a bigger refund.
I hope that these tips will help you to do your taxes with less stress. Doing ones' taxes doesn't have to be overly complicated, and using an online program can make it even easier. Be sure to reach out to Redefining Moms to get her Business Tracking Spreadsheet to help you keep your financial information organized this year and beyond.
Do you have any specific tax questions?