This post may contain affiliate links which may give us a commission at no additional cost to you. As an Amazon Associate we earn from qualifying purchases.
If you've been in the blogging community for long you've probably heard about, and seen content from influencers you follow about, Ultimate Bundles — periodic themed sales of ebooks, courses and other materials at deeply discounted prices. Have you ever wondered if people actually make money with Ultimate Bundles?
When these sales roll around it can seem like every influencer you know is trying to sell the packages, and with good reason. The offer of a huge number of products at a low price is quite attractive to deal-savvy readers, and the Ultimate Bundle affiliate program is a great deal for those who take part in it. Note: this post contains affiliate links which may give us a commission at no additional cost to you.
What Are Ultimate Bundles?
The Ultimate Bundles program has expanded through the last several years to offer a different sale every few months along with a few bundles that are offered year-round. The products offered in each sale vary, and are focused on several themes, such as:
Crafts
Homemaking/Lifestyle
Healthy Living
Parenting
Blogging
Those last three, of course, are of particular interest to us as a community, because we love sharing resources that help people become better bloggers and give them the potential to make more income sharing their stories and doing what they love.
The really great thing is that there are a lot of different ways to make money with Ultimate Bundles, depending on what you do and how you market the bundle.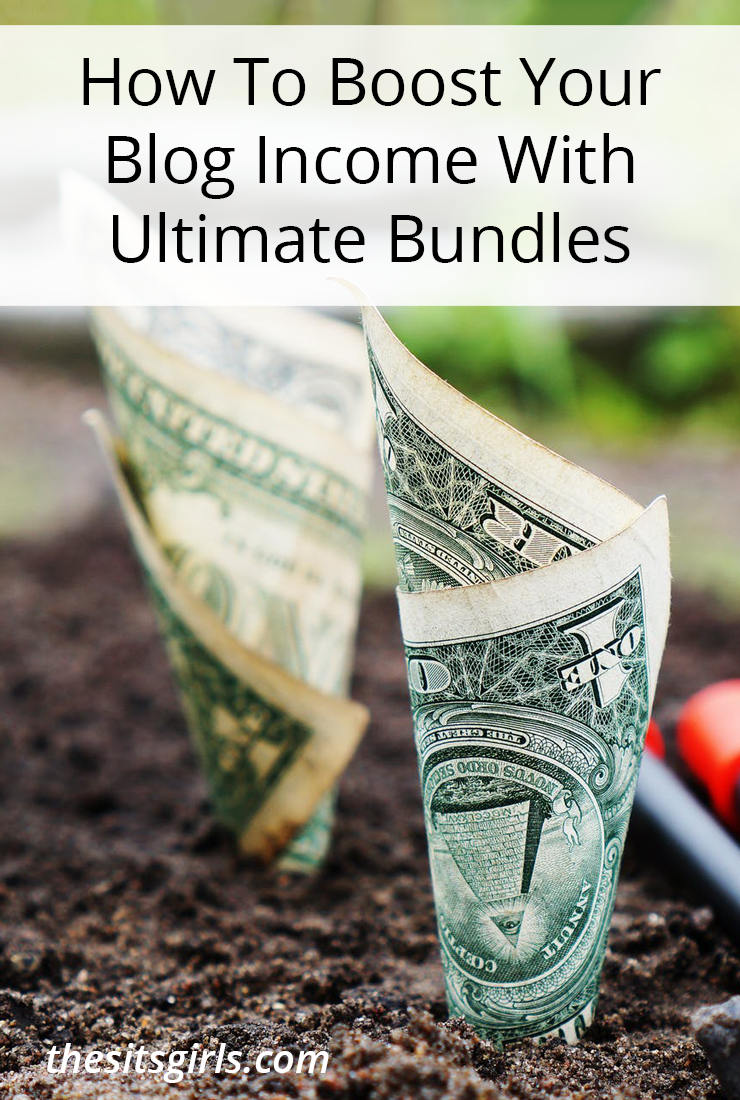 1. Make Money With Ultimate Bundles As An Author/Product Creator
First off, if you're an author of an ebook or have a digital product related to a bundle, you can offer your product to be sold as part of the bundle.
Potential contributors can fill out an application form that includes information about your reach, social media handles, the product you want to offer and what type of bundle it would be a good fit for (business, family, health, or lifestyle). Product creators who are part of a bundle earn an even share of non-contributor affiliate sales, as well as a 70% commission on each bundle they sell themselves.
2. Make Money With Ultimate Bundles As An Affiliate
If you don't have a product that's a perfect fit for a bundle, don't worry. Affiliates make 40% commission on sales, and can purchase the bundle for 40% off the purchase price, which is a great deal right there. Also, if you sell five copies of a bundle, you can get a bundle for yourself for free, or request a refund if you previously purchased the bundle.
The great thing about Ultimate Bundles from an affiliate standpoint is the top-notch training and marketing materials that are available.
They provide affiliates with everything they might possibly need through an affiliates portal that includes a Bundle Marketing 101 PDF, a bundle strategy video, bundle planning worksheets, a promotion planner, goal setting information, interviews with top affiliates, and strategies for marketing via email, blogging and social media.
As you might imagine, this information goes well beyond helping you make money with Ultimate Bundles, and will give you a great grounding in marketing your own products or anything else you might be trying to sell on your blog or social channels.
In addition to all that, there are bundle-specific banners, social sharing graphics, image grids, and buttons you can download and use in blog posts, as sidebar ads, or in social messaging. There's also a full product list so you know what is in the bundle even if you decide not to buy.
There are also videos you can download and share, pre-written emails, templates, calendars, and social media messages you can copy and paste or personalize for your audience. And they have a private Facebook group where you can connect with other Ultimate Bundles affiliates to get advice and share tips.
They really give you all the information you need to be a success if you are willing to take the time to work through the resources and use the materials they give you.
If all of this sounds great to you, and you have an audience these bundles would appeal to, you can sign up to become an affiliate here.
Encouraging other people to become an affiliate through your affiliate link is the third way to make money with Ultimate Bundles, because you earn 10% of the bundle sales of anyone who signs up with your link.
If you're already an Ultimate Bundles affiliate, we'd love to hear what sales strategies have worked for you. Does your audience respond more to emails or to blog posts, or some other method? Let's all learn together!