This post may contain affiliate links which may give us a commission at no additional cost to you. As an Amazon Associate we earn from qualifying purchases.
Having a blog post go viral is a dream for most bloggers. It can be an incredible experience, but just like most things in life, there are also downsides. It is impossible to plan for a viral blog post, but here are some things you can keep in mind if it happens for you in the future.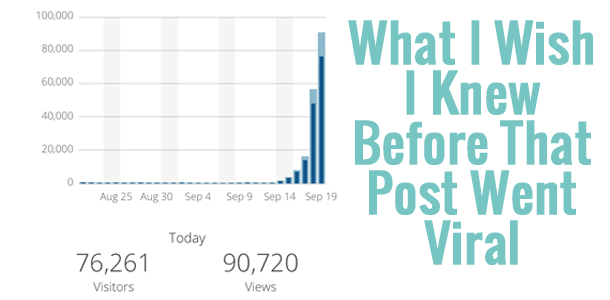 What I Wish I Knew Before That Viral Blog Post
My previous definition of a viral post was "any post that receives five times your average views in a week." Because we all have those posts that catch some steam and spread like wildfire, and that's awesome.
But this was different. It received 90,720 views in one day. 947,863 views to date.
It brought me the highest day of traffic for My Crazy Good Life, at 160,384 pageviews. It crashed my blog and put me in hot water with my host.
It cost me a lot of money, and made me miss quite a few deadlines.
And that post spread to other posts within my blog, thanks to interlinks. In just over one month, my little blog had received over one million pageviews.
Boy, have I learned a lot in the past six weeks. And I'm sharing.
Read the Full Post Here: What I Wish I Knew Before That Post Went Viral