This post may contain affiliate links which may give us a commission at no additional cost to you. As an Amazon Associate we earn from qualifying purchases.
Hello class! Welcome to week two of Think Like a Marketer! Official homework is on Wednesday's post, but be sure to check out the group questions at the end of this post. If you missed us last week, you can find Lesson 1, How to Blog Using Successful Branding, here, and Lesson 2, How to Create Brilliant Ideas & Brainstorm, here.

By the way, sign-ups for this class is now closed, but you can still get loads of info from the posts and in the forum… so keep on reading!
Lesson 3: What's In It For Me?
For today's lesson, I could write typical advice about how to get more readers. I could tell you to use Twitter, interact on your Facebook fan page, participate in forums and comment on other blogs.
But I'm not.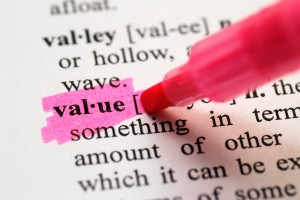 Instead, I'm going to tell you how to keep readers once they get to your blog.
Let's start with this: WIIFM.
Oh boy, you're thinking, not another acronym! So, what's it stand for?
What's In It For Me?
The kicker is this. The ME isn't you; it's your readers.
When marketers write about a product or service, it's less about that product or service and more about the value it will provide.
Let's take this sliver of copy from Apple's iPhone page: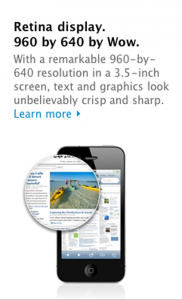 If they told you that the screen is 960×640, you'd most likely say: "So what? What's in it for me?"
Then they explain the benefit: text and graphics look unbelievably crisp and sharp.
Aaaah, okay. I do love that. Now I get it.
So, how does this extend into blogging? It boils down to two things: content and reader experience.
Content
The first thing you're probably asking is why wouldn't I blog for me? After all, I have a personal blog and people love my stories!
People DO love your stories. Or your tutorials. Or your pictures. But it's not for the reason that you think.
It's because of the way your stories, tutorials or pictures make your reader FEEL. Or the VALUE you provide them. That's what in it for them.
If you don't believe me, go over to Copyblogger's site and see what's #1 on the list of "crippling beliefs that keeps writers penniless and mired in mediocrity." I hate to say this is one-size-fits-all advice or that you shouldn't stay true to yourself because that's not what I mean at all.  To show you what I mean, put on your blog reader shoes:
Say you read a blog about couponing and living on a budget. You LOVE seeing pictures of the blogger's massive grocery store trips where she only spent $6.98 for 30 items. "What's in it for me?" She gives you hope that you can save that much too. Or motivation to start clipping coupons.
Say you read a blog about motherhood. You enjoy reading her wild, outlandish stories about the crazy things her kids do. "What's in it for me?" Her stories entertain you. She makes you laugh even on your worst days.
Say you read a blog about writing. The blogger gives you tips about how to write smarter and how to get published. "What's in it for me?" She provides VALUE to you. You improve because of what you learn.
See how these are really about the reader?
There's nothing wrong with wanting some "value" out of what you're reading. We're human. We hang around people that make us feel good. Would you rather be friends with someone who only talks about how rich she is or someone who actually sits down, looks you in the eyes and asks, "How are you doing today?" Plus, we only have so many hours in the day so we spend our time where it benefits us most.
Now, put back on your blogging shoes. Time to ask yourself some questions:
What do people expect when they visit your blog?. ex. funny, educational, inspiring, a little bit of everything
Are you giving it to them?
If people come to your site to laugh, are you making them laugh? If they come to learn, are you teaching them? It doesn't mean you can't experiment or deviate from that every once in a while. Just keep in your mind why readers come to your blog and give it to them.
How to Find Out What Your Readers Want
Maybe you aren't sure what value you provide or how you make your readers feel. That's okay. Here are a couple of ways you can find out.
Look at Your Analytics
Take a stroll through your posts and see which posts have the most comments, the most retweets, the most likes on Facebook. Which posts do people respond more to? Which ones seemed to go by practically unnoticed?
If you use Google Analytics, Sitemeter or something else, peek at your analytics as well. What content are people viewing most? What does this content have in common? How are people getting to your site (direct search, Twitter, SITS Girls, Facebook)? That answer will tell you where you need to focus your efforts because that's where your readers are.
Do a little research and you'll discover a lot of the answers on your own.
Just Ask
When I was deciding if I should make Momcomm into a new site, I asked my Adventuroo readers a few questions. I created a survey through Survey Monkey for FREE. It's super easy to set up and you can even embed the survey right into the blog post. You can see my Momcomm survey here.
If that's too much trouble, ask your readers through a post, on Twitter or on your Facebook page. Find out what topics make them read your blog, why they like your blog and if there's anything they want to see more of.
Reader Experience
The experience you give your readers is critical to turn a first-time visitor into a devoted reader. Beside great content, a reader looks for an experience that benefits them. Are you sacrificing your reader's experience for your own benefit?
Let's look at a few examples of what I mean…
Partial RSS Feeds
Partial RSS feeds are when a small portion of a blog post shows up in an RSS reader and then you have to click on the "read more" to go to the blog and finish the article. While most people don't do partial RSS, I see them every so often. The argument I've heard for partial feeds?
"But they increase my page views!"
Well, that's true. But what about your readers?
They now have to spend more time reading your post because they have to click through to your blog. While that may not sound like much, what if 15 of the 20 blogs you read had partial RSS feeds? That's a lot of extra time spent clicking through and waiting for the post to load just because you wanted more page views.
Commenting on Facebook Status Updates
Reader experience doesn't have to just be on your blog. It can be in social media too. If you happen to have your Facebook fan page connected to Twitter, you know that your status updates automatically post to Twitter with a link back to your fan page. Have you ever asked your readers a question on Facebook only to have them respond on Twitter?
I actually saw a blogger once ask her readers to respond to her only on Facebook. That's essentially asking her followers to do something that's less convenient for them to boost her Facebook stats. While you secretly may want people to only respond on Facebook, let your readers/fans/followers respond however is most convenient.
Auto DMs on Twitter
I think automatic direct messages are the most loathed practice in social media. It's basically when someone follows you, you automatically send them a message that says "Thanks for the follow! You can also find me on Facebook at LINK!"
There's nothing of value there for your new follower. Remember "What's in it for me?"
While it MAY drive a little bit of traffic to whatever link you provide in an auto DM, you're irritating 99% of your other followers just for a slight uptick in traffic. Is it worth it?
Auto DMs are such a passionate topic out there in the blogosphere, If you need more convincing not to do it, you can read this post from Fadra at Social Dialect and this post from Crissy at Dear Crissy.
The basic idea of a positive reader experience is this: don't annoy your readers by doing things that only benefit you. Make things easy for them and give them options (but not too many). We'll talk about both of these things in our final two lessons!
By creating content and an experience that provides value to your readers, you'll keep them coming back for more. And more.
While there's no official "homework" for this lesson, I'd like you to discuss any or all of the following questions with your group (and using the #SITSClass hashtag on Twitter):
What value are you providing your readers? How are you making them feel?
How are you planning to find out what your reader's want? (analytics, ask or both)
Is there anything you do that sacrifices your reader experience to benefit you? How can you change what you're doing?
Download your lesson handout here so you have it for easy reference.

If you have a question about today's lesson, hop on over to the Think Like a Marketer section of the forum and ask away! You can also find us on Twitter by using the hashtag #SITSClass and by following me on Twitter @momcommblog.
More From the Think Like a Marketer Class
Be sure you don't miss a single post from this series. The Think Like a Marketer Class is guaranteed to help you learn how to blog better!