This post may contain affiliate links which may give us a commission at no additional cost to you. As an Amazon Associate we earn from qualifying purchases.
Striking a work life balance can be hard no matter your situation. But when you work from home, the lines become even more blurred because there's really no such thing as being away from your work. So, how do you find that balance and keep your sanity?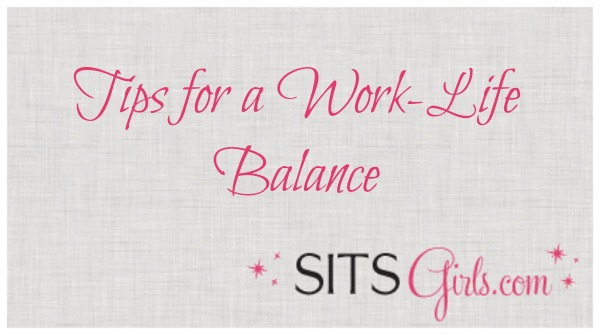 Schedule, schedule, schedule
Set times for working and times you won't. One of the hardest things about working from home is stepping away from your work. Working unique hours can make you feel the need to be on call constantly. However, in an effort not to lose your mind, try to maintain "regular" business hours- set a quit time each day, schedule specific break or non-working hours, etc. Stepping away from it all once in awhile makes you much more efficient- and much less likely to want to throw your computer out the window.
Make a to-do list
With so many balls in the air, it's easy to let one drop if you don't keep track of all you need to do. Prioritize these to-do's into what must get done ASAP, what needs to be done by the end of the day, what needs done by the end of the month, etc. It will help you keep focused and also lets you know when you've completed the day's tasks and only have things left on your list that could wait until the following morning: while I absolutely love being ahead of schedule, on particularly full days, I need to be able to see that yes, it's okay to step away because there are no must-do-right-now items left on my checklist.
Learn to say "no"
It is not possible to do it all. Not even if you give up sleep… trust me, I've tried! So you need to learn to turn down the opportunities that you don't have time for. It can be really hard to do that- especially when you get an opp that you would really love to do. But, if you don't have time for it, it's best to be honest and say no but leave the door open for that opportunity later on than to take on more than you can handle and end up doing a poor job. Also keep in mind that not every opportunity that comes your way will be a good fit for you: those should be the easy ones to learn to turn down. Try passing those on to others who are a better fit.
Hit the lottery and hire a staff of 20
Okay, okay, not very realistic. But, at the very least, hire someone to help. Do you find yourself spending endless hours sorting through emails or other organizational tasks? Seek out a virtual assistant who can make your life easier. Are you taking on too many tasks? Find someone with whom to share some of the work and set up a working agreement with them: I would have lost my mind if not for my partner-in-crime, Ashley. You can be creative with how you find help, but sometimes, you just can't do it all alone.
How do you keep a work-life balance?