This post may contain affiliate links which may give us a commission at no additional cost to you. As an Amazon Associate we earn from qualifying purchases.
Last year, I bemoaned the arrival of the holiday season – at least from my standpoint as a blogger. I knew that as people (including myself) busied themselves with shopping, baking and other forms of merriment, it could only mean two things for my blog: lower pageviews and a drought of writing topics.
As a person who is prone to look obsessively at things like stats, this was a disheartening reality to face.
But guess what? There are plenty of reasons that the holidays can be GREAT for your blog.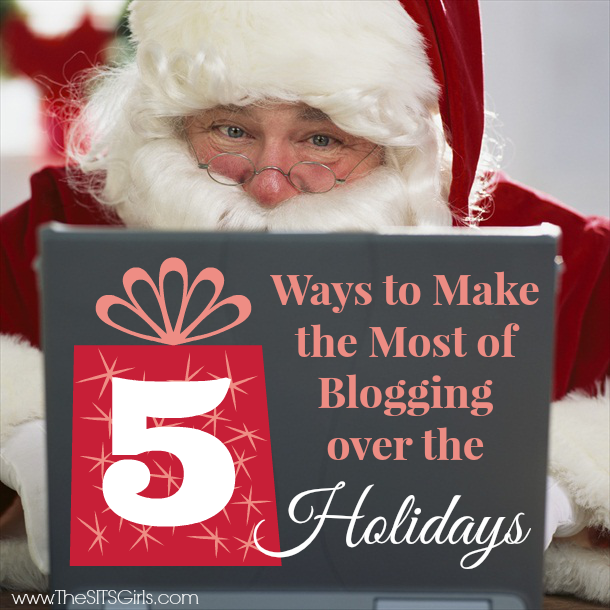 Why the Holidays are Great for Blogging
Here are five of my favorite reasons that I now welcome the arrival of the holiday season!
1) You Need Fresh Writing Topics
By the time December rolls around, we've had our fill of talking about our children's school year, Halloween costumes or how summer vacation drove us crazy. The holidays offer plenty of new inspiration for you and your blog. Think of childhood memories. Funny holiday party stories. The best gift you ever gave or received. There is so much to write about at this time of year!
2) It's A Chance To Blog Outside Your Niche
If you blog within a certain niche, welcome the lower traffic levels on your blog by expanding your horizons and posting about some new writing topics. If you mainly write about being a mom, post some recipes. If you're a food blogger, sharing a personal story or two with a holiday twist will be a breath of fresh air. Maybe you've got a short story or poem that you've been too embarrassed to share on your blog? Do it now! Hardly anyone is reading so what's the worst thing that can happen?
3) Grab Other People's Readers with Guest Posts
Everybody's busy at this time of year, so why not trade off guest posts with a friend or two? It's a great chance to give and get – and it's a fabulous opportunity to have another blogger's audience exposed to your writing – even if it's small! We featured a great post on how to request guests posts just last week!
4) You Need A Break
Let's face it. We all get tired of blogging from time to time. But many of us soldier on, blogging even when we don't really feel like it because we have the "I can't go too many days between posts" syndrome. Guess what? Life will go on without your blog for a few days. Even a week or <gasp> TWO weeks. Instead of compounding your holiday stress by imposing blogging obligations on yourself…let it go. Enjoy.
5) You Can Catch Up On Reading and Commenting
Almost none of us read as many blogs each day as we'd like to. If you go a little easy on yourself this holiday, and only write when you feel inspired, it will free up a lot of time to read others' blogs (and don't forget to share the posts you love!). If you can spend some time reading YOUR followers' material, it will foster a sense of loyalty from them that even your most stellar piece of writing could ever achieve.
So remember…the holidays can be your bloggy friend, not your enemy. Embrace the season and enjoy!
Your Turn!
Let's chat about writing topics during the holiays! Leave a comment on this post or head over to our Facebook fanpage to keep the conversation moving.
How are you tackling blogging and writing topics this holiday season? How do you keep your motivation and keep moving forward?
Looking For More Motivation?
If you are looking for more writing topics on how to stay motivated both in blogging and in life, then you do not want to miss these posts: