This post may contain affiliate links which may give us a commission at no additional cost to you. As an Amazon Associate we earn from qualifying purchases.
I always wonder what the 1950s would have been like. I see all my grandparents' pictures and then I glamorize history. How fun would it have been to attend a Sock Hop? My mother-in-law was celebrating her 60th birthday, and it was the perfect opportunity to throw it back to the 50s – when she was born – for a bitchin' 1950s Retro Sock Hop Party.
1950s Retro Sock Hop
I started the party by dreaming up a color scheme. Everything I did anchored around red, turquoise, pink, black and white. We added a few pops of gold to make it a tad more glam, but generally tried to stay with those 5 staple colors.
Tablescape
One party trick that I have acquired throughout the years is to simply purchase a cheap linen tablecloth from Amazon. Seriously, you can get a solid color tablecloth for roughly $9. A plastic tablecloth is generally $3-$4, unless you are buying a super cheap see-through one from a dollar store. I have gotten so much use from my staple black and white tablecloths, and even these black and white checkered ones!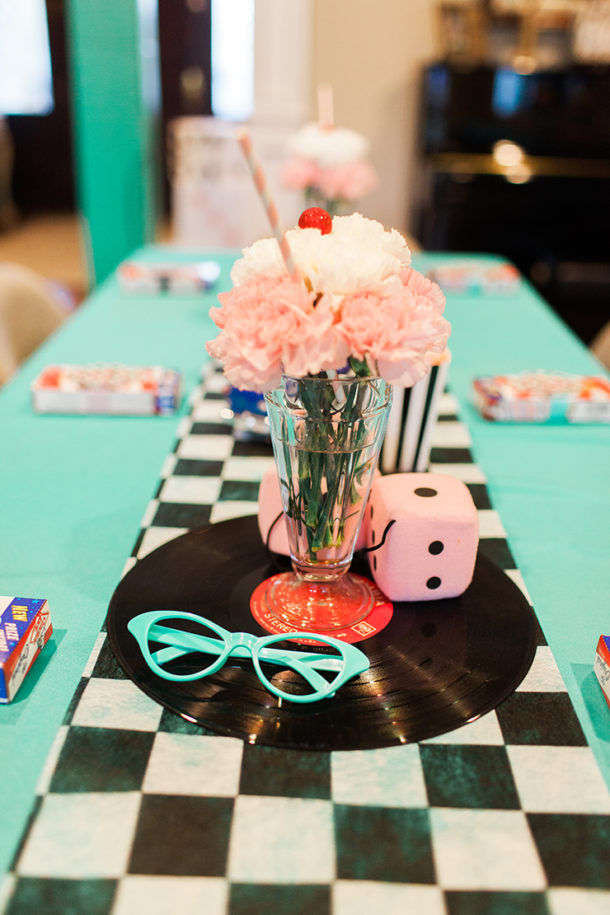 I started with the solid tablecloth, and then layered a sequin runner on top. Again, these runners are roughly $7! I highly suggest buying a couple of gold or black sequin runners that you can use for almost every occasion!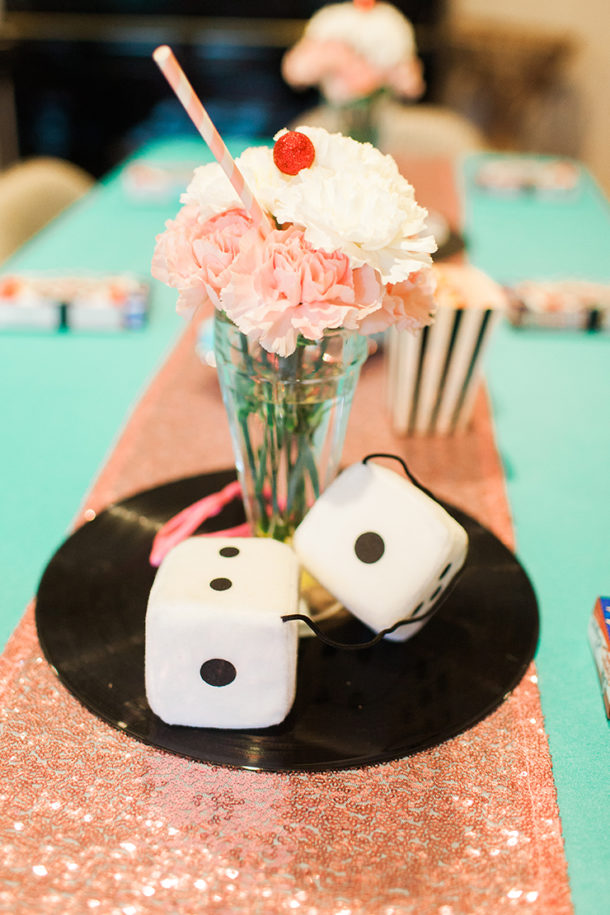 Along the runner we arranged an old vinyl record, stuffed dice, retro sunglasses, and sundae cups that we filled with carnation flowers. We also had a few vintage cars that we placed around the table. One of my favorite finds was this super yummy pink popcorn. I love buying goodies from Amazon, because you can snag stuff that you won't normally find in stores. The black and white popcorn boxes are also a staple for my parties. They are perfect for snacking and they look super cute! I used the popcorn boxes at my son's Star Wars Birthday Party!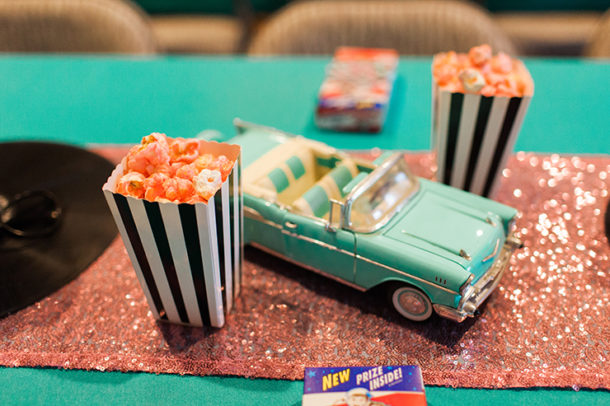 Our main dining table is pretty large, so we were able to make big tissue ice cream sundae centerpieces. These were really fun to create! The base, or "shake glass" is actually a planter for gardening that is spray painted white!

We used PVC pipe and duct tape to create the straw, and a styrofoam ball to make the cherry. Our entrance was one of my favorite party buys. We have reused the Diner Entrance, and the large dice numerous times. The dice are simply boxes covered in white paper and black dots! It's so simple, but I think it adds something extra to it.
1950s Food and Drink
The treat table was an absolute delight to put together. I really wanted to make mini pineapple upside down cakes to really theme it out with the 50s treats, but I ran out of time. Instead I went with traditional candies, and also decorated some cupcakes.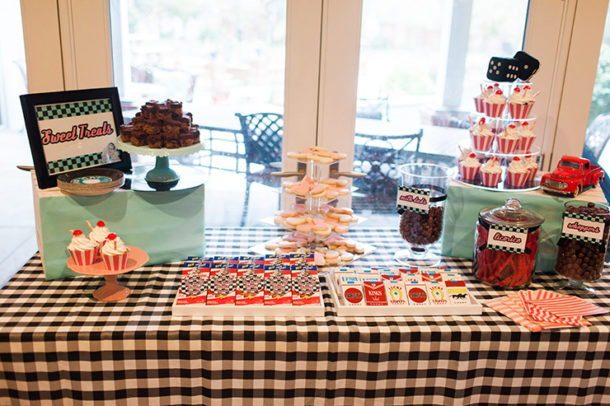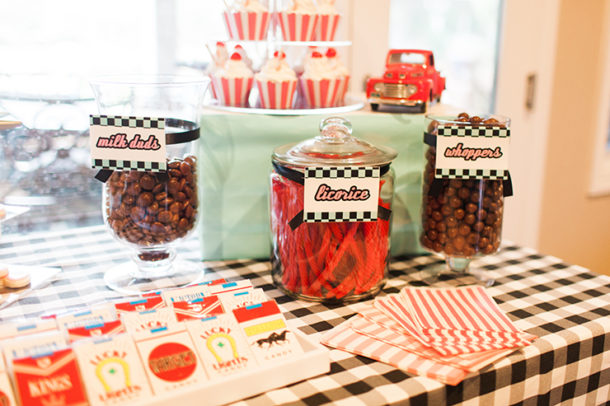 Sweets Table
Milk Duds, licorice, Whoppers, and candy cigarettes were the perfect addition. The candy cigarettes were a huge hit, and for sure made a few people think about fond childhood memories. We also decorated some cupcakes to look like mini milkshakes from a soda pop shop. Add cute wrappers, straws, and cherries, and you can transform a store bought cupcake into something custom!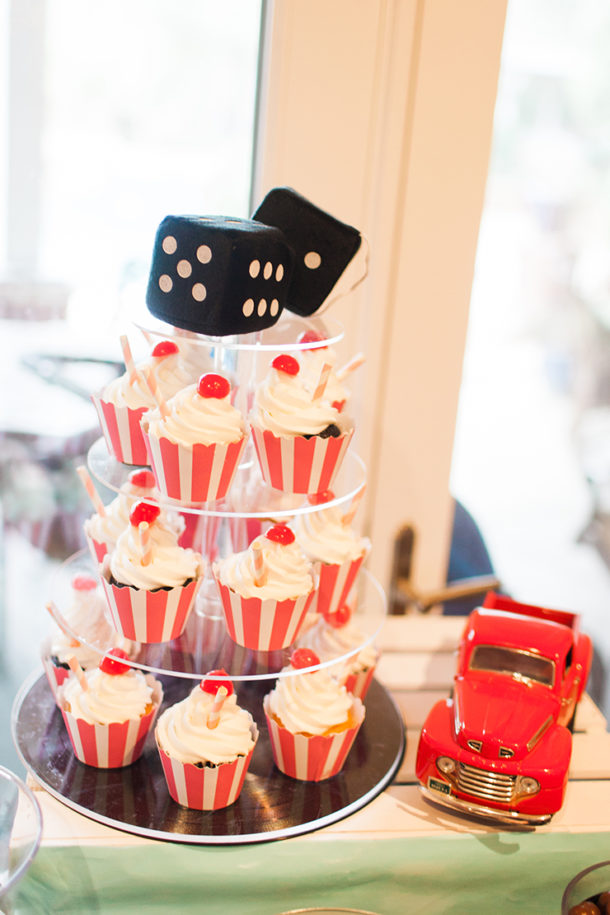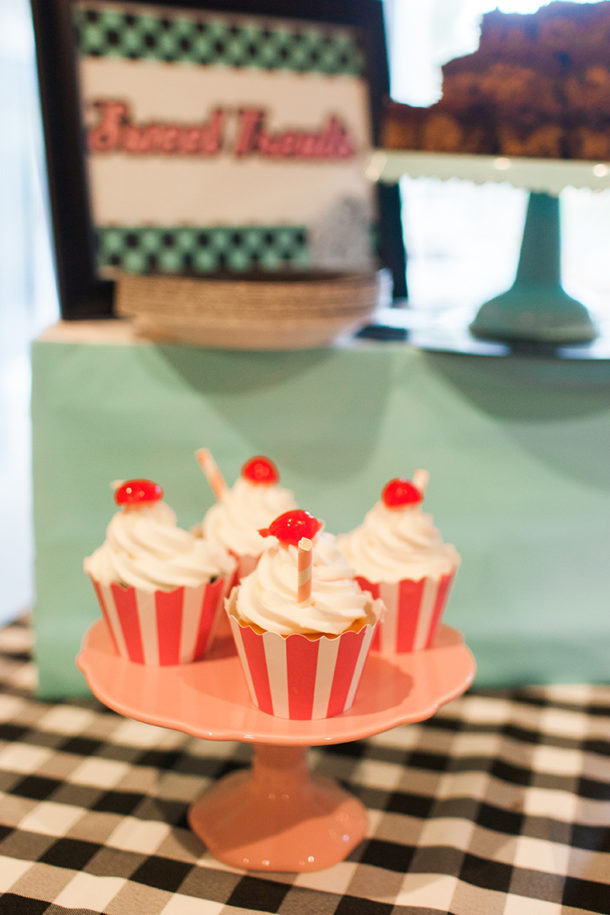 Musical Note Shaped Sugar Cookies
Our final dessert addition were these gorgeous musical note shaped sugar cookies. If you are looking for a quick icing tutorial for sugar cookies, you can find my recipe here! It has my secrets of how to get perfect bakery looking cookies every time.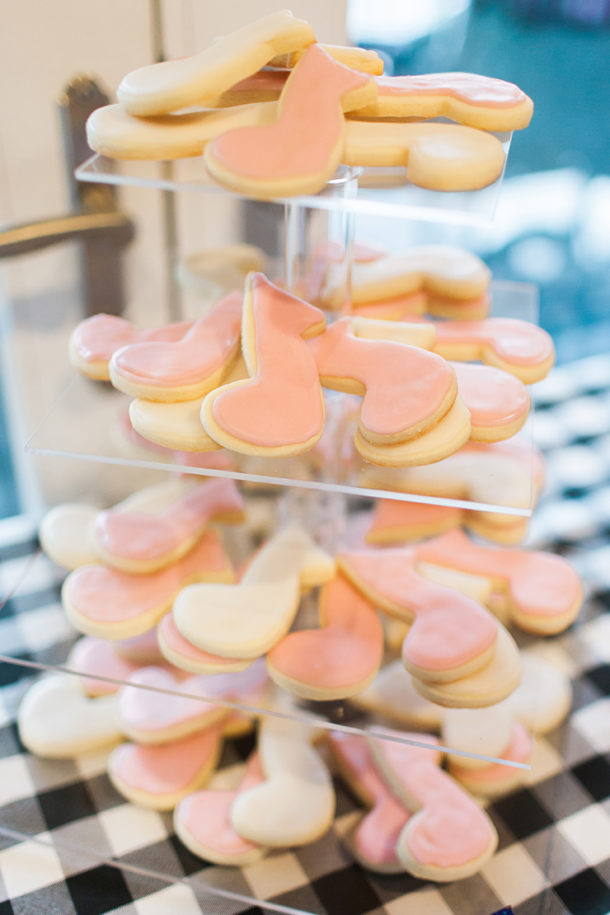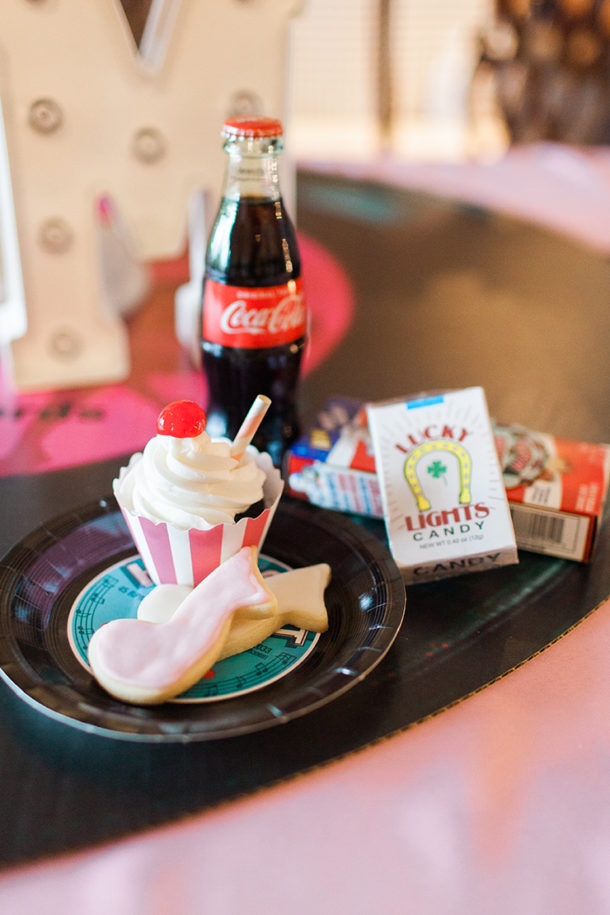 1950s Bar
For the bar I wanted some fun cocktails. Roy Rogers and Dirty Shirleys immediately came to mind. Both feature grenadine and are topped with a maraschino cherry, so they worked well together.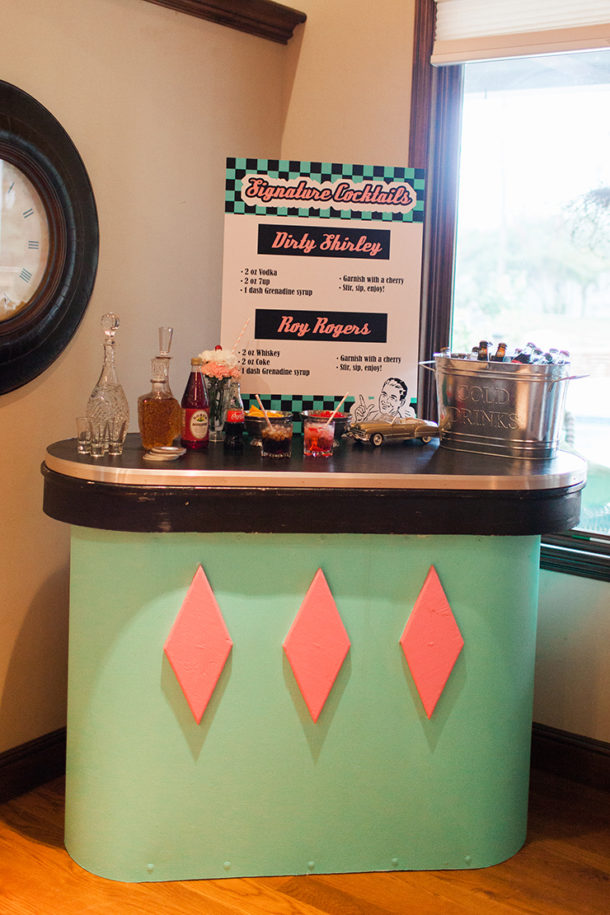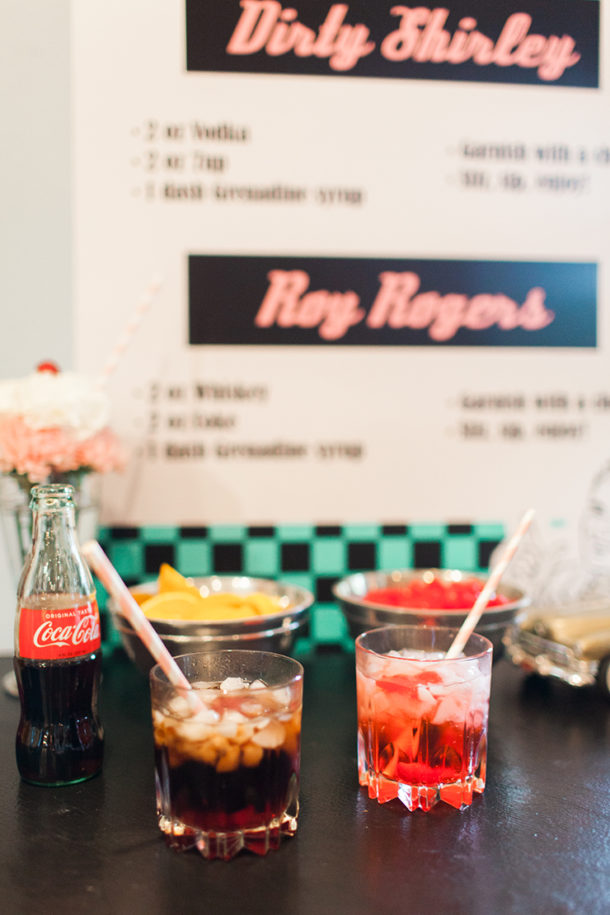 In case people weren't familiar with the cocktail recipes, I printed them out like a large bar menu. I also decided to serve the various alcohols in glass decanters for a more retro look. For some reason, I always think of cocktails in the 50s being poured out of fancy decanters.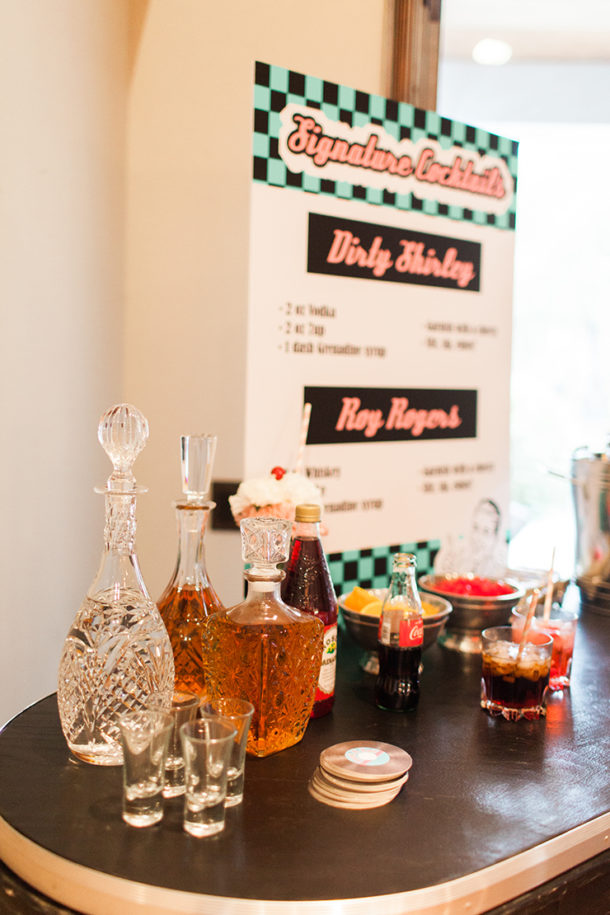 Party Favors
After all the dancing and dining, we gave guests a classic box of Cracker Jacks. To be honest, these are one of my favorite snacks! I was happy to find them in bulk on Amazon.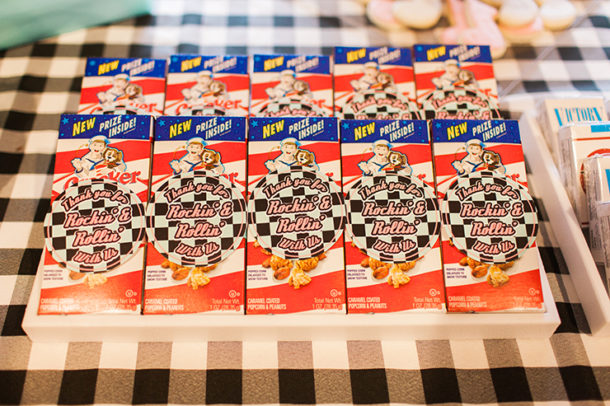 We also decided to dress totally in theme for the night! It was so much fun to throw back to a different era and pretend!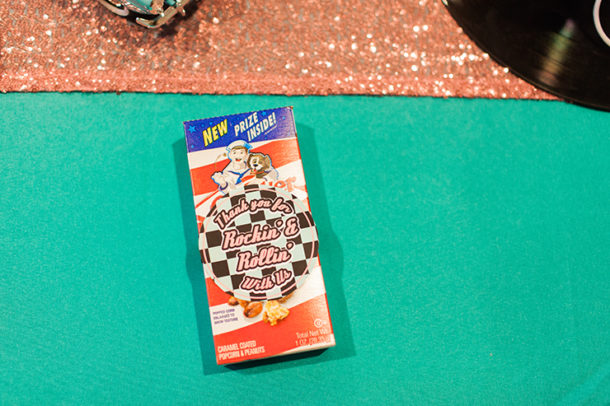 If you're looking for more party inspiration, check out these posts:
So, have you ever attended a 1950s party?