This post may contain affiliate links which may give us a commission at no additional cost to you. As an Amazon Associate we earn from qualifying purchases.
Themed parties are my absolute favorite! Especially, when it is one that supports the natural creativity that all kids have inside of them. It is so beautiful so see kids express themselves in their unique way. For Lucia's 8th birthday, she wanted to do something fun and creative, and decided on an Art Party with a focus on painting. An art party lets kids craft, create, and paint their little hearts out, and it's a great birthday party idea for girls or boys. Using bright colors and a few flea market finds we were able to create a stellar display for her paint party that would inspire any budding artist!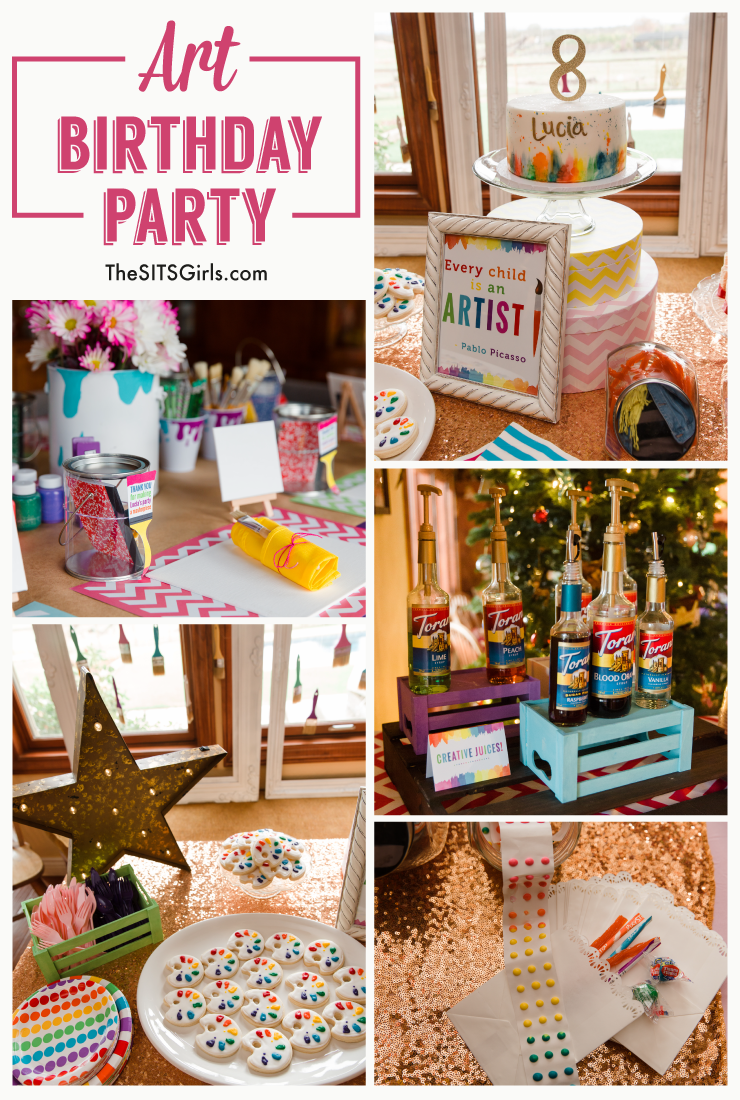 Art Party
In order for this party to be a success we needed to have the perfect place for the kids to create. The table was set so each child had their own apron, canvases, and brushes. There were large canvases as well as mini ones on small wooden frames, so the kids could make masterpieces of various sizes!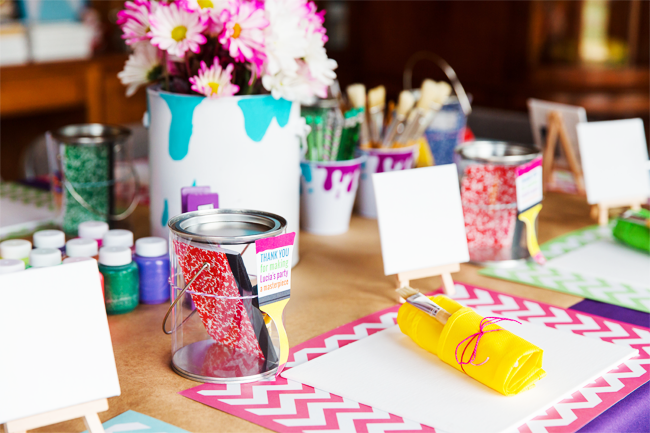 A bright purple tablecloth was the base, but we used a lot of bright colors to make everything pop, including bright zigzag placemats to make each setting super unique. Down the center of the table there was a runner made of craft paper to help protect from the table from messy paint.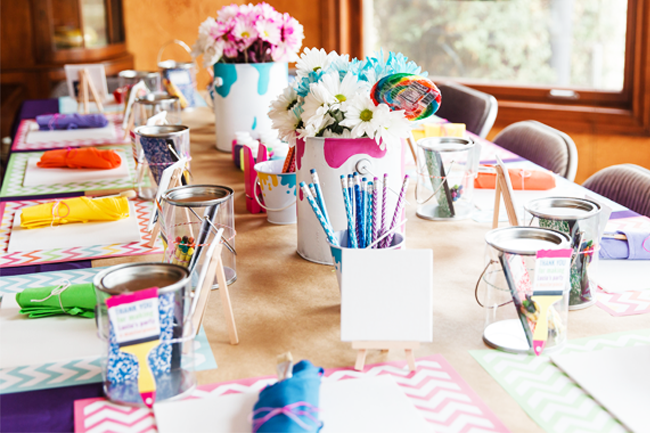 I found old rusted paint  cans and decided to use them as vases for some bright festive flowers. I sprayed about 4 coats of white paint on them to give them a bright while glossy look. Once they dried, I used craft paint to decorate them with a spilled paint looking motif. Adding drops down the side was my favorite part!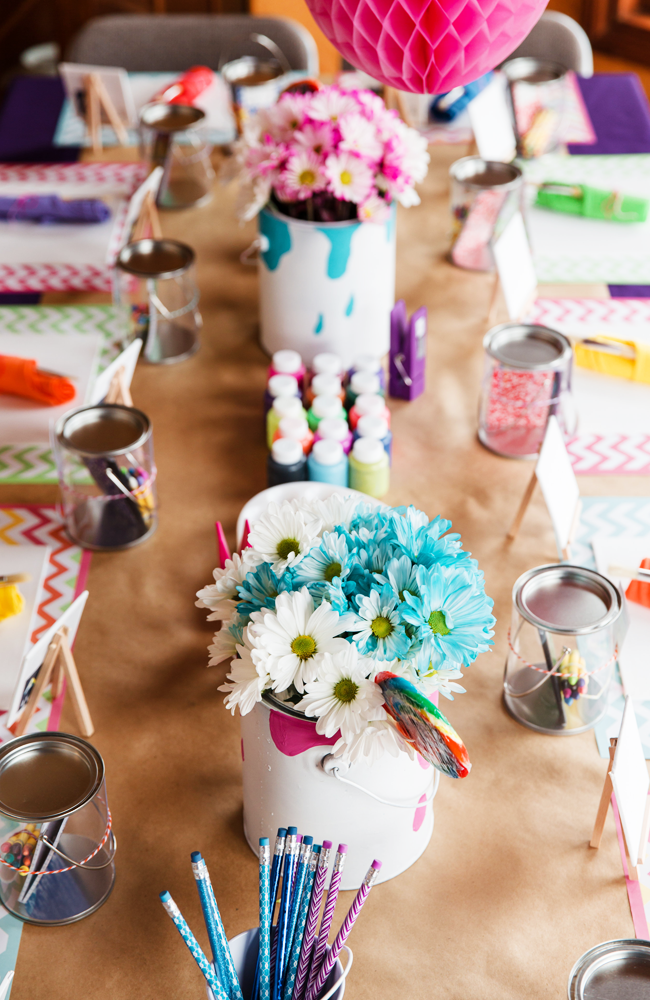 The food table was my absolute favorite part of the party. It is so fun to use food to really enhance the party theme.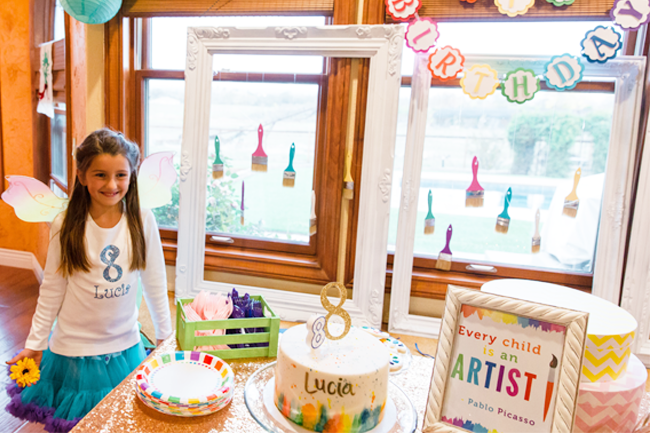 Art Party Treats
Our art party food table included a mini candy buffet, paint pallet cookies, rice kripsy paint brush treats, and of course a fabulous cake! We used paper plates with bright polka dots and napkins with stripes – easy clean up and they worked great with the theme.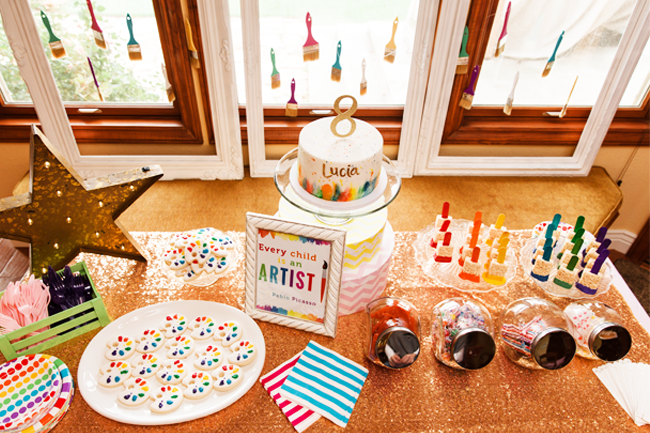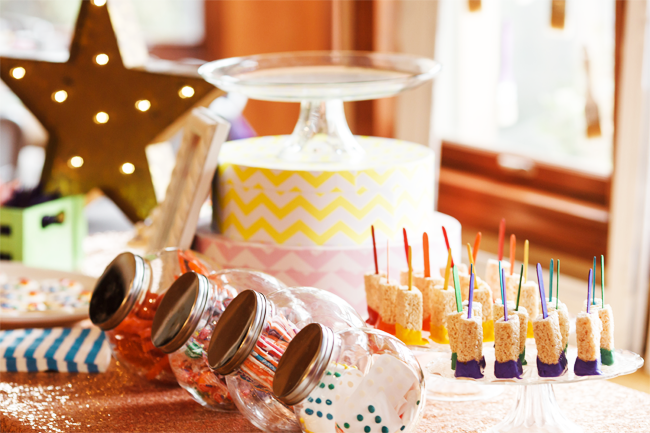 The candy for the party was basically everything bright and sugary. Orange twizzlers, candy dots, pixie sticks, and multicolored gum balls were perfect things for kids to fill some delicious treat bags.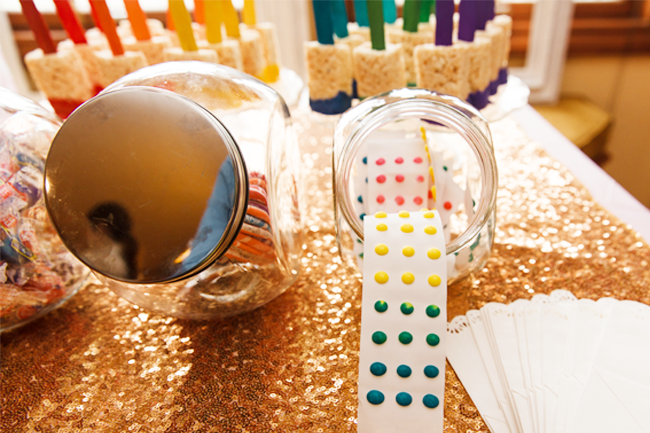 Artist Paint Pallet Cookies
The paint pallet cookies were a major success. They really enhanced the theme, and are actually easier to make than one would think. I bought the cookie cutter on amazon, and was off to the races.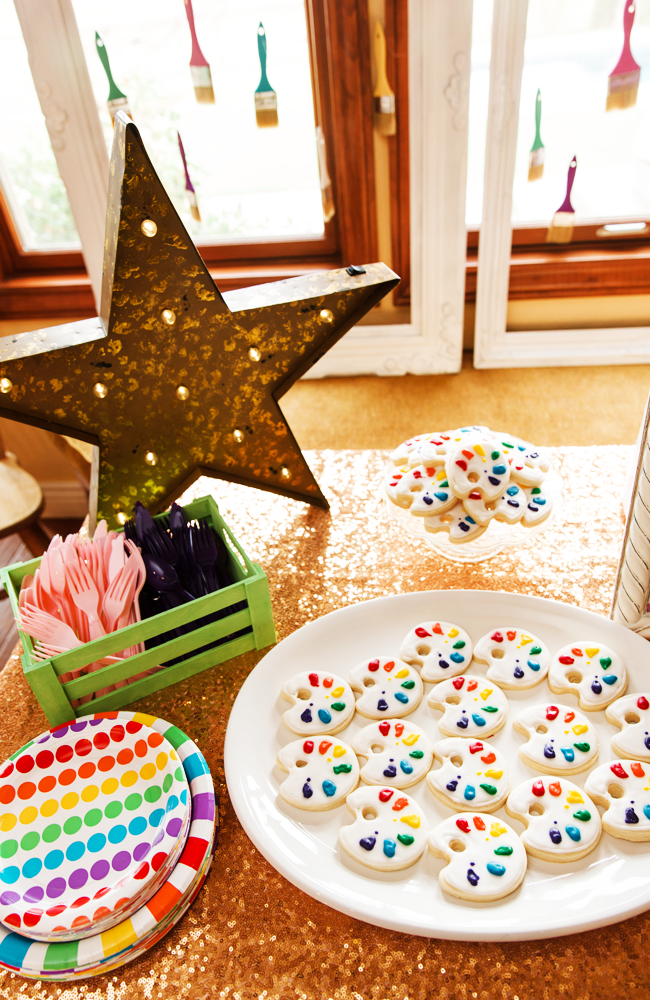 To make the cookies, first flood them in white frosting, and let them dry entirely. Once they are dry you can create your paint drops. I added paint blobs by leaving a thick dot of frosting, and then using a toothpick to manipulate it into the splatter design I wanted.
Rice Kripsy Paint Brush Treats
Every artist needs a paint brush, right?! The paint pop Rice Krispy treats are by far the cutest paint brushes we have ever seen or eaten! The best part is they are super simple to make. I used premade Rice Kripsy treats to save time. To make these, you just need Popsicle sticks, white chocolate melting wafers, and food coloring.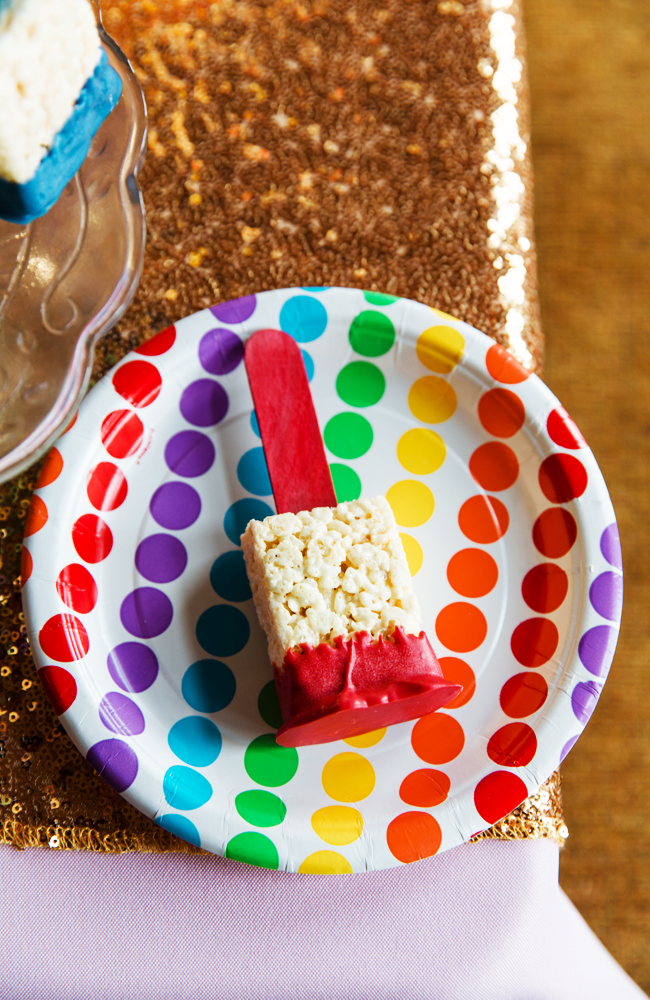 Melt the white chocolate and add whatever food color you want. Make sure it is mixed entirely before dipping, or you will end up with a marbled effect. Unwrap a rice krispy treat and stick a popsicle stick in the top. Next, dip the base of the rice krispy in the colored chocolate. Place them on wax paper and let them dry. We wanted to create an entire rainbow so we used all the colors!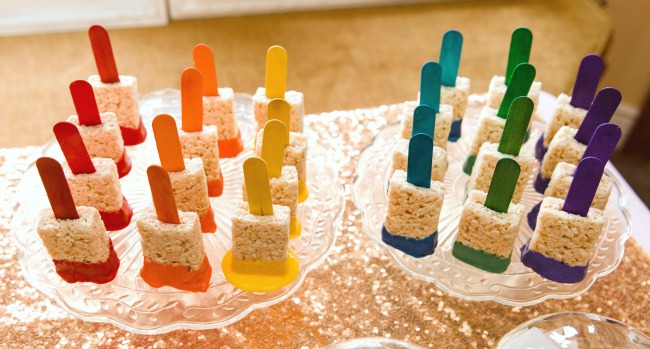 The crowning glory was the beautiful birthday cake. The cake was decorated with a water color dripping paint effect. It looked really whimsical, and the bright colors added to the decor perfectly!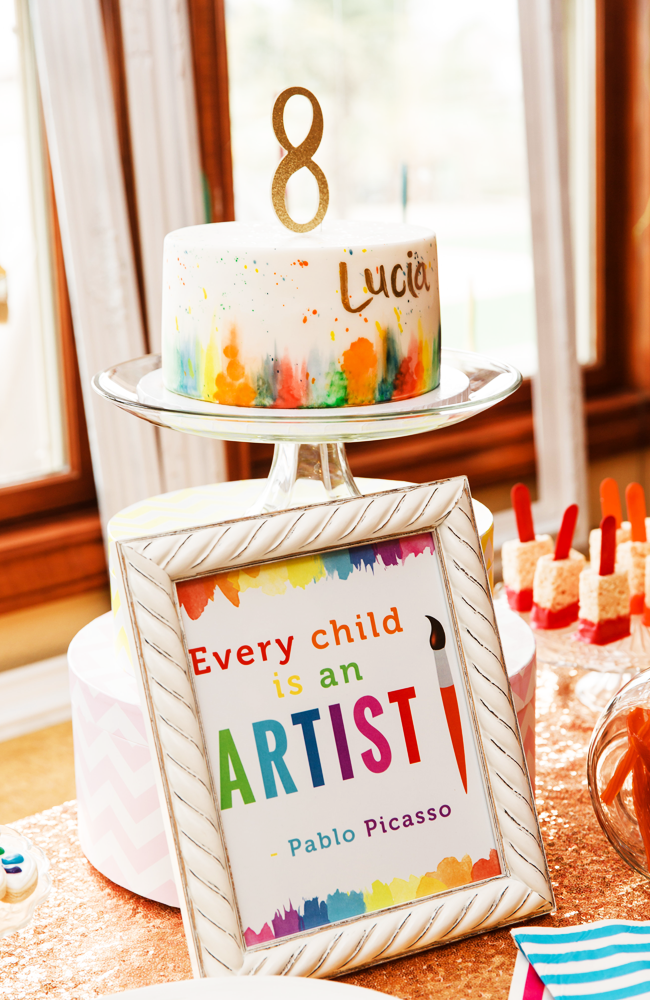 To make sure our little artists were all set to create some treat masterpieces of their own, we had an Italian Soda bar set up for the kids. We let them mix their own "creative juices" and get geared up for some serious art!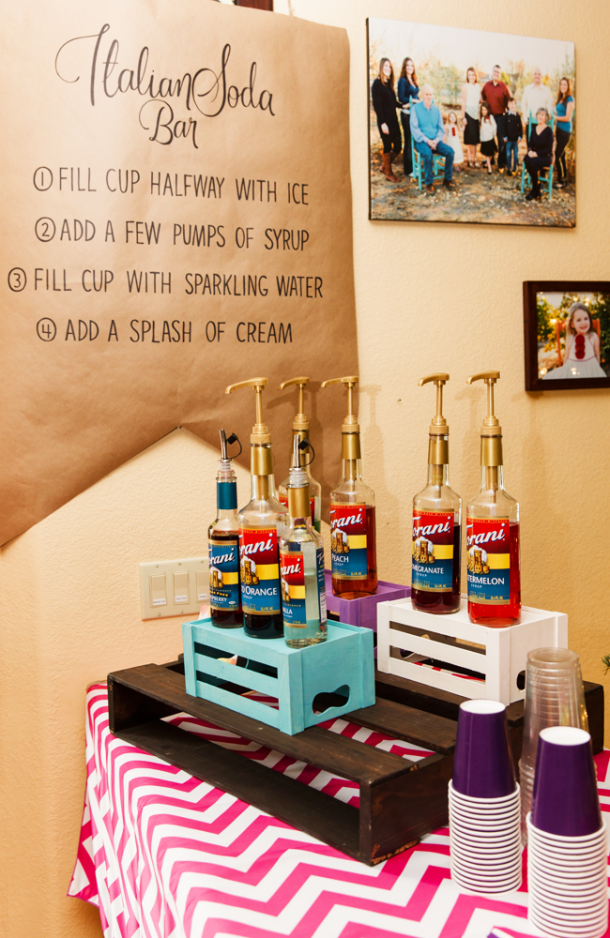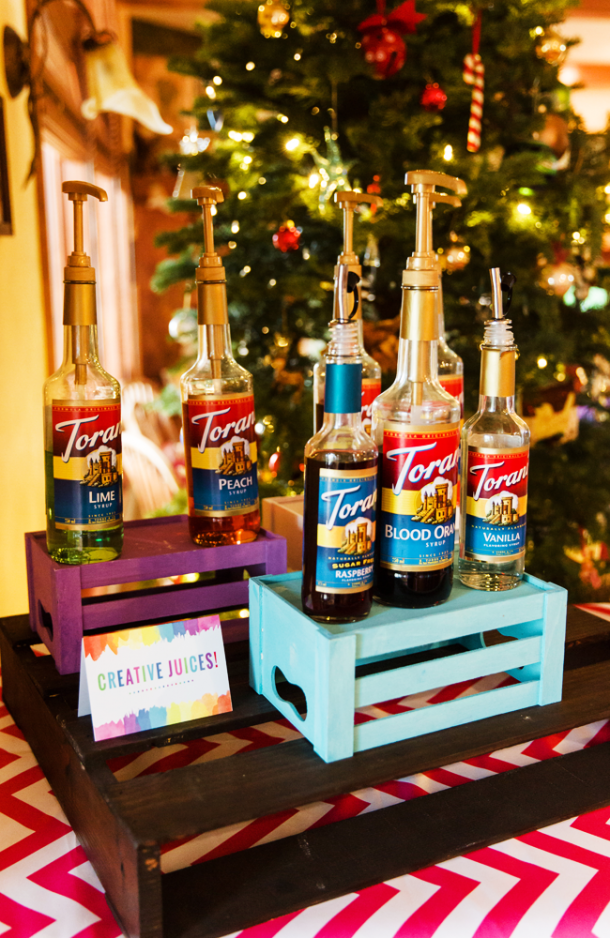 The background for the food table was created using some old frames and brushes. These extra large frames were found for $10 at a flea market. They were molded and old, but I knew they had potential!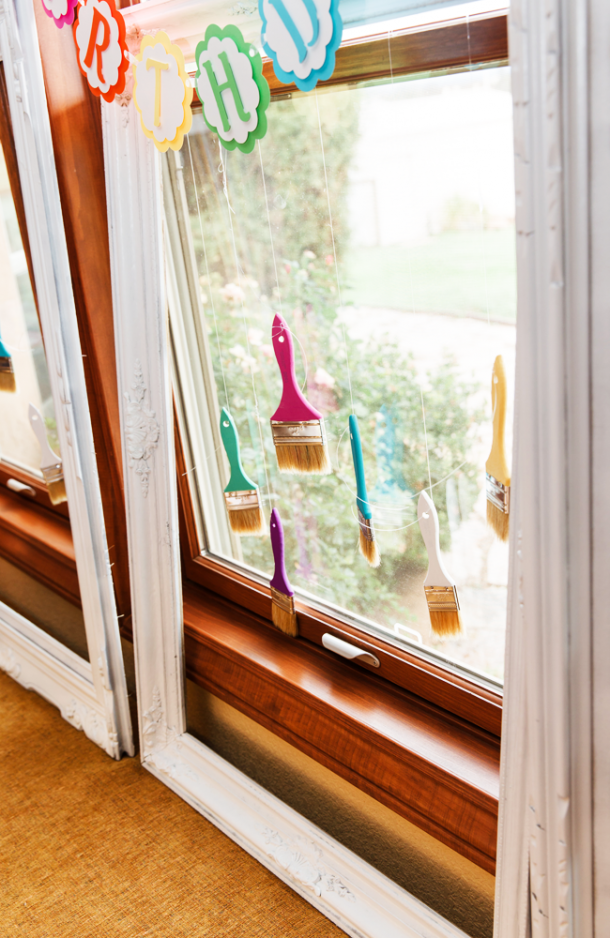 I used my white glossy spray paint to transform them. It took about 6 coats to get rid of the dingy drab wood, and make them into ultra modern white frames. My next step was to paint various sizes and shapes of brushes using different color craft paint.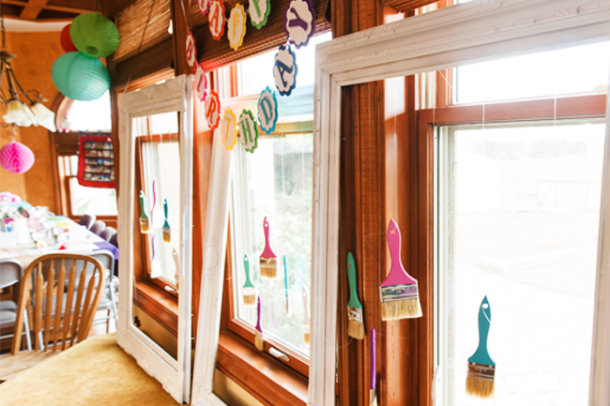 I painted each wood handle different colors. I chose bright colors to make them really pop. Once the handles were dry I hung them in varying lengths using clear fishing string. The best part about this is that art is not perfect. So you do not need them to be perfectly level or match exactly.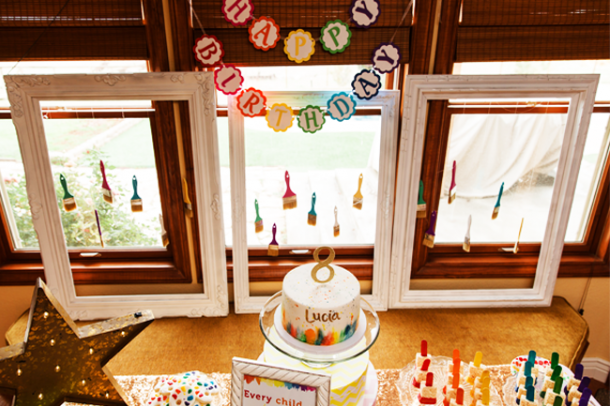 At the end of the party the kids were delighted to see they each had their own mini paint can to take home. The cans were filled with some crayons and mini notebooks so they could take their art on the go!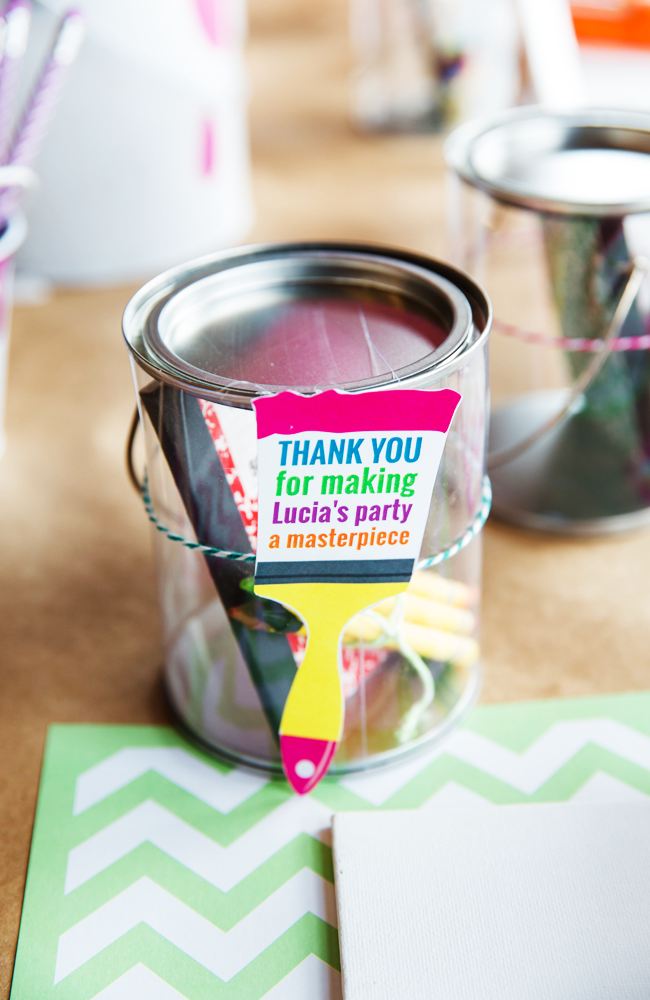 An art party is about inspiration! It should be free, bright, fun, and it's the perfect birthday idea for any child. Some of the best art is created by thinking outside of the box. Use paint brushes, old cans, and frames to decorate. Anything that inspires your little artist is perfect to add to the decor.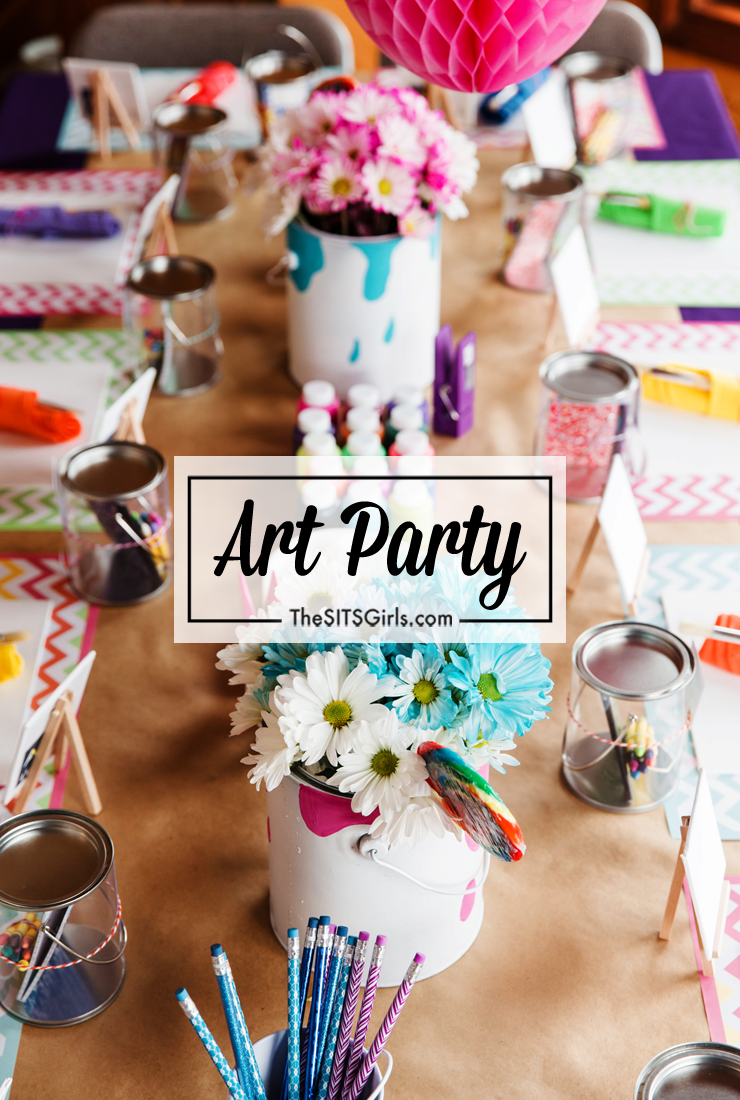 We hope you've been inspired by our ideas to create your own art party masterpiece!