This post may contain affiliate links which may give us a commission at no additional cost to you. As an Amazon Associate we earn from qualifying purchases.
Starting school can be a nerve wracking time for parents and kids. The stress of back to school shopping with endless supply lists, new school clothes and shoes, a backpack, and readjusting to the school schedule is beyond overwhelming. Thankfully, I only have one little guy that is in preschool so I mostly get to enjoy the fun side of Back to School season. This year my son is in an awesome class, with some unbelievable kids, and the best part is, I love their moms even more! I decided to throw a back to school party the night before the first day of school, so the kids could play, and get to know each other more. I am also lucky to live next door to their teacher, so we had a special cameo appearance arranged as well!
Back To School Party Ideas
The décor I used for my back to school party was classic school house themed. I used my ruler table runner from last week's tutorial to decorate the dining table!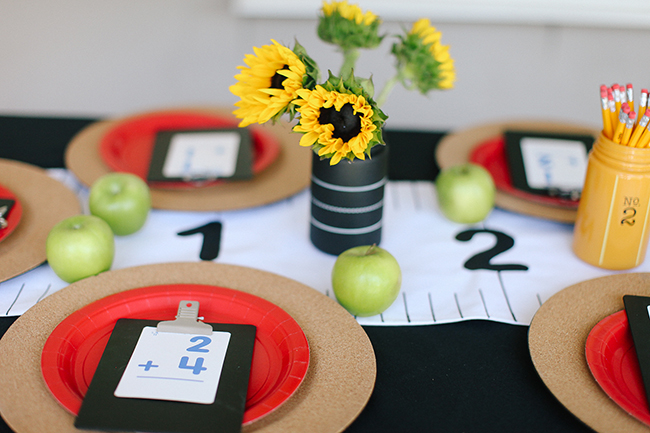 Accompanied along with cork chargers, and some apples it was perfection.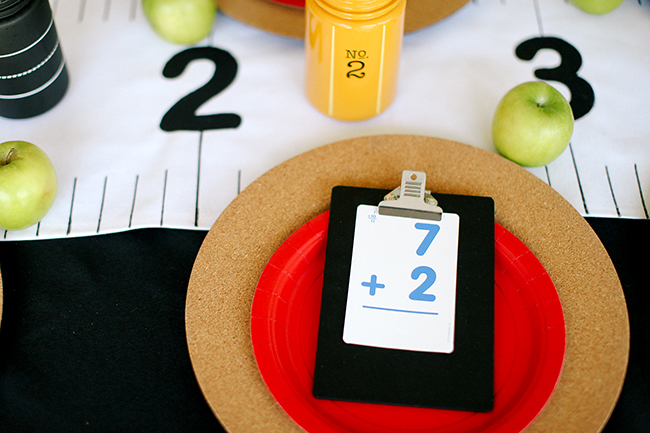 Each child had a flashcard attached to their own mini clipboard as well.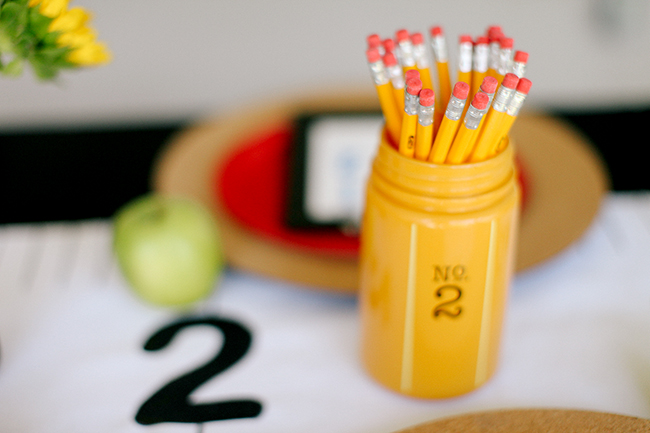 For a back to school party you can use all the pencils, erasers, and notebooks that you have bought for the school year as décor. Inspirational signs are great, too!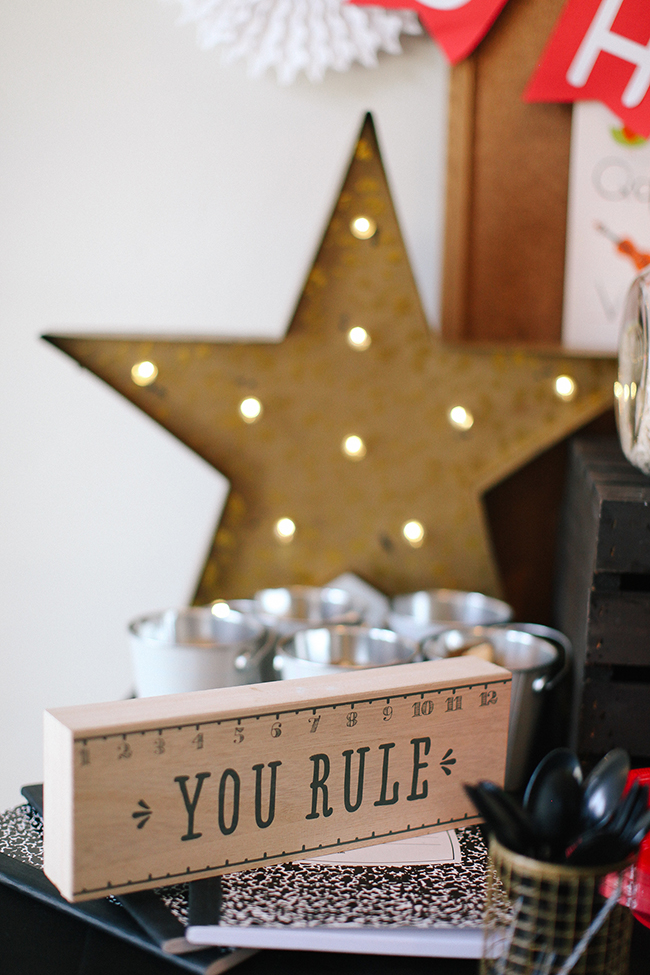 Throw in some apples, and you have the perfect school house vibe.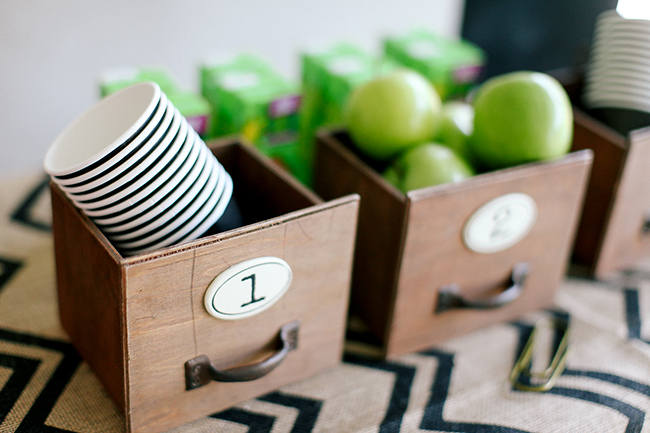 Back To School Party Food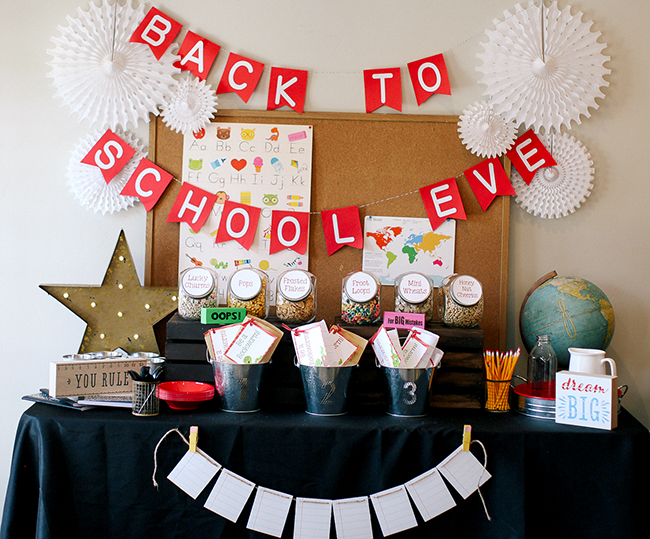 Growing up we would occasionally get to have breakfast for dinner. My mom would make us pancakes for dinner, and we would squeal with delight, as we watched then cook on the pan. Now that I am a mom I realize that breakfast for dinner is like hitting the jackpot for moms — kids are happy with the meal, and it is so easy to prepare.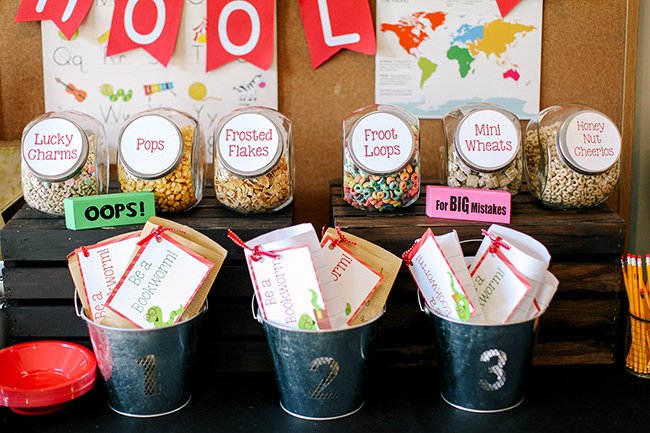 I used this tradition as the theme to my Back to School party. I created a cereal bar for the kids and adults, because to be honest, everyone loves cereal! You can see that I carried my school supply decoration theme over to the food bar table, too.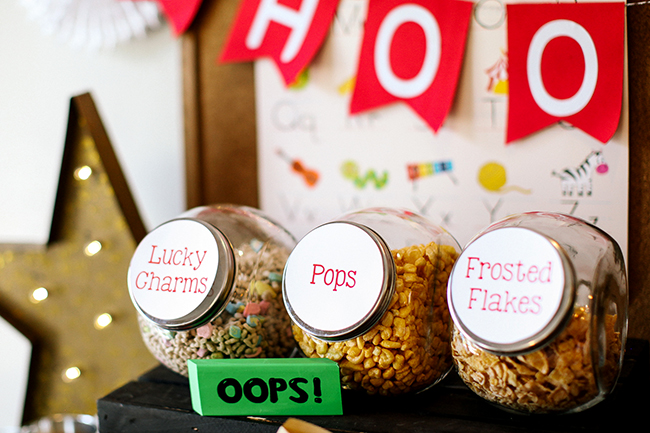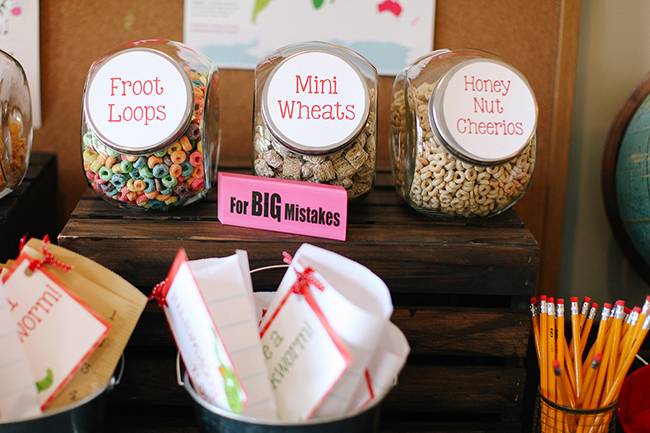 To me the cereal bar is such a great option, because I didn't have to cook one thing! After the kids spent some time in the pool, they were ready to come inside and cool off with some cereal. It really brought out the kid in everyone.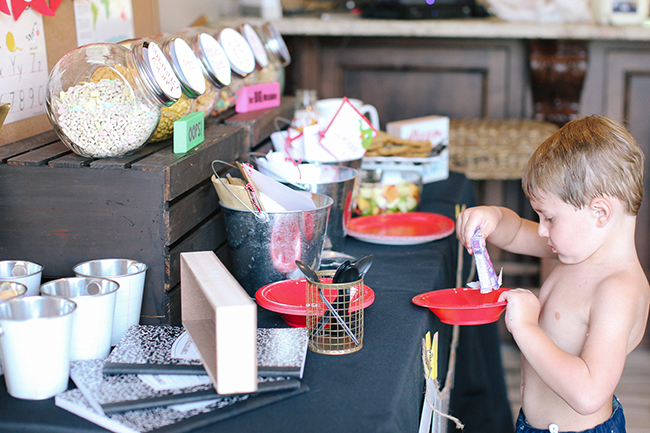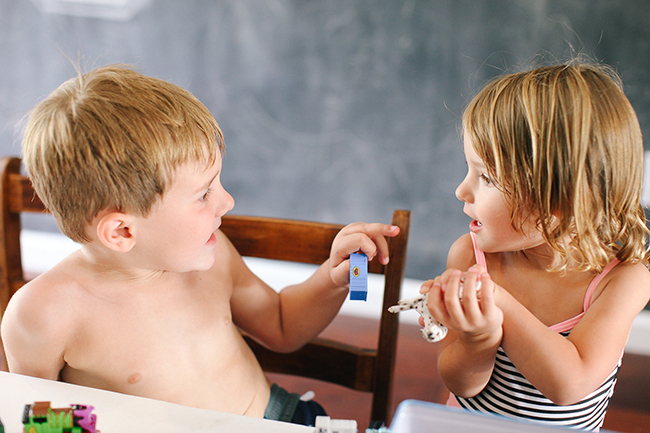 A highlight of the party food was "Jitter Juice". The point of jitter juice is that it will calm the nerves of kids on their first day of school. I mean, seriously, how cute is the poem!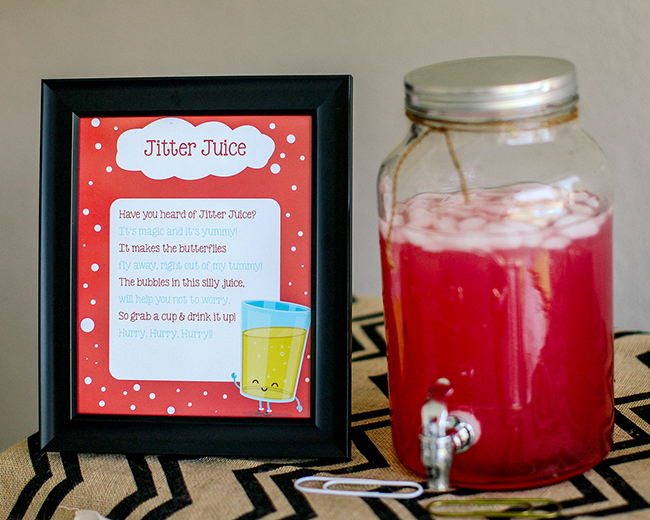 For my jitter juice I simply mixed Pink Lemonade with 7UP. The extra bubbly effect made the kids think it was something super-secret and special.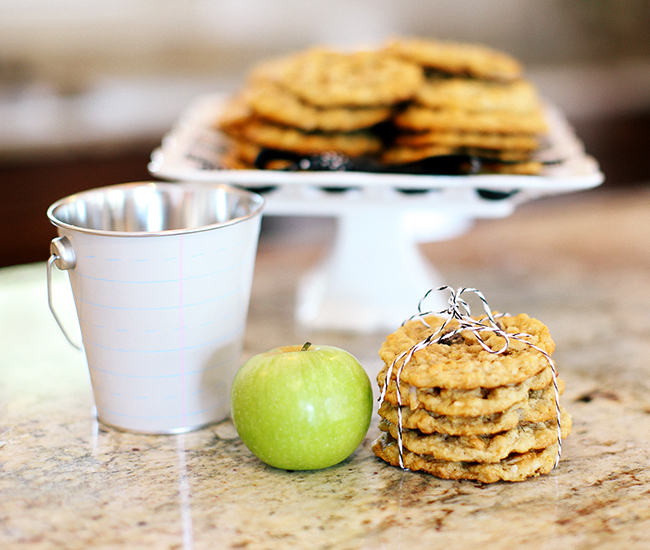 We also had some Texas Ranger Cookies — these are a first day of school tradition in my family, so they were perfect for this party. You can work your own back to school traditions into your party.
Back To School Party Favors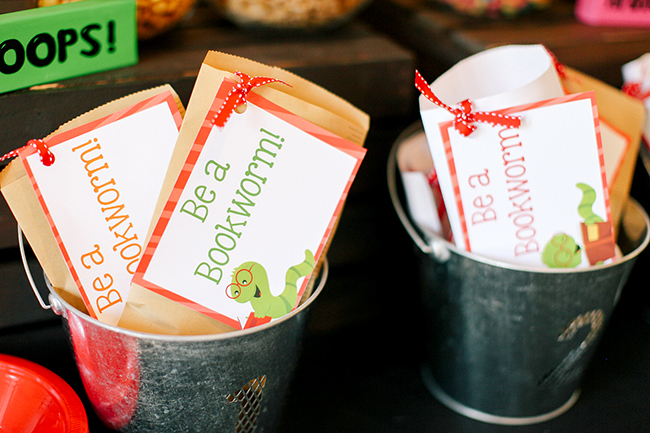 For favors I did treat bags filled with gummy worms and Nerds. The tag reads, "Be a Bookworm", inspiring kids to dive in to school, and hit the books hard.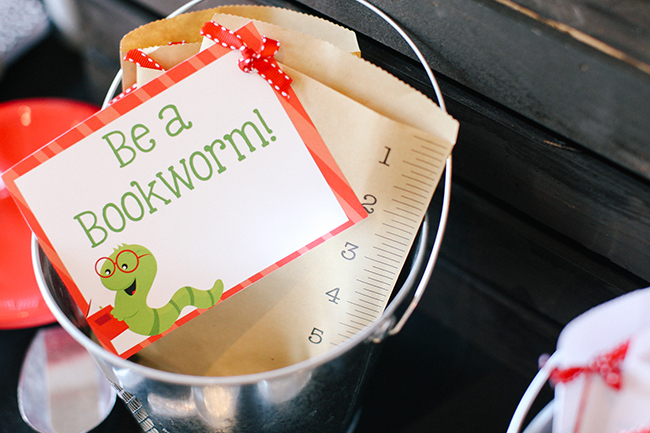 If you aren't having a full blown party you could still use the adorable tags as a note and pack some gummy worms with it for your little one's first day of school lunch.
I didn't want to leave the moms out of the fun! I wanted to give them something to remember their first day of school, too. The first day of school a rite of passage for kids and moms! I created a fun memory page the moms could use to remember the special day.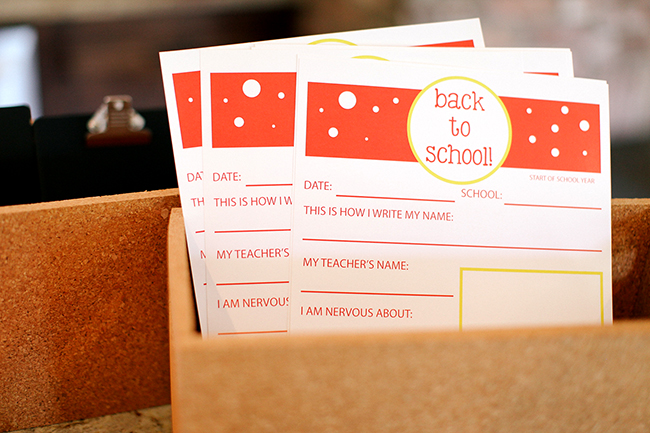 The adorable memory page is sure to make you tear up whenever you look back. Tape a picture of your kid on it, and answer all the questions, so each year you can look back and see the growth and development of your child.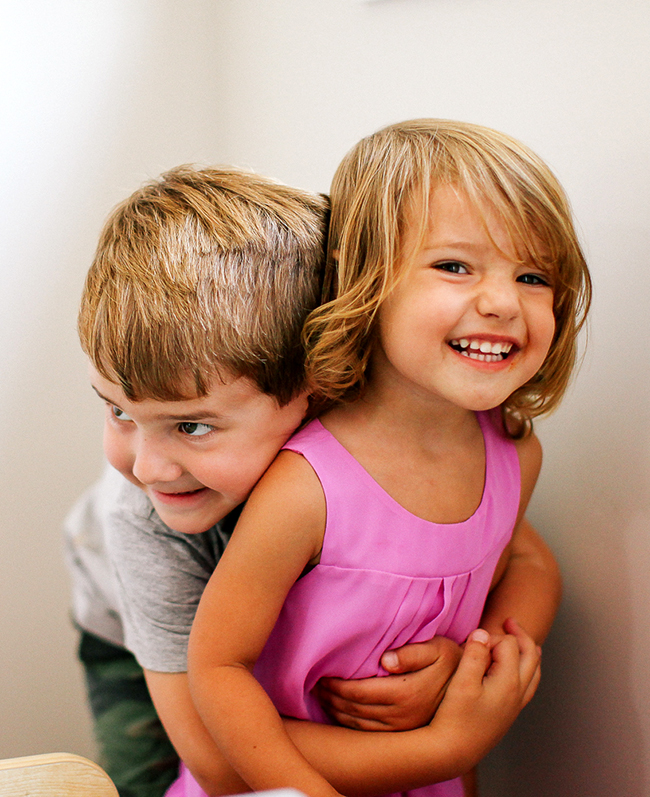 Kids grow so fast, I'm going to be happy to be able to look back at the end of this school year and remember my kids exactly as they were during our party.
Ready to throw a back to school party of your own?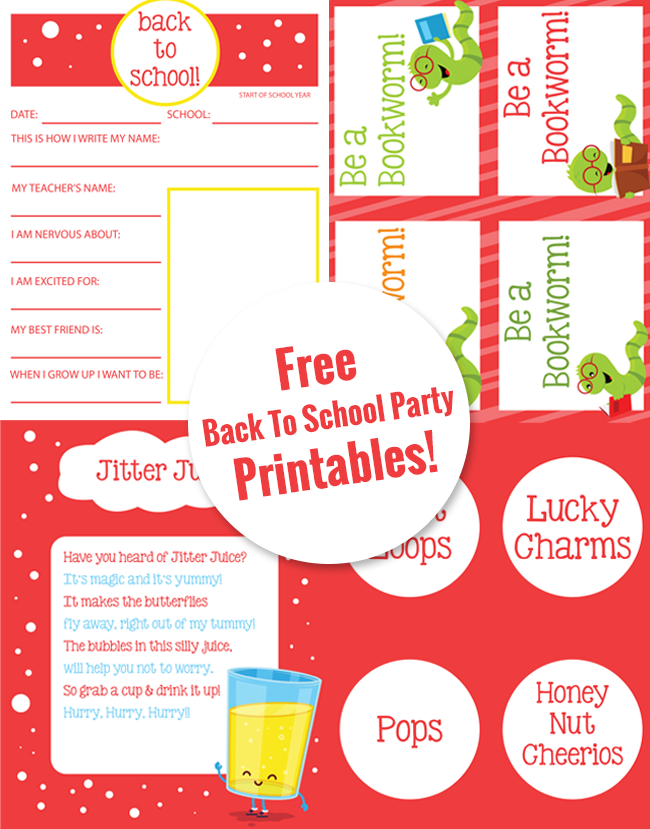 I wish you the best Back to School Eve ever, and hope you stock up on tissues for the first day of school drop offs!