This post may contain affiliate links which may give us a commission at no additional cost to you. As an Amazon Associate we earn from qualifying purchases.

The wonderful thing about California is that summer really lasts about 6 months out of the year, which makes it the perfect location for a backyard party! I was recently asked for some great backyard party decorating ideas, and I actually ended up helping to design the entire party. It really got me ready and excited for the long summer ahead! Once you see these easy party ideas, I think you will be ready for summer entertaining, too.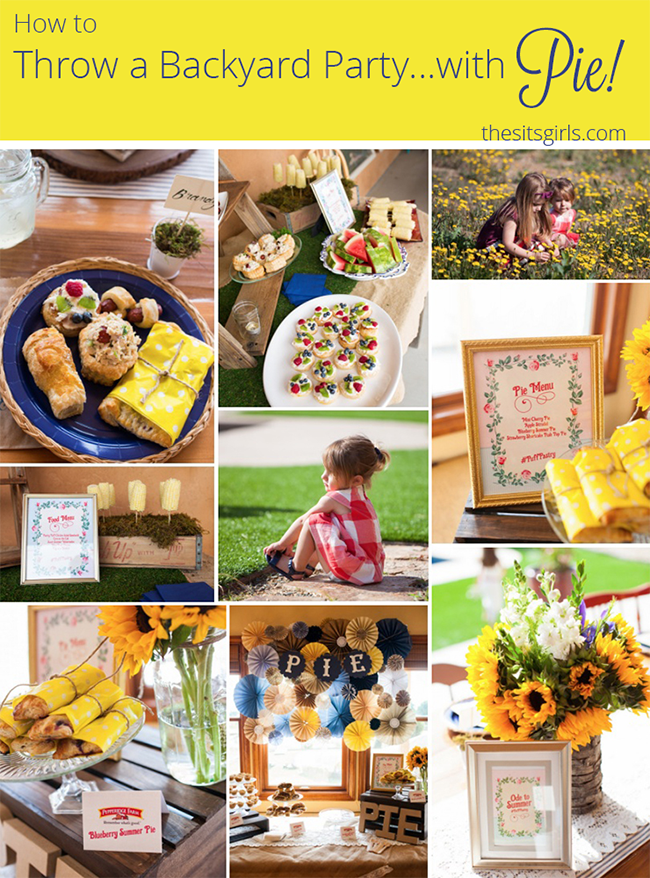 Backyard Party Decorating Ideas … With PIE!
Personally, when I think summer, I think happy and bright! My dad is actually a plant geneticist, and creates new types of sunflowers for a living, so I am lucky enough to have access to a TON of sunflowers, so I knew I would use them for flowers right away!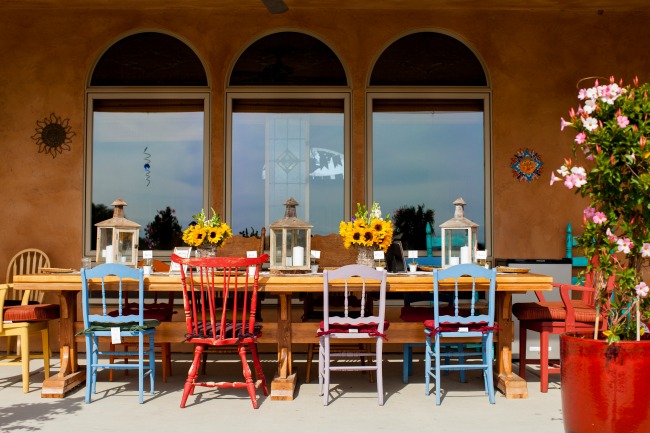 When designing this table scape, I knew my backyard inspiration would be a shabby chic country feel, a classic hometown backyard party, but maybe a little more elegant than hotdogs and beer.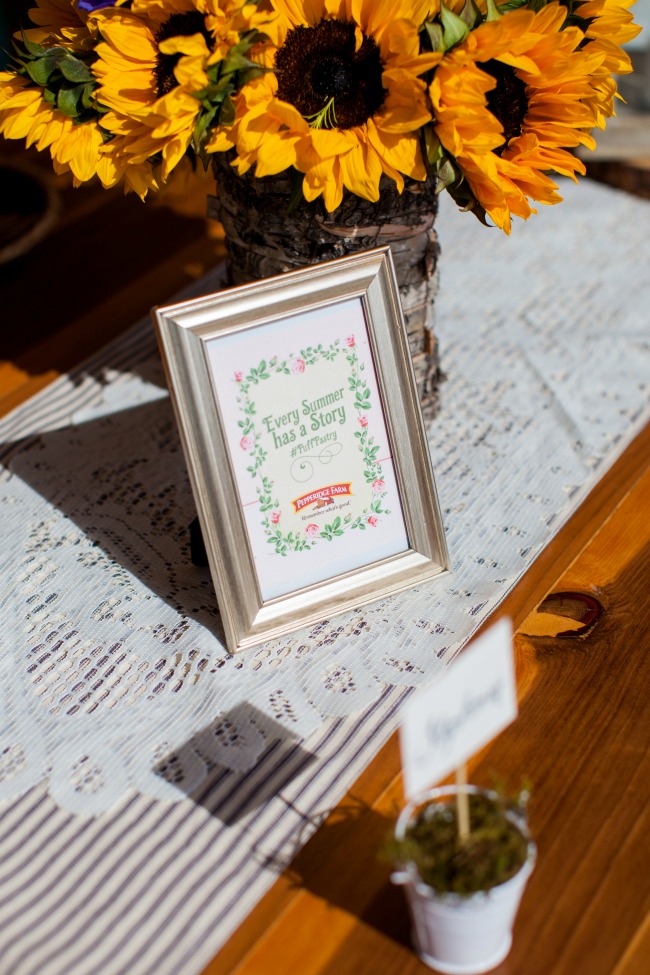 For the main dining table I used a ticking fabric I found from Hobby Lobby, and sewed it in to a table runner, this is usually what I do for runners, because I can never seem to find the perfect premade runner. If you aren't a big sewer, you can use fabric glue, and fold under the edges, a runner really is really just used for looks, so it doesn't have to be super sturdy. I placed a lace runner of the top for a shabbier chic feel.
The flowers, as I mentioned before, I mainly used were sunflowers, and then I combined them with twigs, and a few roses and other pops of colors. I wanted to keep things natural feeling, so I went for some birch twig vases, and used some Large Mason jars that I scored at Michaels for 40 percent off. I die for mason jars, they really can be worked in to any event, and can be reused a million different ways.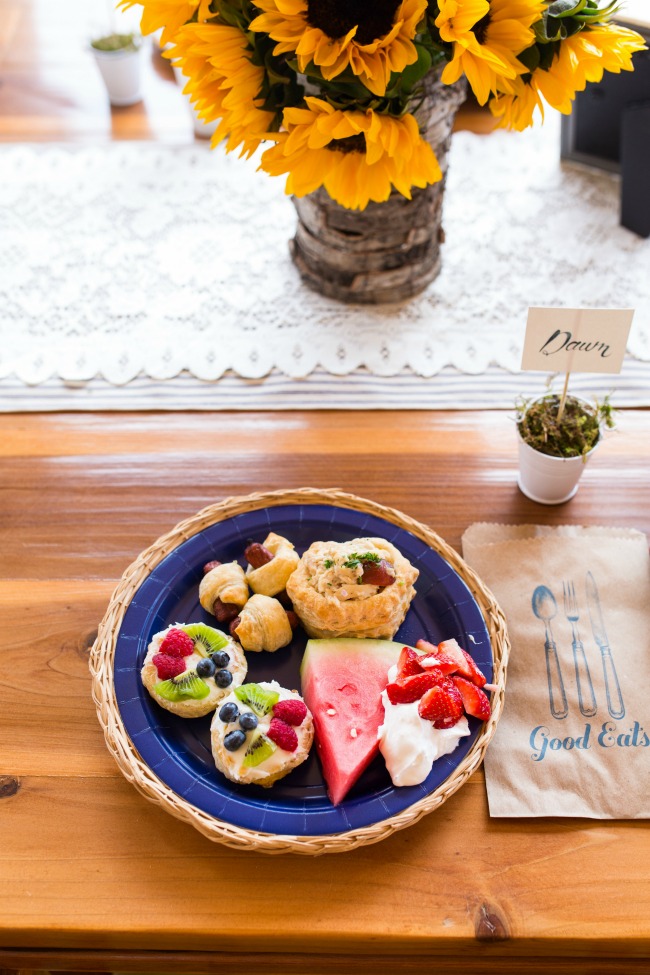 For the place settings, I had small kraft bags printed and put the utensils and napkins in them, and then layered them on top of navy paper plates, and vintage woven chargers. The chargers I was so pleased with, because they were another thrift store find, for about fifty cents apiece!  The wooden lanterns were a last minute find that to me really made the whole table! Again, these can be reused a million different ways, so well worth it!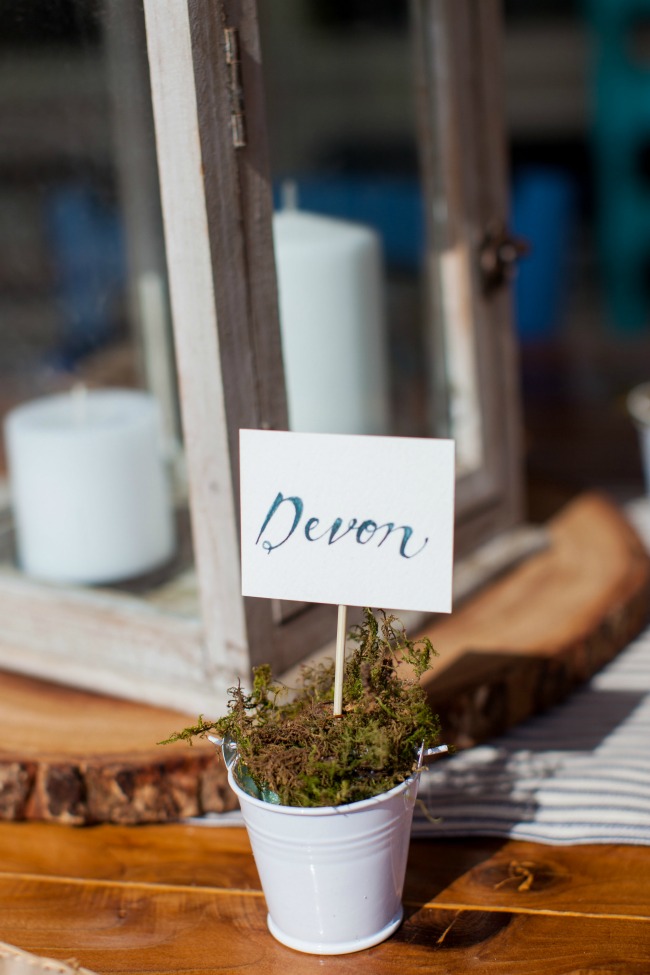 My favorite part about the whole party was the darling place cards! They look super expensive, and professional, but they were put together with a hot glue gun, and some dollar tree supplies. The tiny white buckets come in packs of three at the dollar tree in their wedding section, and the moss is also from dollar tree. The place cards were hand written, and then glued on the little skewers, and then place in the bucket, that had some moss glued to the top of cardboard. It is SO easy, and so cheap!
Time For Pie
Another key element was the pie table. Pie is a classic all American food that is perfect for a dessert table at a backyard party. We had a variety of delicious mini-pies made with Pepperidge Farm Puff Pastry.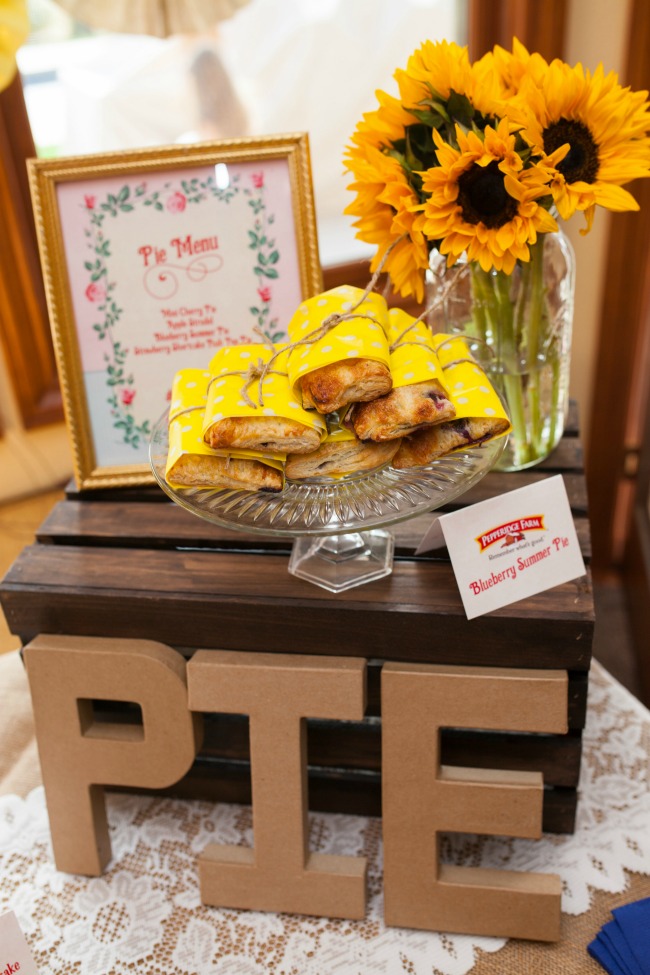 For the pie sign hanging above the table, I created the paper fans, and then hot glue gunned them on the back of a poster board. It was way easier than it looks!
Backyard Party Fun For Kids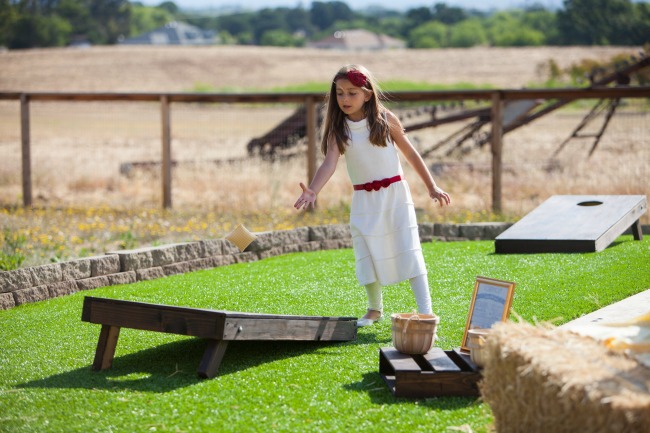 Corn Hole is the perfect game for a backyard party! I brought my DIY Corn Hole boards so the kids could play during the party. They were a big hit. (If you make your own corn hole boards, don't forget to grab your free rules card printable!)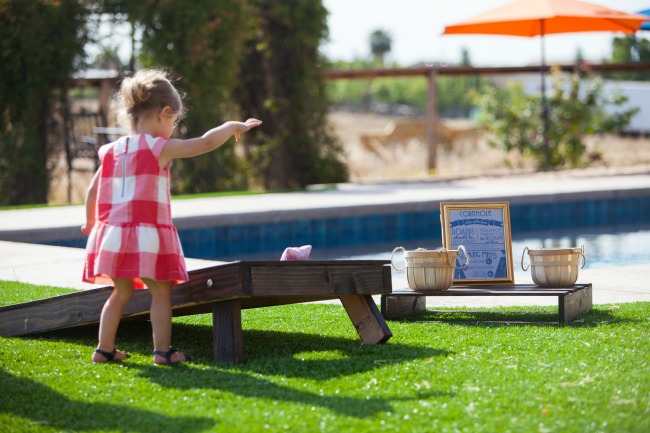 I also made a little kids table with wooden birdhouses for them to decorate.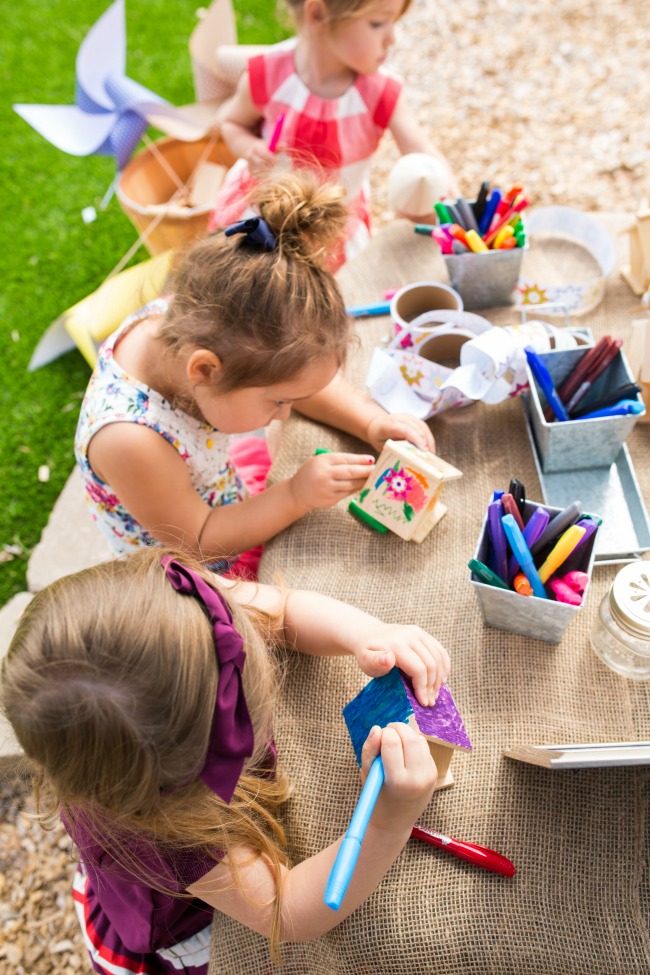 Refreshments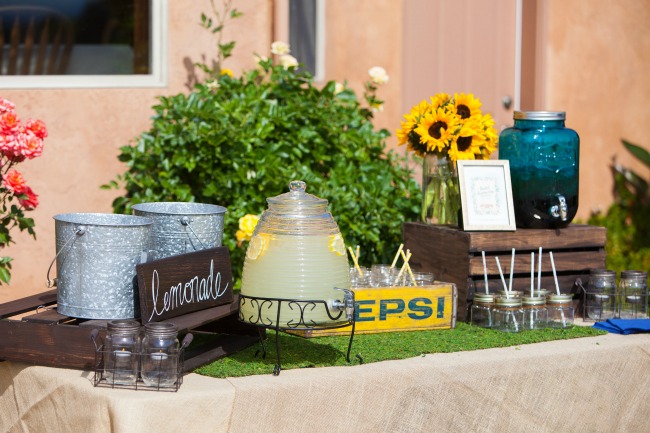 You have to have a dedicated drinks table for an outdoor party! My drinks table was comprised of burlap and some moss runners.
Perhaps my best dollar tree buy of all has been the handled mason jar mugs. They felt so original and rustic, and made the drinks taste even better.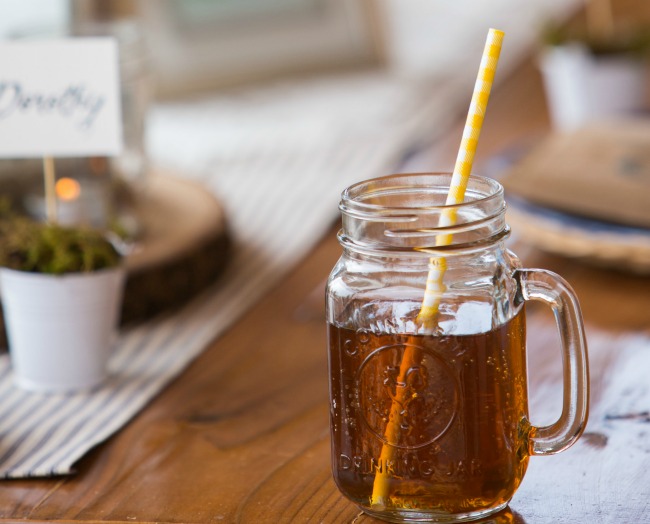 A couple more elements I incorporated was burlap, old soda crates, lanterns, old crocheted doileys, pinwheels, and some hay bales!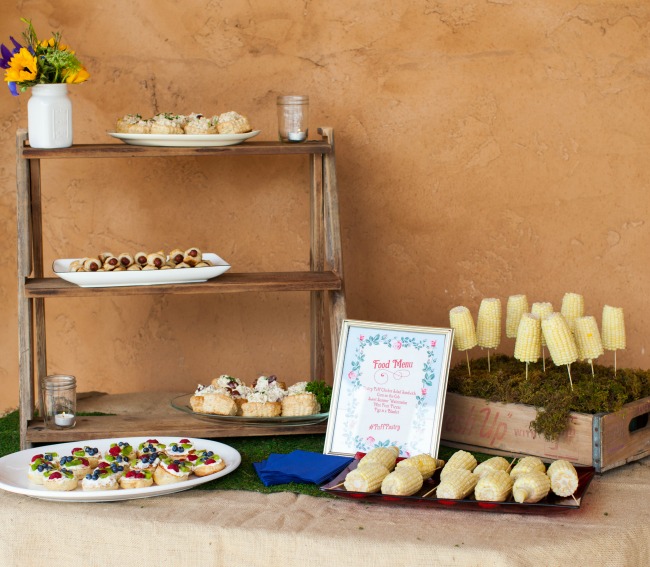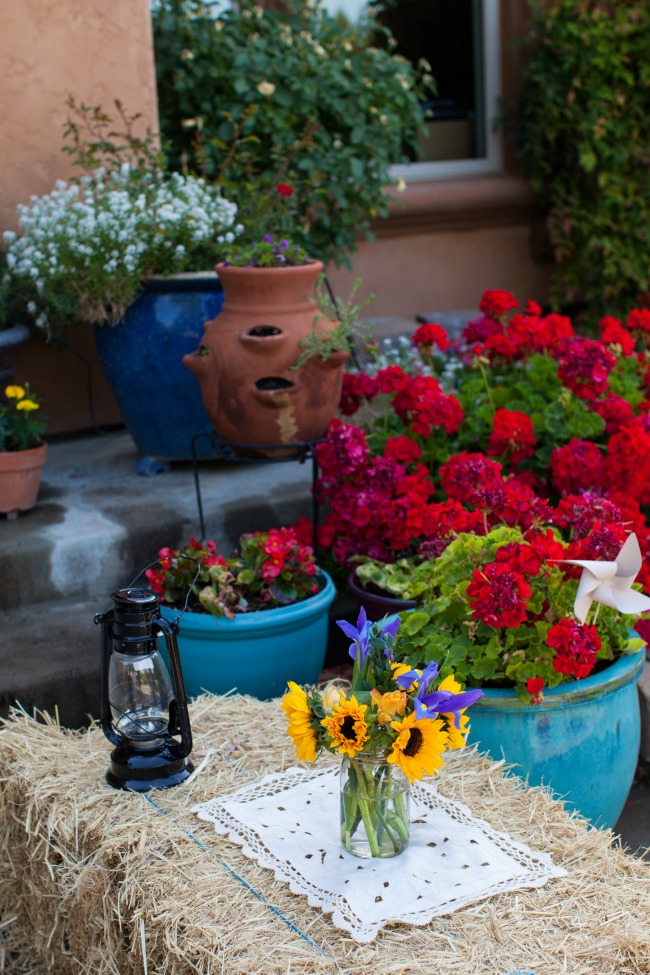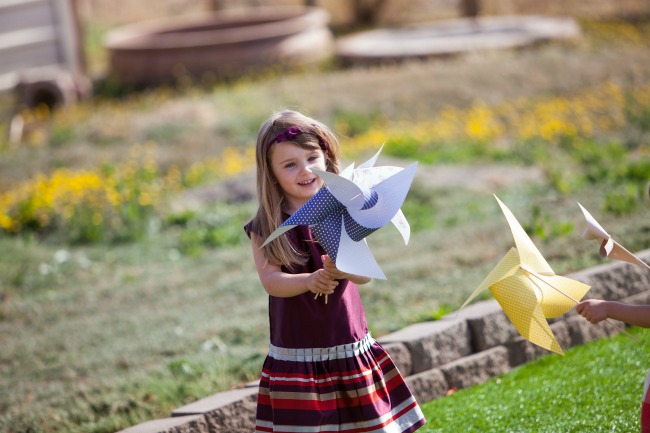 Of course I had to make some sunflower sugar cookies as parting gifts!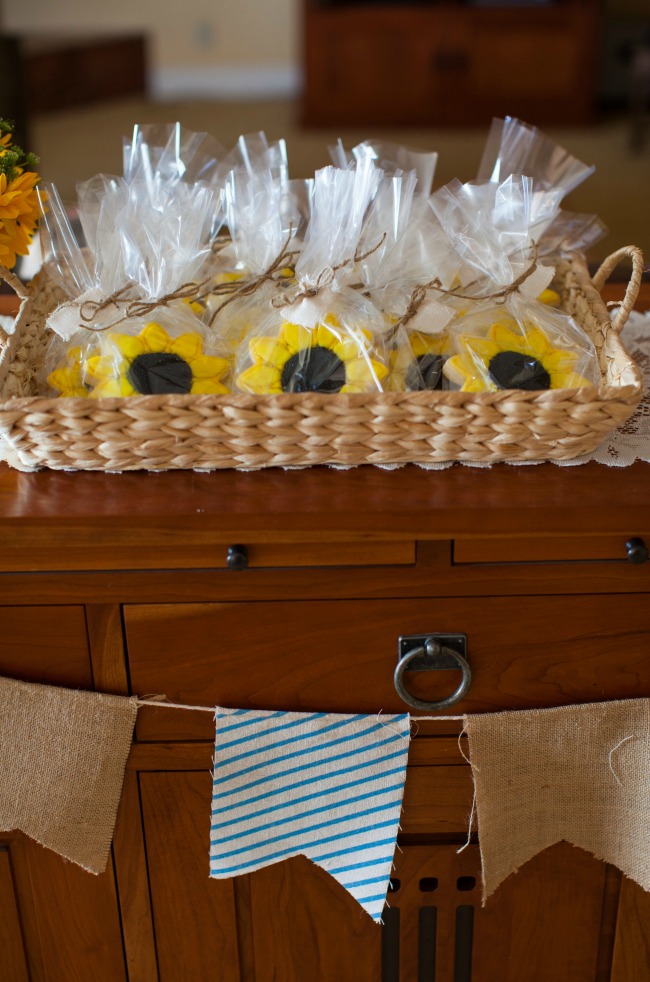 And, don't forget your printables! We created a summer bucketlist for the guests to fill out, as well as some fun summer quotes that were strewn about for guests to read! Happy summer partying, y'all!
*This party was sponsored by Pepperidge Farm Puff Pastry. Many thanks to Leslie Callan from Green Vintage Photography for the beautiful photographs.