This post may contain affiliate links which may give us a commission at no additional cost to you. As an Amazon Associate we earn from qualifying purchases.
It's that time of year where we all don our red, white, and blue, and are proud to be an American. But, what do you do with all that festive party décor after 4th of July is over? I often talk of reusing decorations for different themes or events, and this party post is dedicated solely to that! Enter these darling baseball theme party ideas! Use that extra 4th of July party stuff to throw a cute baseball themed party for your little ones! After all what is more All American than baseball and easy party ideas?
Baseball Theme Party Ideas
I have to admit, my baseball knowledge is very limited, my brothers didn't play growing up so my trips to the ballpark were scare. However, (as I learned yesterday while setting up my baseball table) my husband was apparently an ALL STAR, and is dead set on our son starting little league next year.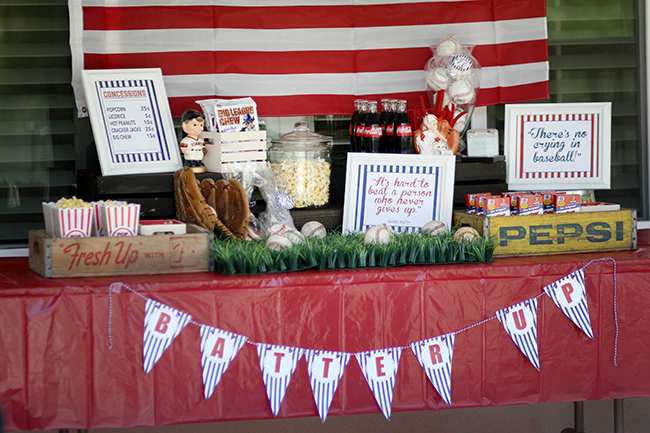 I do know one important thing about baseball, though – all about the delicious traditional snacks that are available at the concession stand.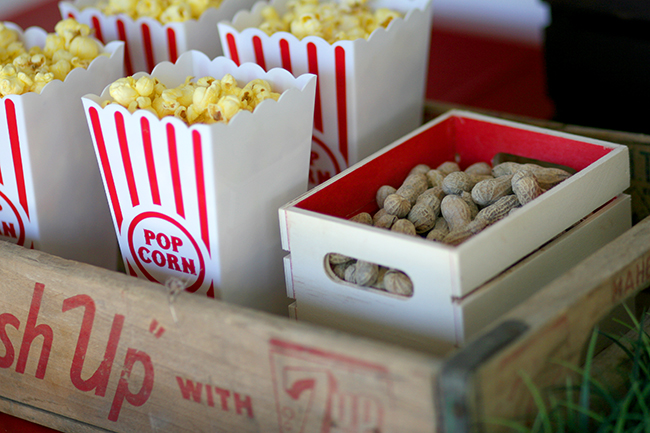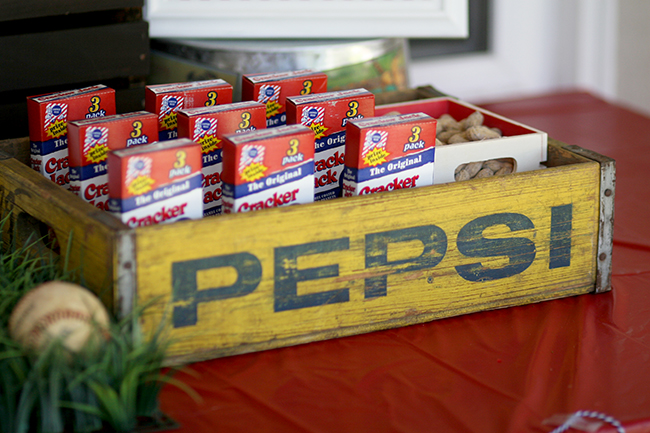 I created my own little concession stand featuring peanuts, popcorn, cracker jacks, big chew, and licorice.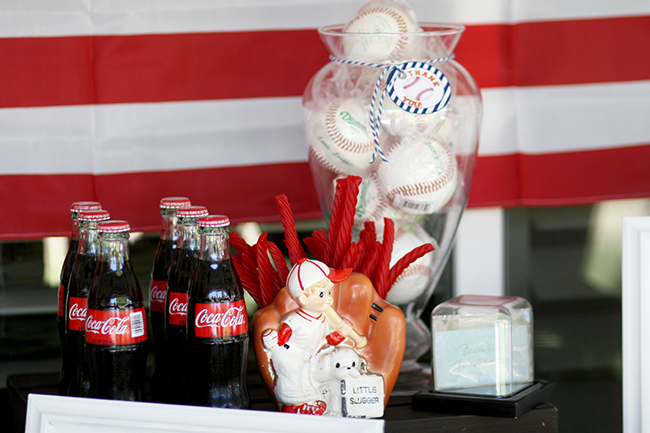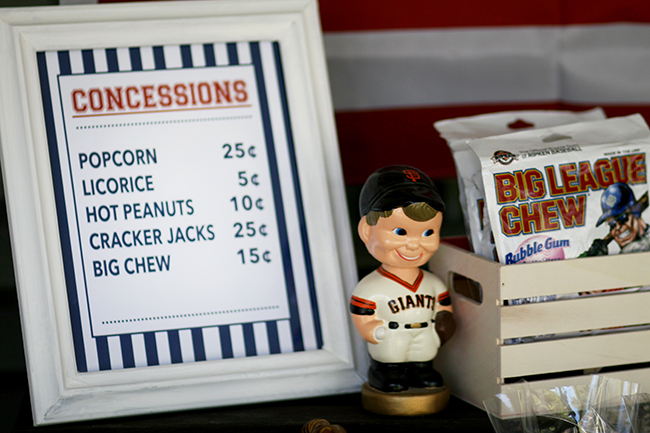 I was feeling generous so I didn't make my little ones fork over any cash, but that option is entirely up to you!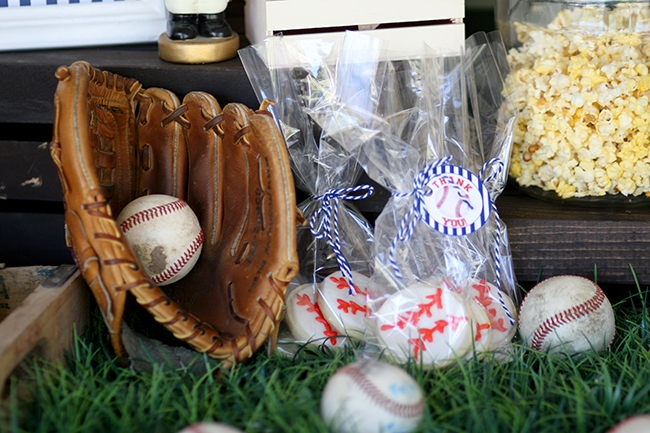 Of course I had to make some baseball sugar cookies, I have to admit, they weren't my best, but they did the trick
The beauty of this party is that you can decorate with things you have around the house!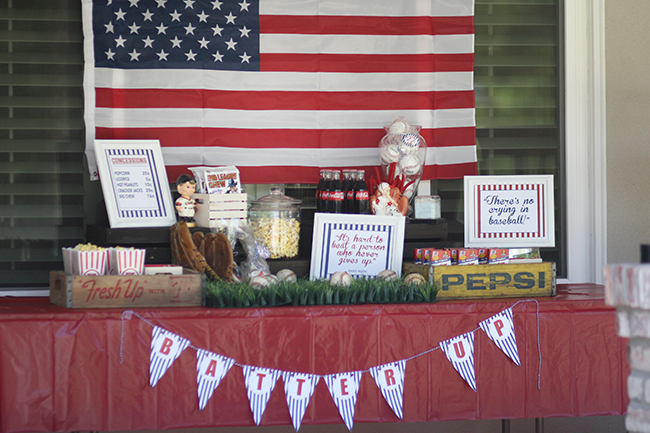 Use that flag as a backdrop for your baseball theme party table after you are done flying it high on the 4th. The red table cloth, paper cups, and plates, could all be used for this theme, too.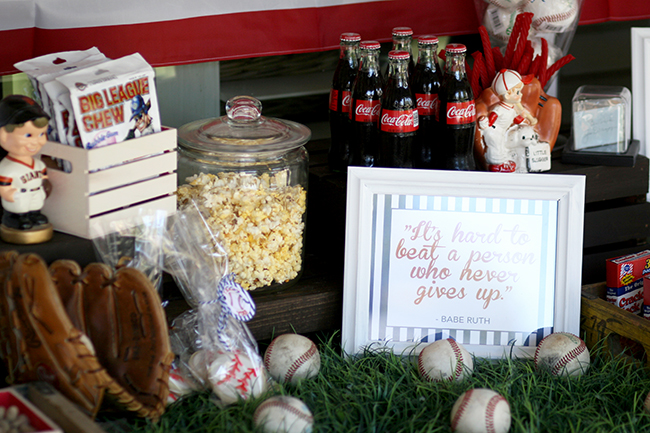 Throw in some used baseball mits and balls for an authentic feel. The adorable ceramic bobble head, and licorice holder, are actually my neighbors. We live in Sacramento, CA so pretty much everybody is a Giants fan, you can of course use your local team. Now, the coolest part of the décor, is the little business card with a signature on it.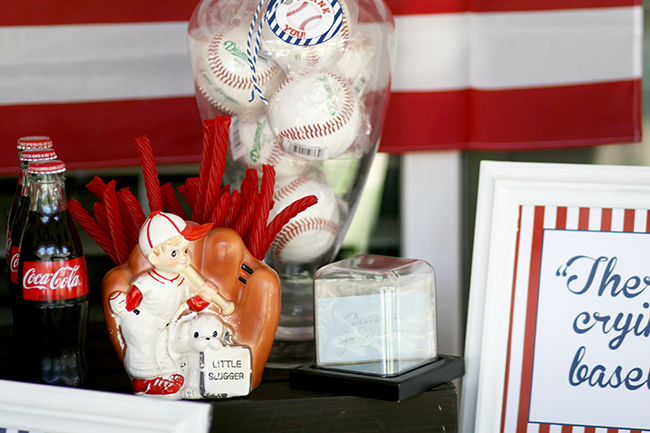 It was signed by Joe DiMaggio himself! I was with my dad in an antique shop killing time between soccer games when I was about 10 years old. There was an old man sitting in a corner, and my Dad made me ask him for his autograph, and told me I would happy I did when I was older. Of course, he was right, I actually thought Mr. DiMaggio was not that pleased that I asked, but he obliged, and I am thrilled to have it to this day.
For the baseball theme party printables, I kept them simple. I am pretty sure every girl watched "A League of Their Own " growing up, so I of course had to use the quote, " There's No Crying in Baseball", and to accompany that one by Babe Ruth.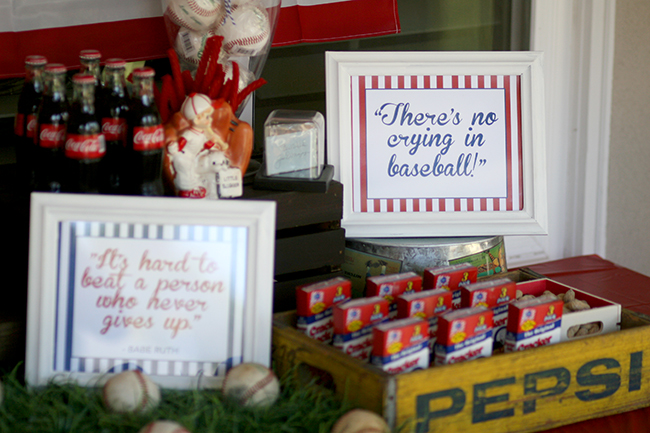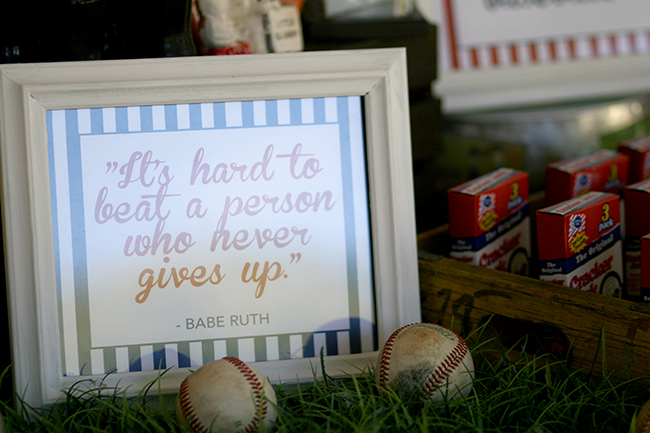 When you mix the printables, classic snacks, and your left over décor together, you get a splendid outcome of the perfect vintage baseball party! Enjoy!