This post may contain affiliate links which may give us a commission at no additional cost to you. As an Amazon Associate we earn from qualifying purchases.
Nothing says summer like a nice cold beer (for those that are 21 and over). We recently added a cabana on to the back of our house, and my husband has been begging for a guys night, so I decided that I should be a good wife and treat him to a fantastic party. Men and beer go hand in hand, and they always say, " The way to man's heart is through his stomach," hence I had to plan the best beer tasting party EVER! And I'm sharing my easy party ideas with you so you can plan one, too!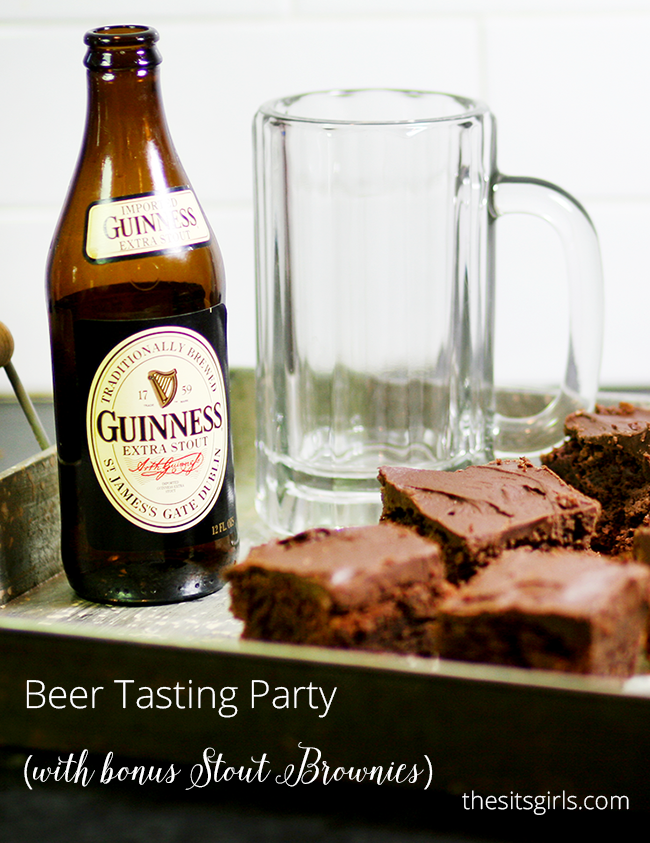 The Best Beer Tasting Party
I have seen a lot of wine tasting parties, and how to pair wine with food, however beer is seemingly forgotten. In recent years breweries have really stepped up the game and crafted some delicious artisanal beers.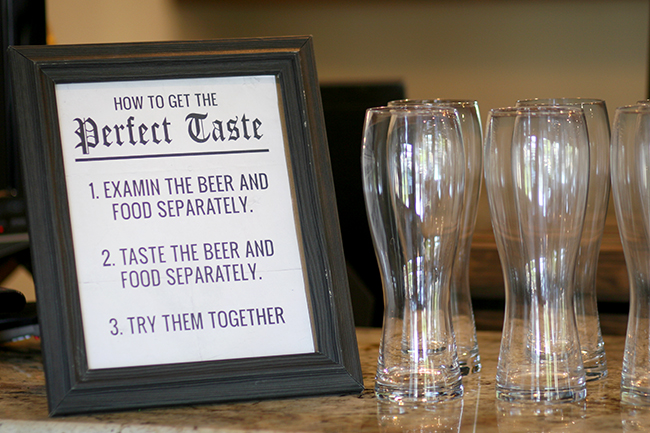 I decided to give the men a little education about what beers pair well with what cheeses. Our cheese spread ranged from blue to aged guyre, and had everything in between.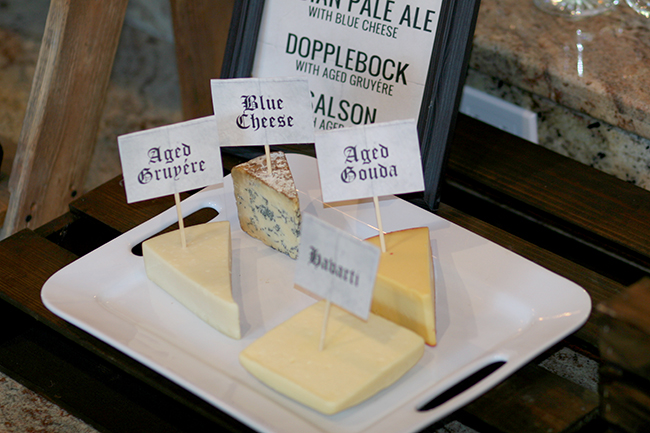 Besides the insane cheese spread we had, I made pulled pork sliders topped with apple cider vinegar. BBQ sauce can really go with anything, so these were pretty much inhaled.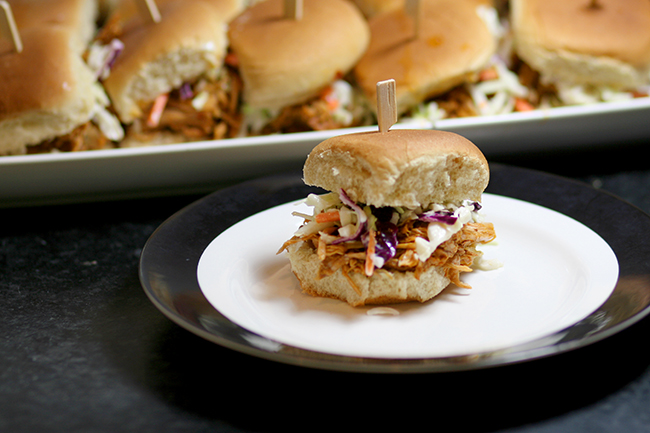 My favorite part of the party was the large focal piece "What your beer says about you", read carefully, and get ready to roll with laughter, because it is hilarious!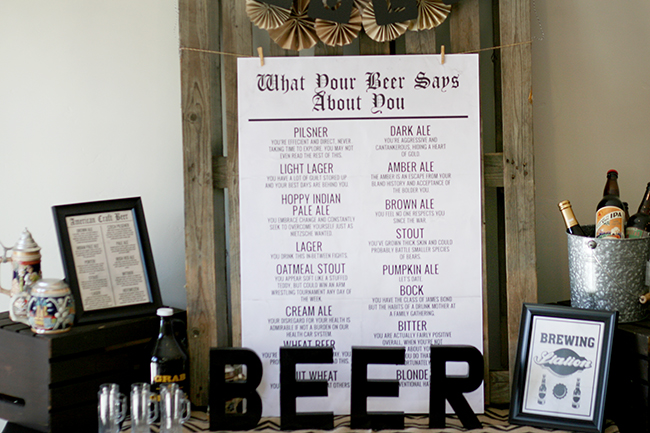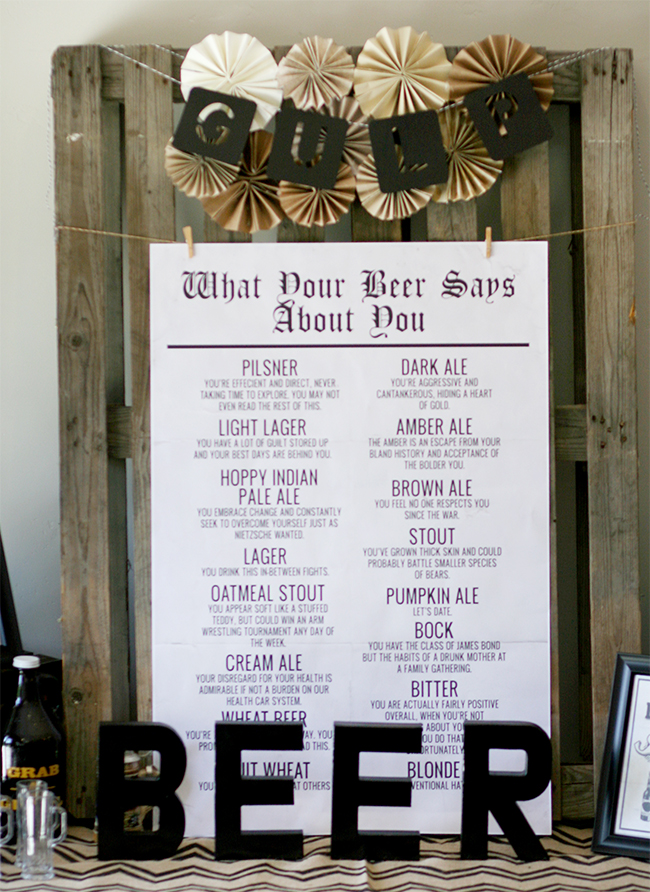 I found the cutest little beer mug tasters that were perfect for sampling all the different kinds. I have an obsession for anything mini, so I will for sure reuse these for something else.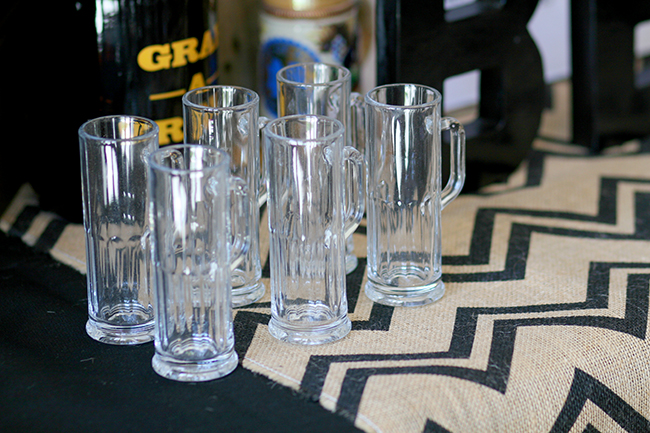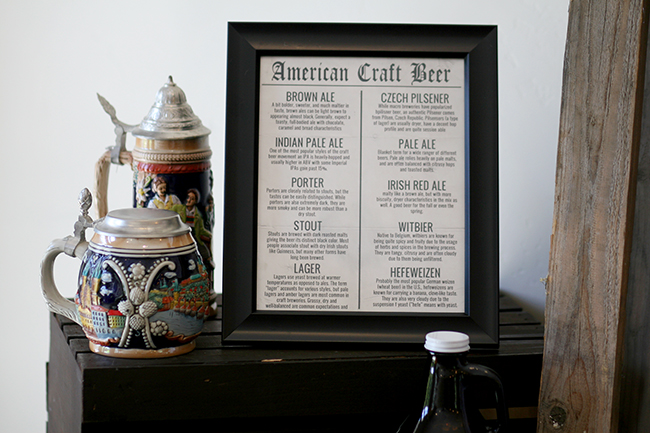 The beer steins, are a collection of my husbands, and were my original inspiration for this manly party!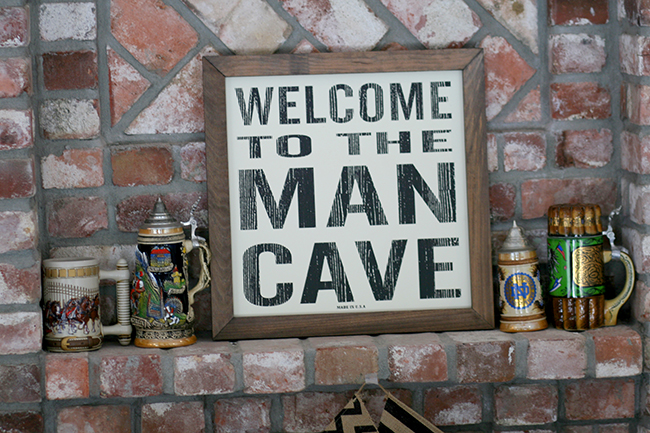 Overall the décor I kept to a brown, black, and minimal vibe.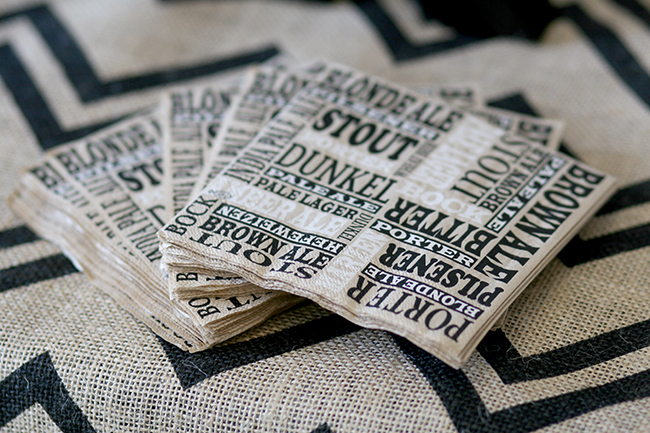 A few accents can go far, especially when planning for a party for men.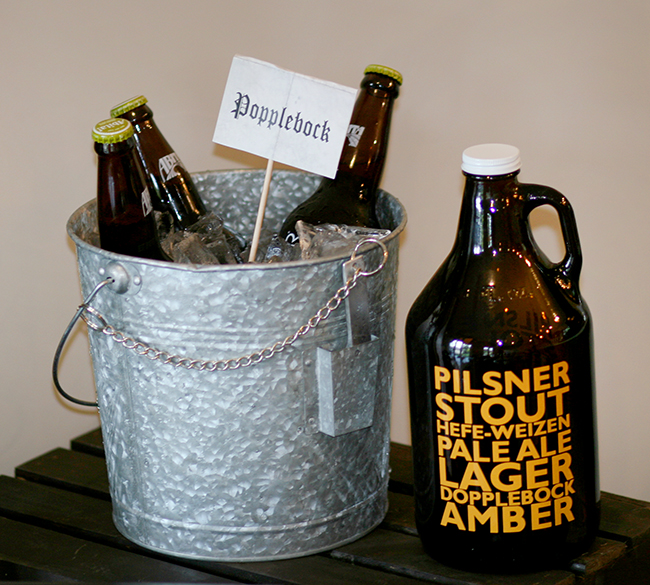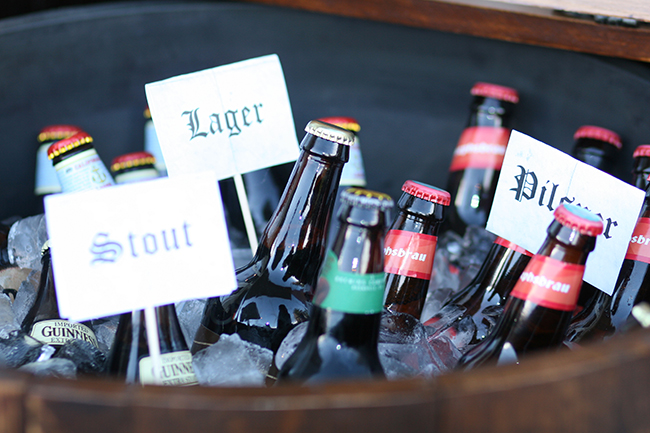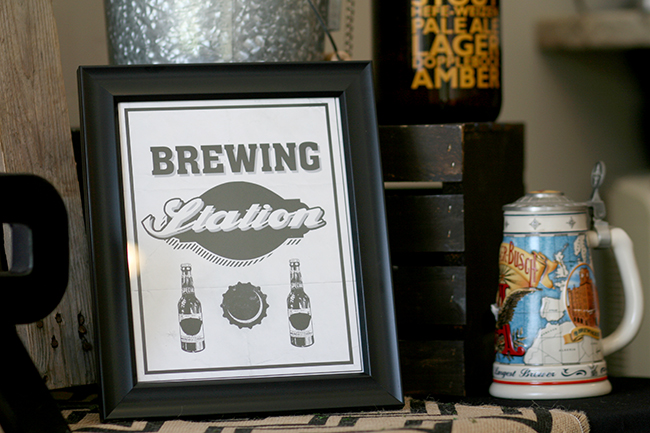 They pretty much appreciate anything. The best part is, the party can really be recreated by anyone! Label your beer and your cheese, and with a few printables (we got ours from WhitetailDesigns Etsy shop!), you have an amazing tasting party at the tip of your fingers!
In the kitchen I whipped up some Stout brownies. They were amazing. They are moist, fudgey, and have a slight hint of a stout. They are truly different, and the men loved them!
Stout Brownies with Chocolate Stout Ganache
Brownie Ingredients:
¼ cup vegetable oil
2 ¼ cup sugar
1 teaspoon vanilla
¾ Guinness Stout Beer
¼ cup melted and cool butter
2 eggs
1 ¼ cup flour
2/3 and two tablespoons unsweetened baking cocoa ( I used trader joes, but any will do )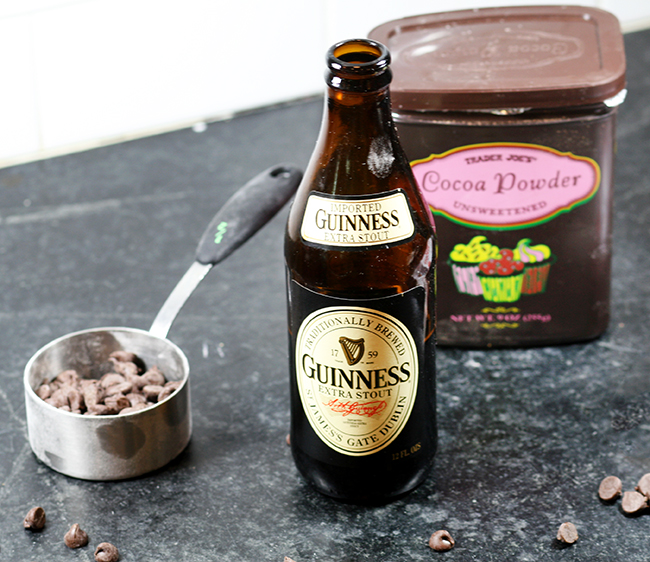 Ganache Ingredients:
6 oz semisweet chocolate chips
2 tablespoons of butter
2 tablespoons of guiness
¼ cup of powdered sugar
Instructions:
Preheat oven to 350 degreeds, and grease a 9×9 baking pan or line it with parchment paper
Mix together the oil, beer, sugar, and extract
Add the butter and mix until well combined
Add the eggs and mix again
Combine the flour and cocoa, and then add them to the wet ingredients. Stir until everything is smooth and incorporated
Pour the batter in the ban, and spread evenly, it will be relatively thick, which is good!
Bake for about 32-38 minutes ( depending on oven, and pan), but test until a toothpick comes out with a few crumbs attached
Cool, and then frost
For the ganache, in a microwavable bowl, combine the first 3 ingredients, and heat on 20 second intervals. Stir inbetween, repeat until the mixture is smooth. Normally 3-4 times, do not over heat, or else it will become hard.   Then stir the powdered sugar in to the hot chocolate mixture. Stir until smooth, it will be thick! Smooth on the brownies once cool, and enjoy!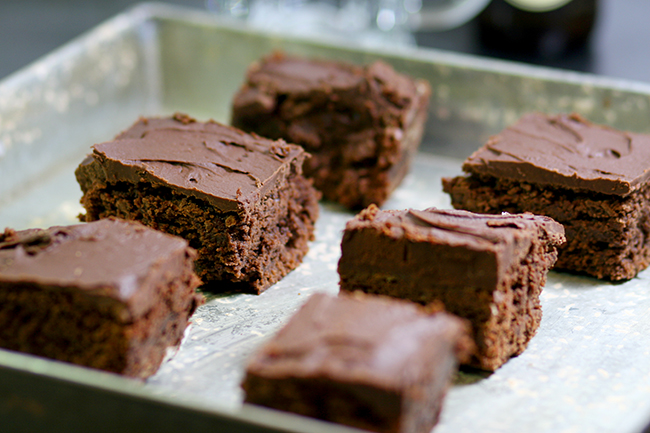 Stout brownies are delicious, moist, and chocolatey. The perfect twist on the classic brownie, especially for a grown up crowd! The best part of these, is that they bake thick, and moist, but also kept their texture really well.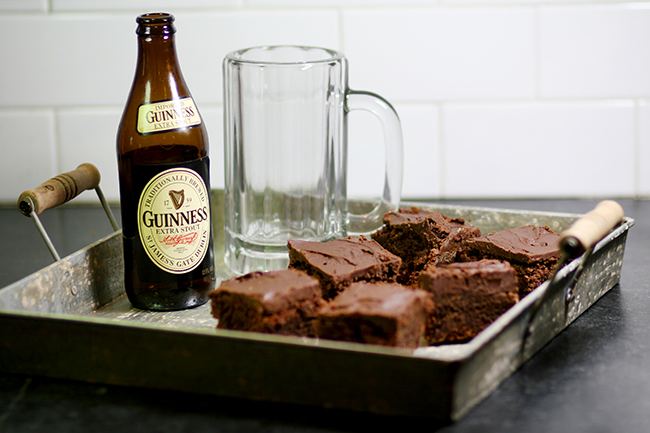 The ganache is to die for! If you aren't familiar with ganache, you will be obsessed after you try it! It is thick, and tastes like a thick layer of fudge on the top of your brownie. It is also a super easy frosting to make. The traditional ganache is made using heavy cream, however the stout in this one gives it a unique flavor. I must say these brownies had me feeling ultra trendy, and like I belonged on a trendy cooking show. Give them a try; they will not disappoint! They are the perfect end to the best beer tasting party.